TUESDAY March 19, 2024 – UMC 235
Rebecca Cox – Sleep, Insomnia, and Aging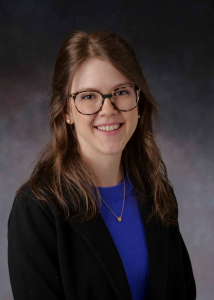 Dr. Rebecca Cox completed her PhD in clinical psychology at Vanderbilt University, where she studied sleep disturbance in anxiety-related disorders. She completed her clinical internship at Western Psychiatric Hospital at the University of Pittsburgh Medical Center, where she received advanced training in behavioral sleep medicine and behavioral treatments for obsessive-compulsive disorder (OCD). She is currently a postdoctoral associate at the University of Colorado Boulder, where she studies the role of sleep and circadian rhythm disruption in psychopathology.
Luncheon Logistics
The Lecture-Luncheon doors open at 10:30 a.m. The lecture begins at 11:00 until 12:00. Lunch will be served after the lecture to encourage discussion of the lecture topic over lunch.
The price for the Lecture Luncheon is $28. If you are bringing guests you may also enter their names and pay for their lunches here. If you are bringing more than three guests please complete a second form.
If you are so inclined, you can also make an additional donation to the UWC Scholarship Program.
Looking foward to seeing you!
Deadline for reservations is March 2, 2024 at 6:00 p.m.