Margaret Willard Award
Margaret Willard, first President of the Faculty Women's Club, 1919
Every year the UWC recognizes someone from the Boulder area that we admire for her contributions to her field, and whose contributions ultimately benefit our community. The first Margaret Willard Award went to CU graduate students, faculty, and those working for the University, who were rising in their fields of endeavor and deserved recognition. Since then, UWC includes members from the wider community.
The University Women's Club presents the Margaret Willard Award annually at the Spring Honors Reception. The woman receiving the award must fulfill some or all of the following criteria:
Demonstrate outstanding work in her field of endeavor
Enhance the quality of life for women on the Boulder campus and/or in the Boulder community
Be an exceptional role model
Elevate women's performance
Bring honor to all women and to the University/Boulder community through her accomplishments
See the exceptional women who've won the award below.
Margaret Willard Award Recipients
The prestigious Margaret Willard Award is awarded annually to women who are exemplary role models and bring honor to all women and the University/Boulder community through their accomplishments.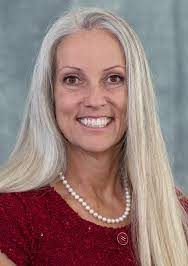 Callie Rennison
2022 Margaret Willard Award Recipient
Dr. Callie Rennison, CU-Denver professor and CU Regent is the 2022 Margaret Willard Award Recipient.
Dr. Callie Rennison has been characterized as "a renaissance person with a strong impact on women in the Boulder community, in Colorado and in the nation." In her professional work, political activities, and personal life she exemplifies the principles of the Margaret Willard Award: "outstanding work in her field of endeavor,"  "enhancing the quality of life for women on the Boulder campus and/or in the Boulder community," "an exceptional role model," "elevates women's performance;" and "brings honor to all women and to the University/Boulder community through her accomplishments."

Callie has graduate degrees in political science and sociology, and an undergraduate degree in psychology.  Her research focuses on the nature, extent and consequences of violent victimization with an emphasis on research methodology, quantitative analysis, measurement, and crime data. Since 2009 she has been on the faculty of the School of Public Affairs at the University of Colorado Denver. In her teaching, Callie focuses on encouraging students to be critical consumers of information. She says "I can direct them to many original sources of data to assess claims made by others, versus accepting what they hear or read. As a professor, I work hard so students understand research methods so they can intelligently assess the claims made in research and elsewhere."
In addition to her work and many publications on criminal justice, Dr. Rennison has also published on women and women in academia. Her 2019 book "Women Leading Change in Academia: Breaking the Glass Cliff, Ceiling and Slipper" with co-editor Dr. Amy Bonomi of Michigan State University has won awards for its forward-looking view of how women can succeed and lead change in academic settings.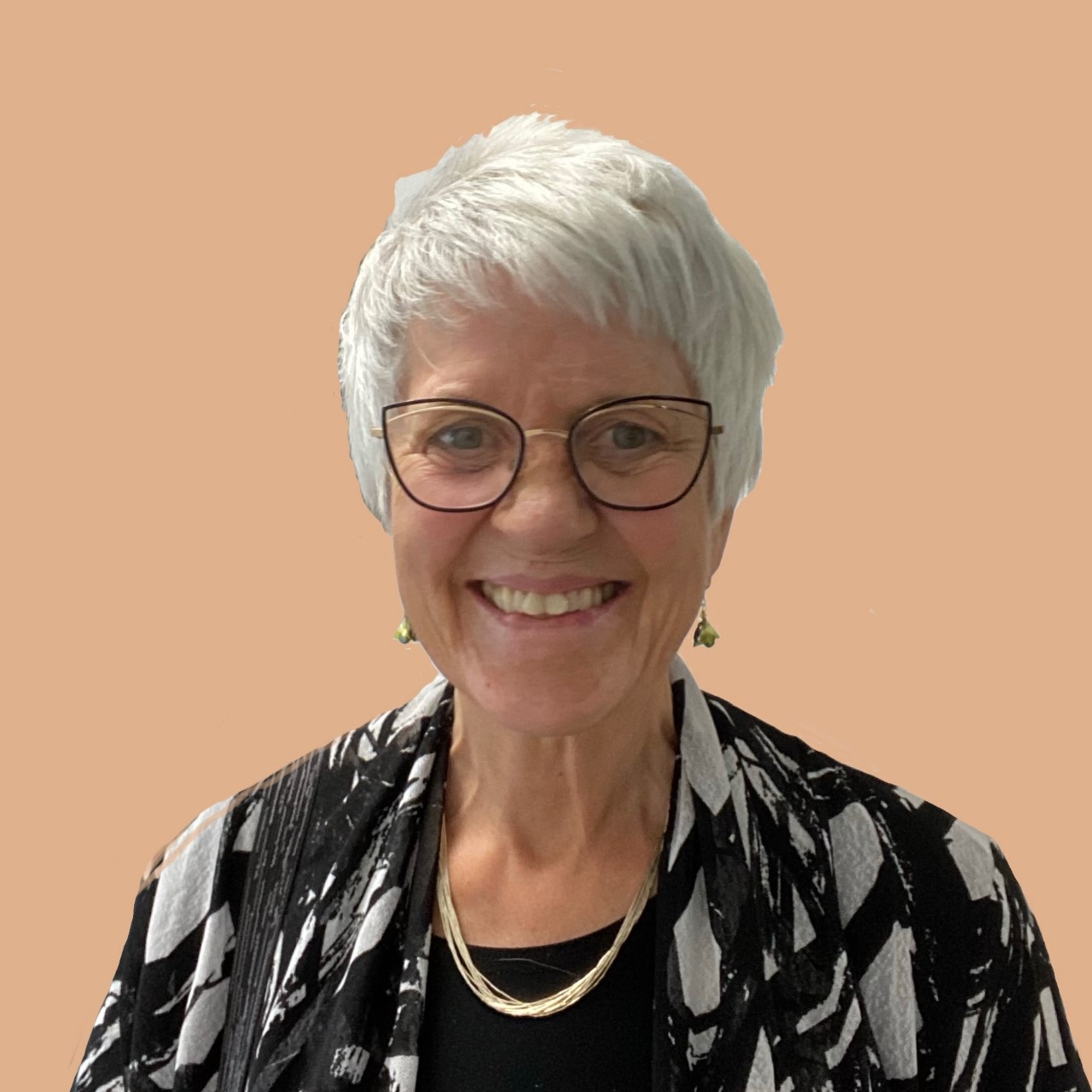 Merry Bullock
2021 Margaret Willard Award Recipient
In addition to her contributions to society in her professional capacity, Merry Bullock's  contributions to the University Women's Club are incalculable.
Merry earned her PhD in the field of psychology and contributed to international knowledge and learning for 45 years as a leader in the field in the USA and around the world. In addition to participating in research projects and scientific studies, she held various positions at the American Psychological Association including Senior Director of the Office of International Affairs. After her retirement, she served as Secretary-General of the International Council of Psychologists, and Co-Chair of the Global Network of Psychologists for Human Rights.
Merry is an exceptional member of the University Women's Club. Prior to her retirement, Merry's employment necessitated that she spend a lot of time in Washington, D.C. and in international travel, but even then she found time to participate in UWC activities and to contribute to the organization in the important positions of Scholarship Chair and as Webmaster. As Webmaster, Merry updated our website and brought us into the 21st century with online payments, registrations and donations.
Upon her retirement she was ready to take on the role of UWC President during the busy year of preparation for our Centennial Celebration. She was part of the committee that prepared our Centennial Book and instrumental in organizing our birthday party in December of 2019 and planning for our Centennial Gala. And then the pandemic struck. Unfortunately, our in-person events had to be cancelled. But Merry stepped in so that before the end of her tenure she had set us up with a UWC Zoom Account essential for meetings and webinars and taught us how to use it. Without her internet expertise and take-charge abilities, who knows where we'd be! She continues her contributions to UWC, serving as MESSAGES editor and minding the webinars.
Merry has demonstrated her outstanding professional work in the field of psychology and is an exceptional role model for the women students of today. Our scholarship recipients need only look to her to see what a woman can do. She has enhanced the quality of life for the women in the University Women's Club and has brought honor to all women through her accomplishments.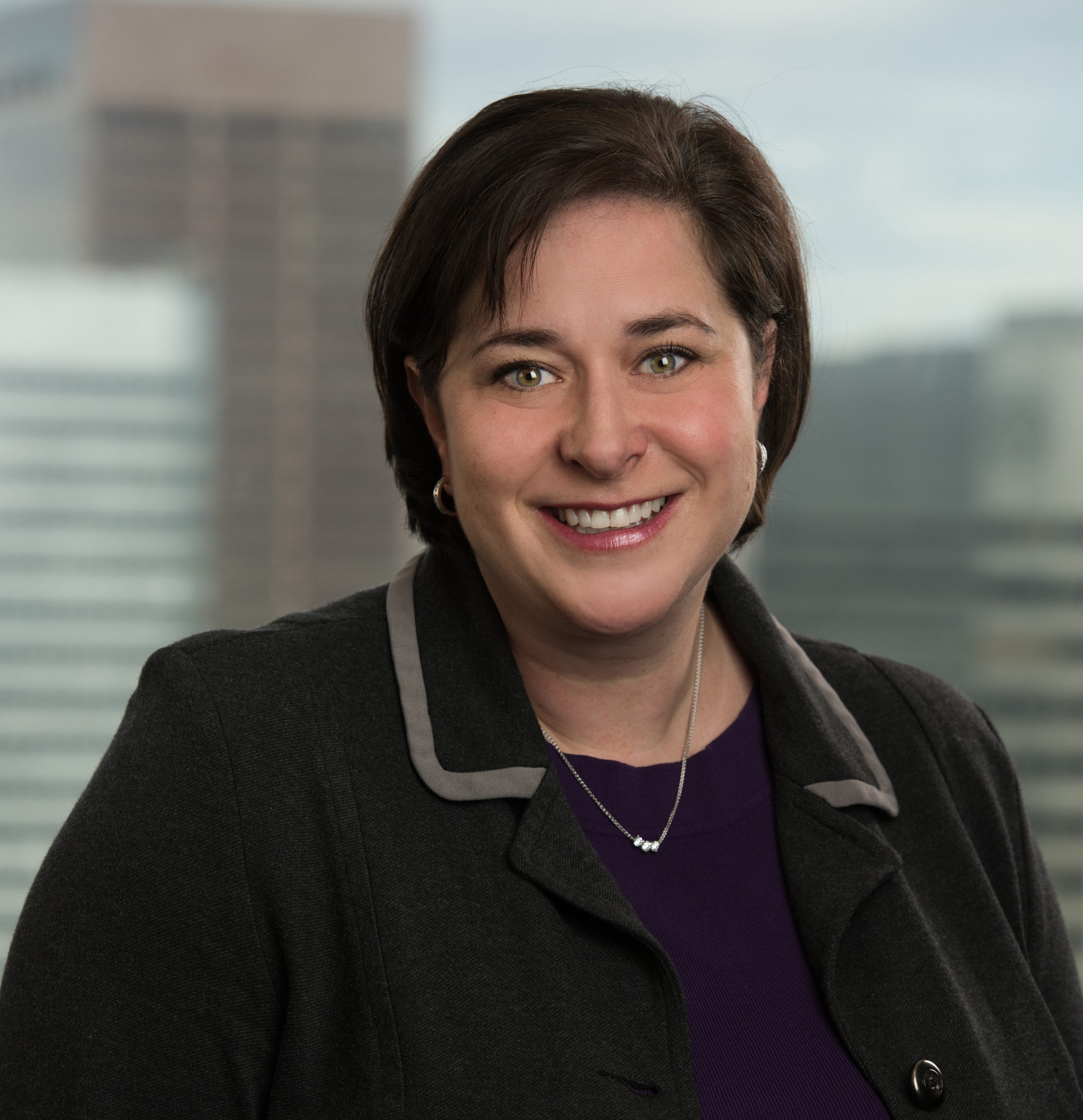 Katie Kramer
2020 Margaret Willard Award Recipient
As president and CEO, Katie has come full-circle with the Boettcher Foundation. She was selected as a Boettcher Scholar in 1993 and has served in various roles at the Foundation since 1997, including as the director of the scholarship program and vice president — a title she assumed at the age of 26.
Katie has been recognized as one of the Denver Business Journal's "40 Under 40" and the Colorado Women's Chamber of Commerce's "Top 25 Most Powerful Women."
A fourth-generation Colorado native, Katie attended the University of Colorado Boulder, where she was a Presidents Leadership Scholar and honors graduate at the Leeds School of Business. In 2009, she completed her Executive MBA at the University of Denver's Daniels College of Business.
Katie has served extensively in the community on both local and national boards, and is widely regarded as a national expert in scholarship selection processes. Recently, Katie and her colleague wrote and published All the Wisdom and None of the Junk: Secrets of Applying for College Admission and Scholarships in an effort to demystify the scholarship selection process and help the next generation of talented citizens apply for college and scholarships.
Katie is a harmonica-playing, trout-catching, Star Wars-watching, country-dancing, scuba-diving, elk-hunting, Grand Canyon-rafting, mountain-hiking, family-loving, outdoor enthusiast. She lives in Arvada with her husband and two young sons.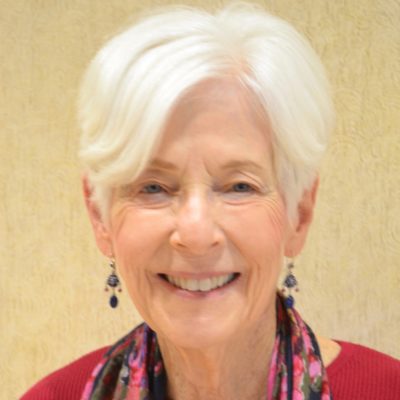 Karen Diamond
2019 Margaret Willard Award Recipient
Karen Diamond typifies all the attributes UWC celebrates in the women receiving this prestigious award. In every organization and community function in which Karen has participated, she has contributed significantly to growth and development with her volunteerism, her leadership, and her gracious good will.
We at The University Women's Club have been honored to have Karen as a Past President and a Board Member for multiple years. She has held several Board positions from Membership, Program, Historian/ Archivist, Honors Reception, and the Scholarship Committee. She also has been active in UWC group events and interest groups and chaired the On The Road group. Her skills and knowledge have made her a go-to for many questions concerning the Club.
Karen's kindness and generosity also have been evident in her community activism. She volunteers at both Bridge House Community Table and Historic Boulder. Additionally, she is active in all aspects of her synagogue's work where she has chaired their "Scrip" program for 25 years and makes deliveries whenever needed to elderly and immobile congregants. When the 2013 flood left the synagogue badly damaged, Karen played a major role in its reconstruction and refurbishing using her interior design skills. Additionally, she has served on the Board of Hadassah, an International organization of Jewish women, for over 30 years.
Karen's love for music has drawn her to be active in the Chautauqua Music Festival and she supports the Boulder Philharmonic and many College of Music programs as well.
In 2010, the University of Colorado benefitted from Karen's volunteer work as a consultant designer during the renovation of Grusin Hall. Throughout her husband's 21 year tenure as dean of the School of Pharmacy, she graciously opened her home to host well over a hundred School of Pharmacy dinners and events for donors, alums, university officers, regents, faculty members and students.
CU's Conference on World Affairs also benefitted from Karen's activism for over two decades, housing conference participants, and serving on the Housing Committee.
Karen has done all this while running an interior design business and raising two wonderful sons, who have now added five grandchildren to her list of duties.
We are happy and grateful to have Karen as a member of our community; she is a very deserving winner of this award. She is a gracious and caring person whose exemplary involvement in our Club and in university and community endeavors have done so much good for all of us.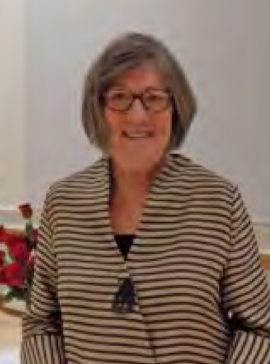 Karon Johnson
2018 Margaret Willard Award Recipient
In addition to dedication and leadership in her professional life, Karon served as an avid volunteer on the boards of many organizations serving the Boulder community. Retirement has provided her with continued service opportunities in Boulder and elsewhere in the country.
Karon Johnson's life has been dedicated to service, in her personal and professional activities. She has worked to create jobs, increase educational opportunities, and promote opportunity.
Karon is an exceptional role model and brings honor to all women and to the University/Boulder community through her accomplishments.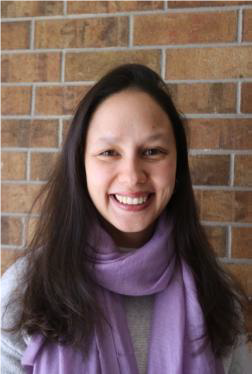 Tobey Bassoff
2017 Margaret Willard Award Recipient
Tobey Bassoff, Principal of Ryan Elementary Steam School, BVSD was nominated by member Barbara Spriggs, former Director of Student Teaching for CU's School of Education.
Tobey helped spearhead the STEAM program at Ryan Elementary, and developed partnerships with parents, community organizations, and CU's School of Education. Ryan STEAM (Science, Technology, Engineering, Arts and Mathematics) School is a dynamic learning community with a focus on authentically partnering with families and the community to prepare students. Along with delivering common core standards, Ryan focuses on developing the whole child with experiential project-based learning activities in the STEAM areas. Ryan embraces technology for engaging students and supporting learning.
Tobey, her faculty, and parents strongly believe partnerships nurture excellence and therefore Ryan partners with the University of Colorado, Thorne Nature Experience, Growe Foundation, and Impact on Education to name a few. Ryan offers a wide variety of after-school and summer programming. Tobey has also been a partner with CU's School of Education and provides a strong experience for the preparation of future teachers.
Recently Tobey has been named the 2017 National Distinguished Principal for Colorado by the Colorado Association of School Executives (CASE) and a committee from Colorado Association Elementary School Principals. They noted that "Recognizing the unique needs of each stakeholder, be they a child, parent, staff member, or community organizer, is central to Bassoff's leadership style".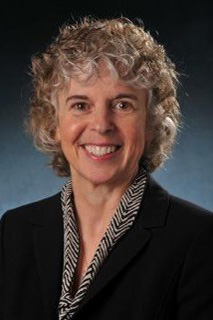 Lorrie Shepard
2016 Margaret Willard Award Recipient
We are pleased to announce that the recipient of the 2016 Margaret Willard Award is Lorrie Shepard, Distinguished Professor and Dean of the University of Colorado School of Education. Lorrie was nominated by Karon Johnson.
One can trace the path of Dr. Shepard through the School of Education and see the parallel growth and recognition of the institution in academic circles. Dr. Shepard earned a MA in Counseling, and PhD in Research and Evaluation Methodology at CU. After graduation and working for the California Department of Education, Lorrie joined the faculty of the School of Education. She has been Chair of Research and Evaluation Methodology from 1975 to the present, the Director of Graduate Studies, and is Dean of the School of Education. US News and World Reports 2016 ranks the School of Education 28th and the graduate program, Education Policy, 10th in the nation.
Lorrie has led the effort to bring top research and teaching faculty to the school. Under her leadership, exemplary programs are improving K-12 education and teacher training in local schools. The faculty scholarly productivity is ranked 10th. The number of grants has increased. She has secured funding for faculty and student research, allowing graduate students to study full time. STEM has increased cooperation with other departments. Partnerships with pre-K to 12 local schools have been strengthened, utilizing master teachers and graduate students in undergrad teacher education. Other community partnerships include CU Engage and the BUENO Center.
Lorrie has been president and received awards from the major education groups including AERA, NCME, ETS, AACTE. She has conducted extensive large-scale studies on learning disabilities, grade retention, kindergarten screening and teacher testing, and use/ misuse of tests in educational settings. Most recently her research studies have addressed use of classroom assessment to support teaching and learning.
Lorrie is a role model for students and faculty, professionally and personally. She leads through example, encouragement, and being part of a working group. Faculty and students are enabled to do their best and to improve research, teaching, and learning.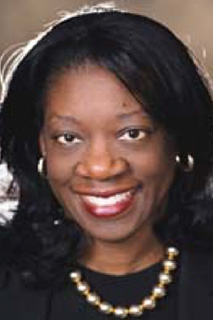 Dayna Bowen Matthew
2015 Margaret Willard Award Recipient
Professor Matthew will return to Boulder from Washington, D.C. to accept the award. She is currently a 2015-2016 Robert Wood Johnson Health Policy Fellow, serving as Senior Advisor to the Director, Office of Civil Rights for the Environmental Protection Agency. She will also be the recipient of the CU Law School – 2015 Clifford Calhoun Faculty Award for Public Service.
Professor Matthew is a remarkable woman, who surpasses all the require­ments to receive the prestigious MWA.
She joined the University of Colorado faculty in 2003 as an Associate Professor, and was promoted to Full Professor in 2005. She holds a joint faculty appointment at the Colorado School of Public Health and is a member of the University of Colorado's Center for Bioethics and Humanities faculty. She teaches Constitutional Law, Civil Procedure, Evidence, and a variety of health law classes.
In 2004, Professor Matthew became the Law School's Associate Dean of Academic Affairs and served in that office until she became the Law School's Vice Dean from 2010-2011. Professor Matthew has also practiced as a civil litigator.
In 2013, she co-founded the Colorado Health Equity Project, a collaboration of the medical and legal profession that has the mission of removing barriers to good health for low income individuals by providing legal representation, research, and policy advocacy.
Professor Matthew has published numerous articles on health and anti-trust law. Her book, Just Medicine: A Cure for Racial Inequality in Health Care is scheduled for release by NYU Press in September 2015.
She received an A.B. in Economics from Harvard-Radcliffe College and a J.D. from the Univer­sity of Virginia School of Law. She is married to Thomas Matthew, M.D., and has three children. She has accompanied Dr. Matthew to Rwanda as a Fulbright Specialist, and as part of "Team Heart," where she advises on legal matters.
Who says women can't have it all?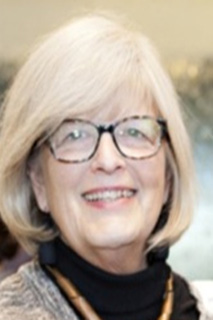 Stephanie Rudy
2014 Margaret Willard Award Recipient
Stephanie came to Boulder from Houston in 1996, newly married, and looking forward to engaging in her new community. She joined the board of the Boulder Newcomers Club in 1998, and became a Victim Advocate with the Boulder Police Department that same year, an activity she continues today. She says this is the job of her heart. She has served on many boards: The Colorado Music Festival, Open Studios, Conference on World Affairs, the Dairy Center for the Arts, and the Vocal Advisory Board for CU Opera. She is a founding member of The Conversation Project of Boulder County.
Stephanie has brought incredible organization skills, but also a sense of humor and ability to encourage others to jump on board. Instrumental in forming the Boedecker Theater at the Dairy Center, she serves on the programming committee, and her "Boe Blast" is greatly anticipated online each week by 400+ readers!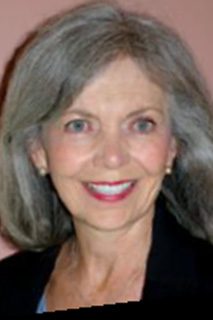 Becky Roser
2013 Margaret Willard Award Recipient
Rebecca (Becky) Roser served as Director of Clinical Services, Communication Disorders and Speech Science (CDSS) at the University of Colorado, Boulder for many years. Her retirement in 1988 led her to full-time service to the University and Boulder community. Her vision, direction, and support helped create the multi-discipline ATLAS Center, which serves students and the community through innovative art, technology, and learning opportunities.
She has provided invaluable leadership and support to multiple boards including University of Colorado Foundation, Women's Foundation of Colorado, and College of Music Dean's Advisory Board among others. She serves as an inspiring role model to other volunteers and philanthropists.
Her accomplishments, dedication, service, and leadership truly do bring honor to all women and to the University and Boulder community.
| Year | Recipient |
| --- | --- |
| 2022 | Callie Rennison |
| 2021 | Merry Bullock |
| 2020 | Katie Kramer |
| 2019 | Karen Diamond |
| 2018 | Karon Johnson |
| 2017 | Tobey Bassoff |
| 2016 | Lorrie Shepard |
| 2015 | Dayna Bowen Matthew |
| 2014 | Stephanie Rudy |
| 2013 | Becky Roser |
| 2012 | Val Havlick |
| 2011 | Lynne Fetterman |
| 2010 | Jeannie Thompson |
| 2009 | Anne Hager-Rudy, Ruth M. Wright |
| 2008 | Carlen Quarenberg Penfold |
| 2007 | Claudine Garby; Rosemary McBride |
| 2006 | Caryl Kassoy |
| 2005 | Barbara Benton |
| 2004 | Jane Butcher; Julianne Steinhauer |
| 2003 | Patricia Limerick |
| 2002 | Edith Dell'Apa |
| 2000 | Marilee DeGoede (Dunn); Elaine Hansen |
| 1999 | Kristi S. Anseth; Katherine Moerke |
| 1997 | Mary Bonneville; Zoya Popovic; Angela Thieman |
| 1996 | Jo Copeland; Esther de Onis; Barbara Doscher; Donna Goldstein |
| 1995 |  Susan Avery; Ceal Barry; Karen Raforth; Betty Walters |
| 1994 |  Lee Chambers-Schiller; Sandra Sue March; and Virginia Ann Guy |
| 1993 |  Barbara Lutes; Doris Olsen; Marcia Westkott |