Donate to the Scholarship Fund to Support Non-Traditional CU Undergraduates
There are no event to display!
For other events, please see "Activities".
Norma Portnoy - President 2022-2023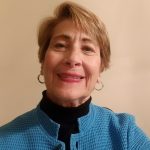 Welcome to the University Women's Club of Boulder, Colorado!
As the 2022-2023 UWC President, I'm thrilled to announce that UWC lectures and special events will be held in person this year!
My focus this year will be to rebuild our membership by engaging current members, bringing back the women whose memberships lapsed during the pandemic, and enrolling new members.  I hope you'll pay the modest annual fee to join our group of informed and vibrant women.  I also hope you'll make the most of your membership by attending the five lectures and special events that our board has planned.
Did you know that there are more than twenty UWC interest groups? What a great opportunity for you to share your interest, hobby, or passion with like-minded women!
While you're perusing the UWC website to learn about our plans for the year, be sure to check out the inspiring life stories of remarkable CU students who have benefited from UWC scholarships.  You will be amazed by the challenges they have faced and the achievements they have accomplished.
I encourage you to spread the word about UWC.  Increasing our membership helps UWC fulfill our mission of providing scholarships for deserving students and creating a community of friendships.  With much of the pandemic behind us, people are eager to become re-engaged in the world, make new friends, experience new things, and help others.  It's the perfect time for people to try out UWC.  Please refer friends to our website – and talk us up!
Norma Portnoy
2022-2023 UWC President