Donate to the Scholarship Fund Here:
For other events, please see "Activities".
Janet Brewer - President 2020-2021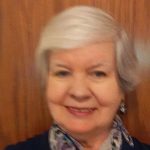 President's Message
Welcome to the new website of the University Women's Club of Boulder, Colorado. The club, with approximately 350 members, is open to women who are members or friends of the University of Colorado.
In early May new, continuing, and retiring Board members met jointly via Zoom, and the gavel was symbolically passed from Merry Bullock to me.  In this year of COVID-19, the new norm is constant change.  A calendar of events has been proposed for the 2020 – 2021 program year – with contingency plans for virtual ways to bring our activities to fruition in the event that in-person gatherings are not feasible.  We will need to be resilient and creative in order to fulfill our mission of promoting friendship and serving the Colorado University community by providing scholarships for non-traditional students.
Please keep informed by going to our website (boulderuwc.org), reading MESSAGES (our newsletter), and paying close attention to emails sent by the organization.
Janet Brewer
2020-2021 UWC President