TUESDAY November 7, 2023  – UMC 235
Devin Patrick Hughes – Boulder Symphony Director
The Conductor's Relationship with the Music, Orchestra, & Audience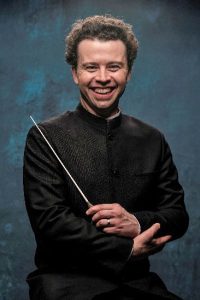 Devin Patrick Hughes Highly regarded for his exhilarating score interpretations, advocacy for music accessibility, innate passion and entrepreneurial vigor, Devin Patrick Hughes has conducted orchestras across North America and Europe. He currently serves as Music Director and Conductor of the Boulder Symphony. Devoted to music existing for a greater communal purpose, Maestro Hughes attracts and creatively engages audiences of all stripes by bringing the stories behind the music to life and inspiring critically acclaimed performances.
Music speaks to all of us and touches the human spirit. Utilizing a compilation of orchestral videos, Maestro Devin Patrick Hughes will help us better appreciate classical music and tell us about exciting community-wide outreach and major collaborations he has developed. He will also speak to the art of conducting and what goes on behind the scenes.
Luncheon Logistics
The Lecture-Luncheon doors open at 10:30 a.m. The lecture begins at 11:00 until 12:00. Lunch will be served after the lecture to encourage discussion of the lecture topic over lunch.
The price for the Lecture Luncheon is $28. If you are bringing guests you may also enter their names and pay for their lunches here. If you are bringing more than three guests please complete a second form.
If you are so inclined, you can also make an additional donation to the UWC Scholarship Program.
Looking foward to seeing you!
Deadline for reservations is October 21, 2023 at 6:00 p.m.