UWC Webinar – May 11, 2021, 11:00 a.m. – 12:30 p.m.
Honors Reception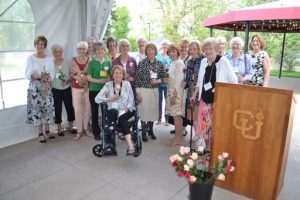 Traditionally the Honors Reception is an opportunity to gather in person at the end of the academic year to enjoy sweets, libation and conversation with our friends and to recognize past and present members of the UWC who have demonstrated outstanding service to our organization.
This year, since we are still not able to gather in person due to the COVID-19 pandemic, we have the opportunity to step outside of the traditional lines and be creative in our programing. Of course we will continue with our time-honored tradition of recognizing members in attendance who have provided leadership and inspiration in our recent past. We will also honor the recipients of the President's Award and the coveted Margaret Willard Award.
Stepping away from tradition, we have added a musical program for your enjoyment. We are delighted to present Claire Gunsbury, who is graduating this spring from the University of Colorado Boulder with a B.M. in Flute Performance, B.M. in Musicology, and a Certificate in Music Entrepreneurship. She was the 2017-2021 recipient of the Sher Distinguished Musician Scholarship and is an avid chamber musician. Claire will be performing with harpist Shelby Roberts, who is also earning her degrees at the University of Colorado in performance and music education.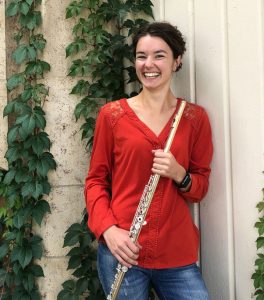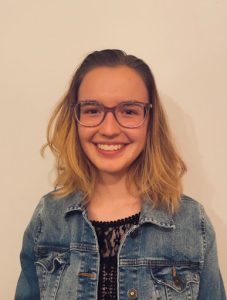 Claire Gunsbury, flute                    Shelby Roberts, harp
Program:
Astor Piazzolla, Tango Etude for solo flute – Claire Gunsbury, flute
Jazz Standards for flute and harp – Claire Gunsbury, flute and Shelby Roberts, harp
In addition, we will be treated to a premier performance of Kathy Randall's original production of Remarkable Women: A History of UWC Through Portrayals. Kathy created this production for the 100th Anniversary Celebration that had to be cancelled last year. Remarkable Women highlights women who have contributed to the evolution of the club over a period from 1919 to present day.
I think we're all in for a treat. I hope to see you – virtually, of course, on May 11 at 11 a.m.
Tamera Van Spriell, Honors Reception Chair 
Please plan to join us for the celebration and entertainment!
The webinar is free, but donations to the Scholarship Fund will truly be appreciated.
DONATE TO THE SCHOLARSHIP FUND HERE