UWC 2023 Honors Reception
WEDNESDAY,

May 17 2023, 2:30 p.m. – 4:30 p.m.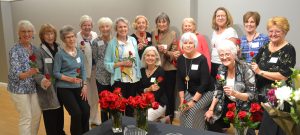 The University Women's Club cordially invites you to the annual UWC Honors Reception, Wednesday, May 17, 2023  from 2:30 – 4:30 p.m. at the Tent on the South Terrace of the University Memorial Center (UMC).
This is a special occasion when we will honor the 2023 Margaret Willard Award winner and recognize UWC Presidents and members who have provided leadership and inspiration in the past.
Hors d'oeuvres and beverages will be served at this free event, which includes lively entertainment by the CU Buffoons. This is our last club event of the year.
Look for an Evite in April and plan to RSVP by Sunday, April 30.
Karen Haimes, Honors Reception Chair
Please plan to join us for this celebration! The event is at no charge to UWC members, but donations to the Scholarship Fund will truly be appreciated.
DONATE TO THE SCHOLARSHIP FUND: