MESSAGES June- Issue 10 (special summer issue)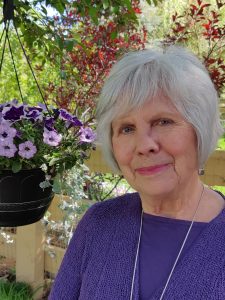 "No one picks a friend for us; we come together by choice…and tie ourselves together through shared moments." Lisa See from The Island of Sea Women
I am honored to have been elected to serve as the president of the University Women's Club (UWC) for the 2021-22 program year. This organization is filled with an abundance of bright, talented and dedicated women who are eager to nurture friendships and support our philanthropic project of sponsoring scholarships for non-traditional students. Through these common goals, we are tied together through shared moments.
Summer Activities
Many friendships are born and nurtured at the UWC as we explore common bonds of interest, and many of these friendships begin in our Interest Groups. Fortunately, many of our Interest Groups will be accepting new members and will begin meeting in person through the summer: Bicycling, Hiking, Golfing, Garden Group, Spanish Conversation – Advanced, and Out to Lunch Bunch.
Summer would be a good time for group members to encourage their friends who don't yet belong to UWC to try out a group as a provisional member without having to pay dues until September. (A donation to the Scholarship Fund in lieu of membership dues would be appreciated.)  If you're interested in participating in one of these groups, please see the website (boulderuwc.org) for additional details about the Interest Groups including contact information and meeting times.
Fall Membership Coffee
Our first event of the new program year, the Membership Coffee, is scheduled for Tuesday, September 14.  You will be hearing more about this annual gathering later in the summer.
Fall Lecture Series
Norma Portnoy and Sharon Nehls have scheduled two very interesting lecture events for our fall entertainment. On October 12 Classy Ladies: Women Composers of Great Music will be presented by a classical music historian and author of nine books related to music history. Female composers from the Italian Renaissance to present day America will be featured.
The November 9th lecture, Stories of Colorado Women: The Famous, the Infamous, and the Ones You Have Never Heard Of, promises to be an hour of intrigue. We will learn about women in a variety of fields who have made significant contributions to our state of Colorado. The speaker has been a volunteer at History Colorado for the last 18 years and has degrees in history and anthropology.
Virtual To In-Person Programing
Prior to the relaxation of COVID restrictions throughout the country, the UWC Board had made a decision to continue our events and programming virtually through the end of the year. In response to the new COVID guidelines, the Lecture Luncheon Committee is considering all options for our fall programming.  This summer we will be conducting a survey to gauge your interest and comfort with returning to events in person with a closed space.
In conclusion, we have the summer to look forward to as a respite from our months of isolation required by the pandemic followed by a fall season filled with exciting programing. Our sincere hope is that we will be able to offer in-person activities beginning in January 2022.
Have a wonderful summer!
Tamera Van Spriell
UWC President 2021-2022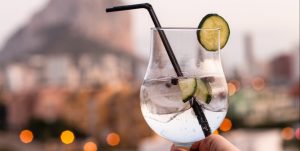 Happy Hour / Tea Time Conversations Continue in June
We'd love to have you join one of our summer Happy Hour/Tea Time conversations. We meet twice a month, the first and third Tuesday at 4:00. Contact Kathy Randall (katherineran@gmail.com) to reserve a spot for one or more conversations.
June 1: What is your favorite children's or young adult book and why?
June 15: Tell us about an adventure you had while traveling – it can be an adventurous journey or a personal adventure while doing more conventional travel.
After a July and August break from Conversations, we'll figure out what format our activity will take in the fall, depending on the Covid situation. Send any suggestions for format or topics to Kathy.
You can watch UWC events online!
The UWC web home page (www.boulderuwc.org)  has a section WATCH UWC ONLINE – with links to all the online events from 2020 and 2021 – including each lecture event, the membership tea, the vintage moves introductory class, the Opera "non-brunch" and the Honors Reception and its productions.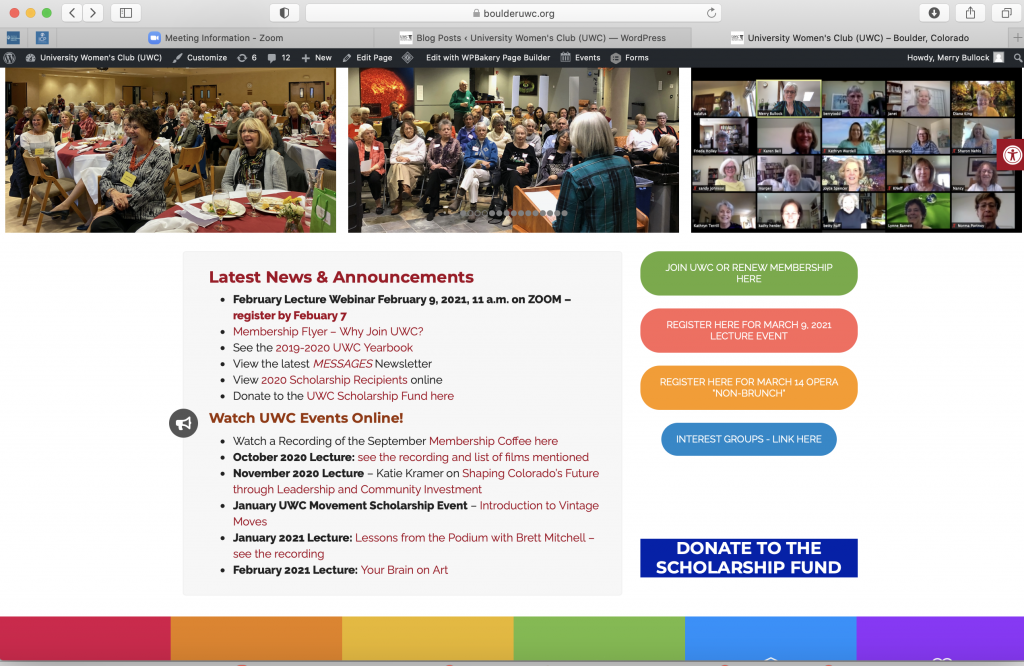 Looking for an opportunity to serve on the UWC Executive Board?
Historian/Yearbook
The Board of the University Women's Club has an opening for the position of Historian effective until May 2022. The ideal candidate should be someone who enjoys photography, has her own equipment and is familiar with digital platforms. The Historian photographically documents all UWC events, requests photographs from events she is unable to attend, submits pictures for MESSAGES and compiles a book of the year's activities.
Honors Reception Chair
If you enjoy planning a party, you might be the perfect candidate for this position. When we are able to meet in person, the Honors Reception is an opportunity to gather at the end of the academic year to enjoy finger foods, conversation with your friends and to recognize past and present members of the UWC who have demonstrated outstanding service to our organization.  Any candidate for this position should have good people and project management skills and enjoy planning a large event.
Contact president Tam Van Spriell (303-543-7424) if you are interested in serving in these Board Positions.
Save the Date – September Membership "Coffee/Tea"
The traditional membership coffee will take place on Tuesday, September 14, 2021, beginning at 11:00 a.m.
At this time, the Board is projecting that it will have to be a virtual (Zoom) event.  We are hopeful to bring back those women who took a break from UWC during the pandemic and also to attract new members. We are optimistic that sometime during the 2021-2022 program year we will be meeting in person once again.
The 2021 Honors Reception, May 11, was a packed event with recognition of Board Members, Interest Group Chairs, and past award winners.  There was a play Remarkable Women – a Short History of the UWC  drawn from materials from the UWC history books, and a musical performance, both live and recorded. The President's Awards were announced and the Margaret Willard Award was given. Outgoing President Janet Brewer and incoming President Tam Van Spriell exchanged the UWC President's gavel and read the traditional poem, The Tradition of the Gavel. The the event ended with closing remarks from the 2021-22 President Tam Van Spriell. You can view the event online here, and see separate recordings of the play and the pre-recorded musical selection.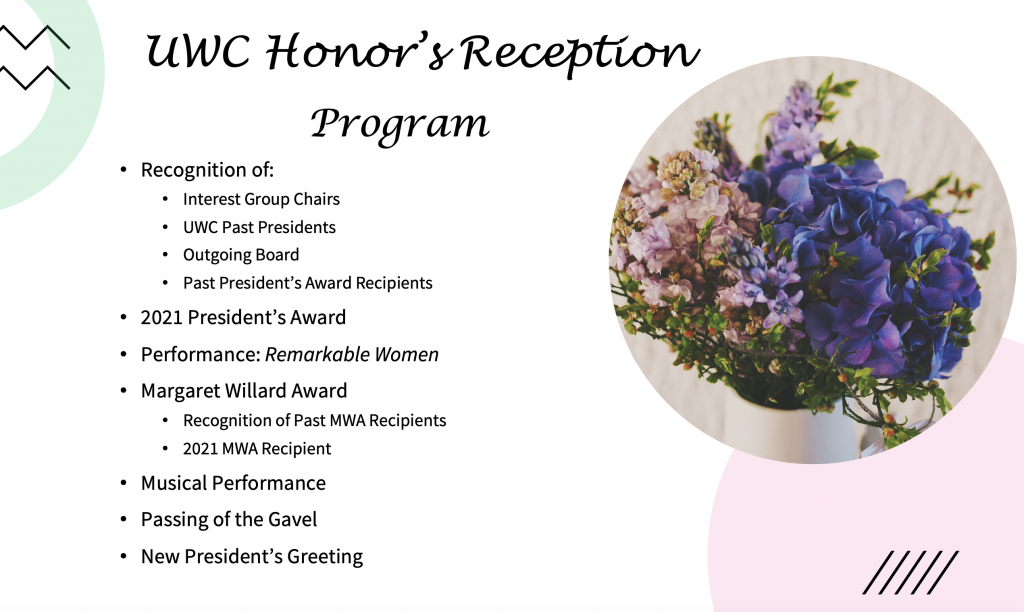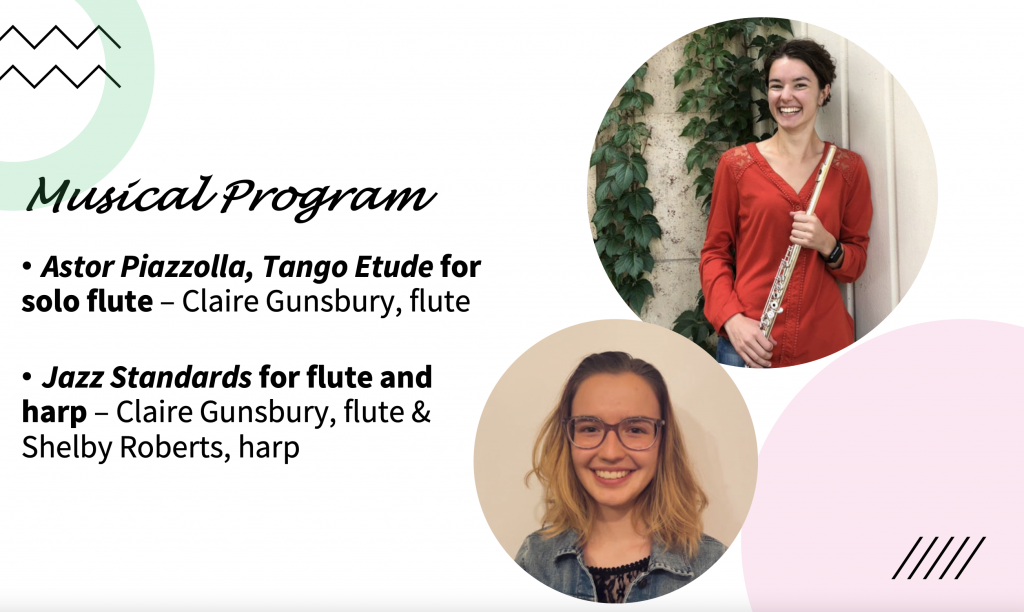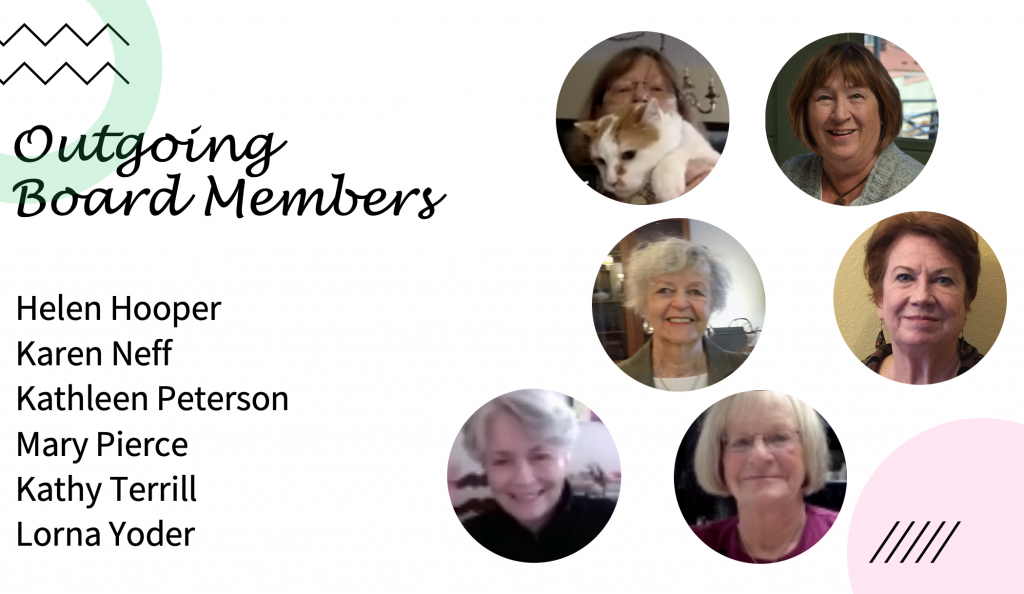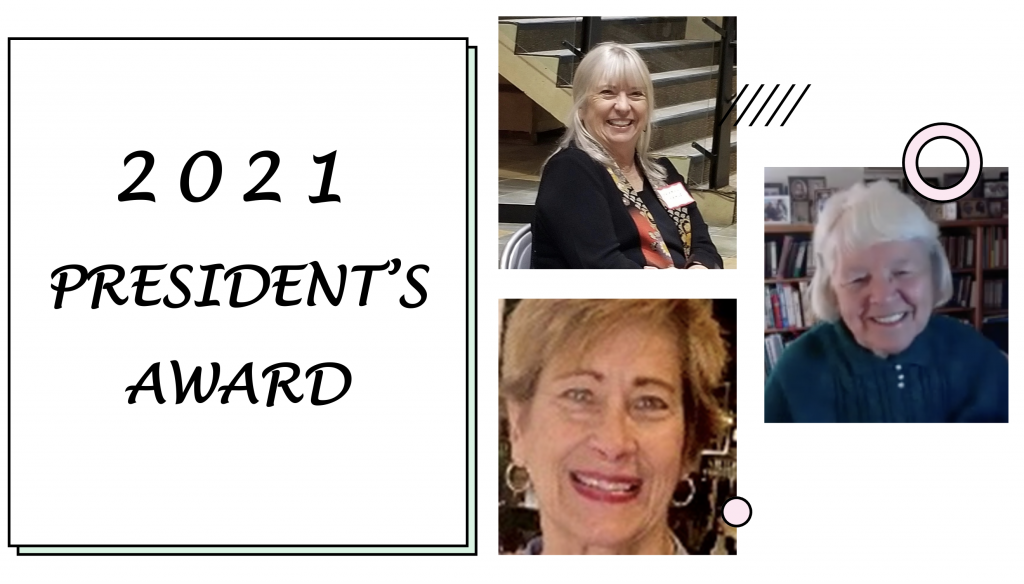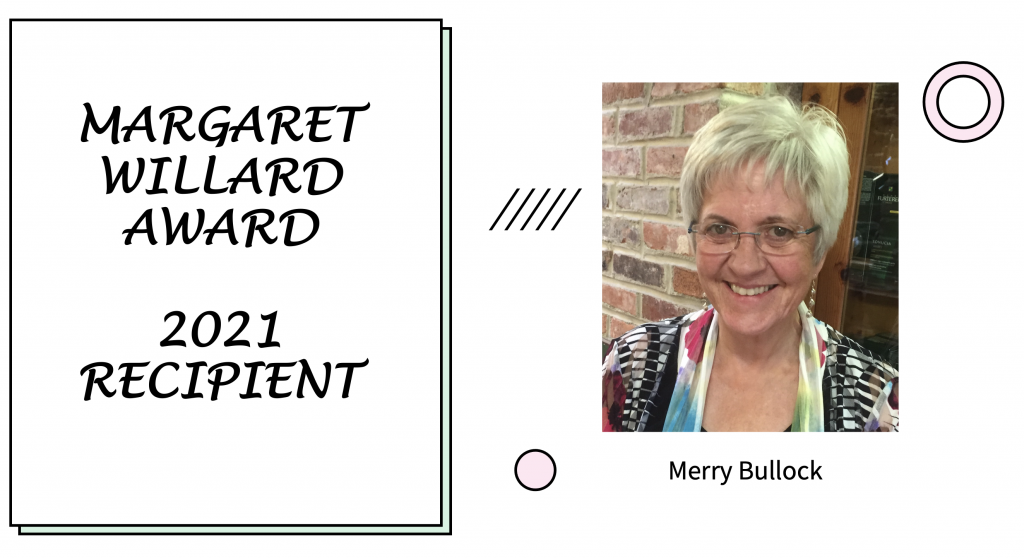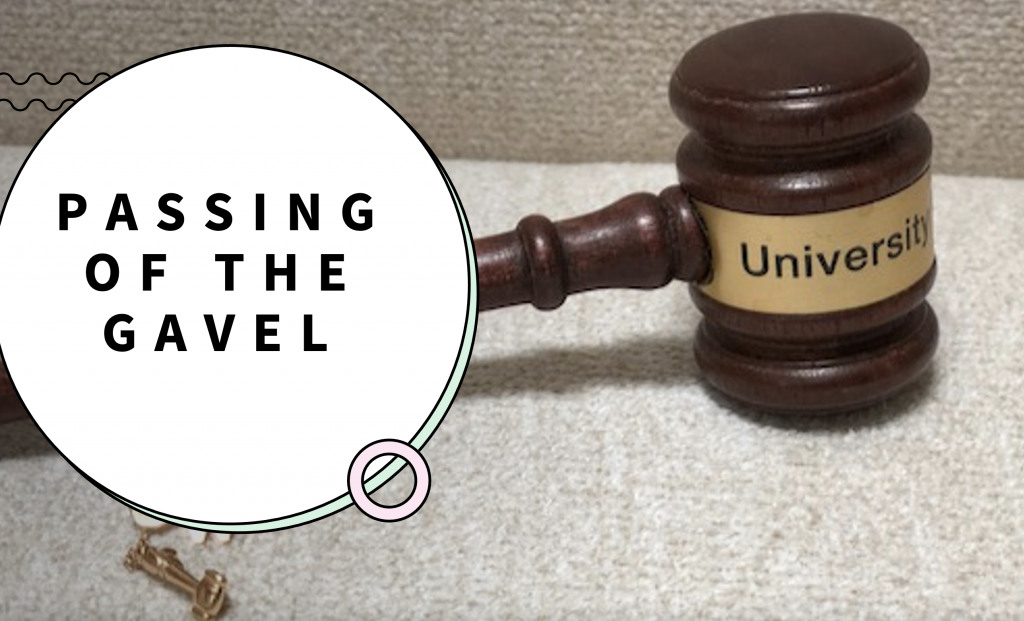 Remarkable Women – A Short History of UWC
A look at UWC's own history through the eyes of some of its remarkable women – based on texts from the UWC History Books – was performed by current UWC members.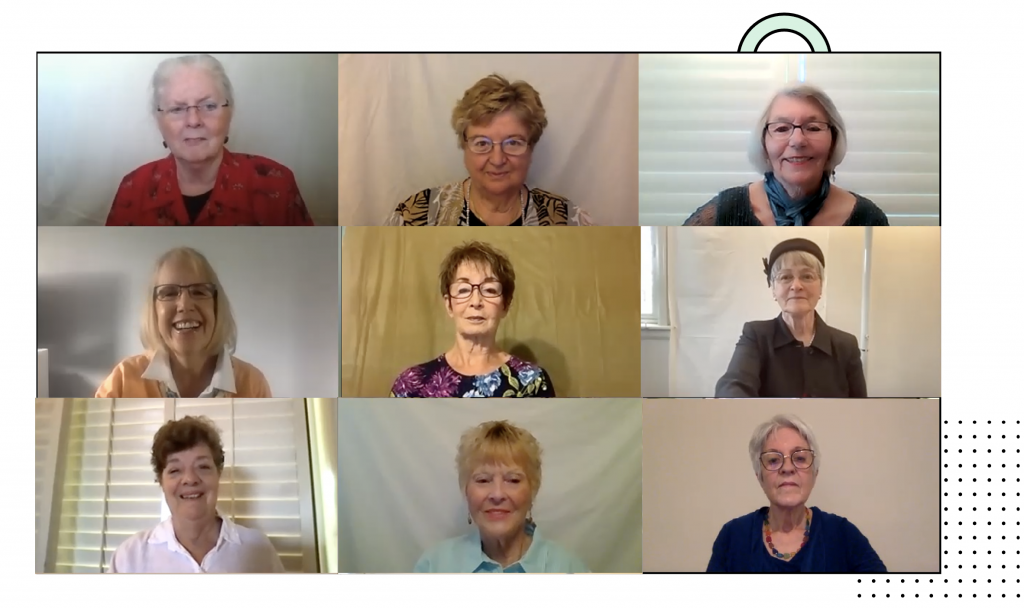 Again this year, the pandemic required us to hold the annual event honoring our Scholarship recipients virtually.  Our 2021 recipients joined this Zoom event live, but also graciously made themselves available for pre-recorded interviews with Scholarship Committee members, which were played at that event.   In case you missed them, these are highlighted below and on the UWC website. I strongly urge you to take a few minutes to listen — you will be uplifted by hearing what these students have been able to accomplish with their incredible determination, perseverance and initiative as they so often had to balance academic demands with the competing demands of self-support and helping with family support.  Recipients also described their future goals in these interviews.  As one student said, understanding from her childhood what it is to "go without" resulted in her having life goals that include finding ways of  "giving back," something to which so many of our recipients aspire.  Listening to these life stories will give you a sense of how important your donations are in allowing these students to achieve their dreams, making their lives better, but also making the world a better place more generally as our recipients so often use their talents to address broader societal needs.
Congratulations again to our members who stepped up so generously in this pandemic year, allowing one of the most important and long-standing missions of the UWC to carry on in full force.  Let's keep this momentum going!   When you listen to our recipients' stories, take another minute to make a donation on-line.  Also look online for the "Support UWC " section and learn how to sign up for the King Soopers and Amazon Smile charitable rewards programs, which enable automatic donations to UWC, so you have an additional donation at no cost to you!
Marge Riddle
Scholarship Chair
May Donations to the Scholarship Fund:  Janet Brewer, Merry Bullock, Sydney Hoerler, Janet Koch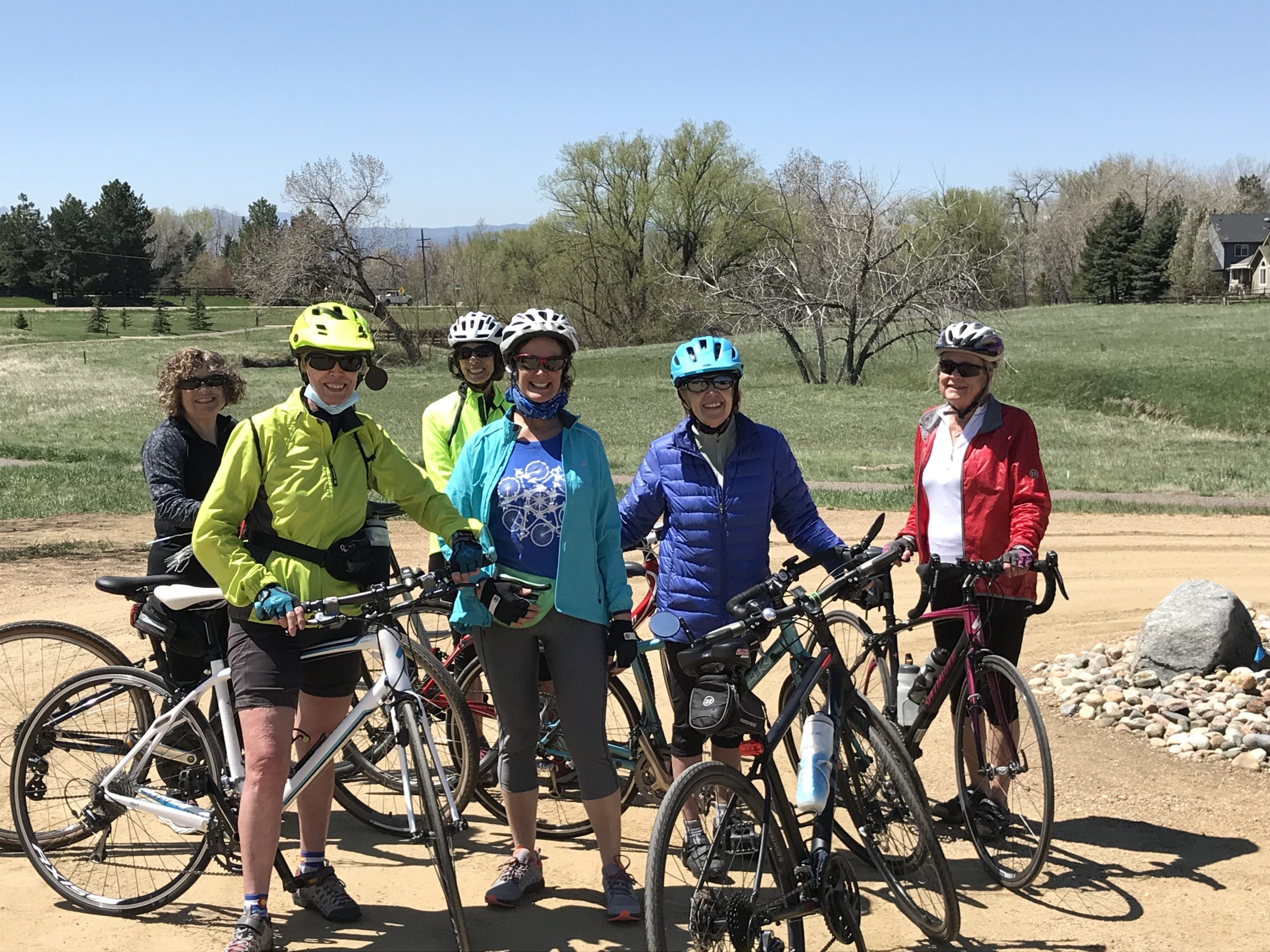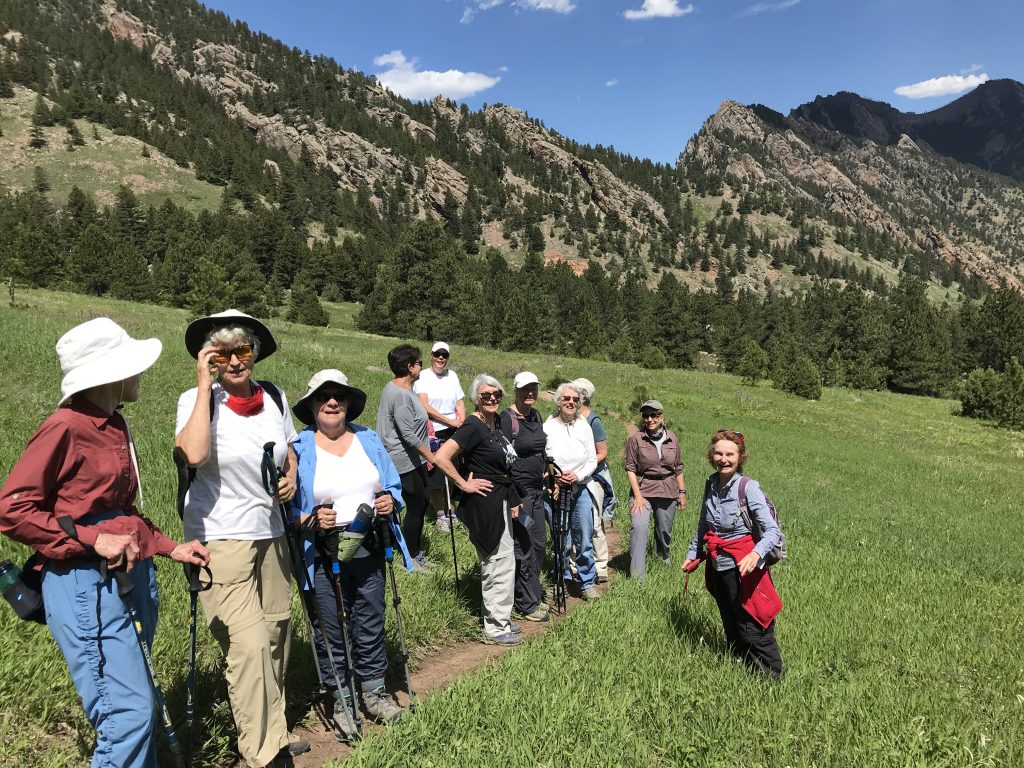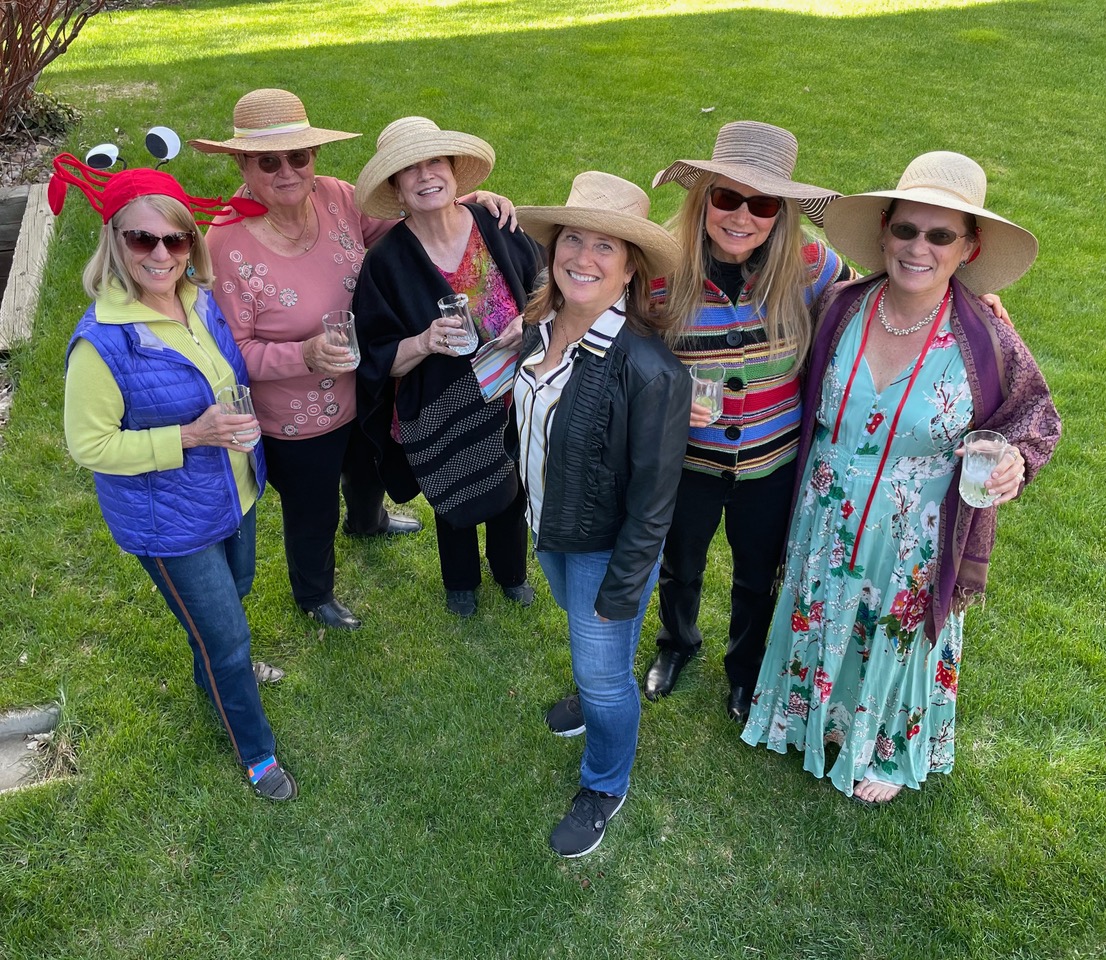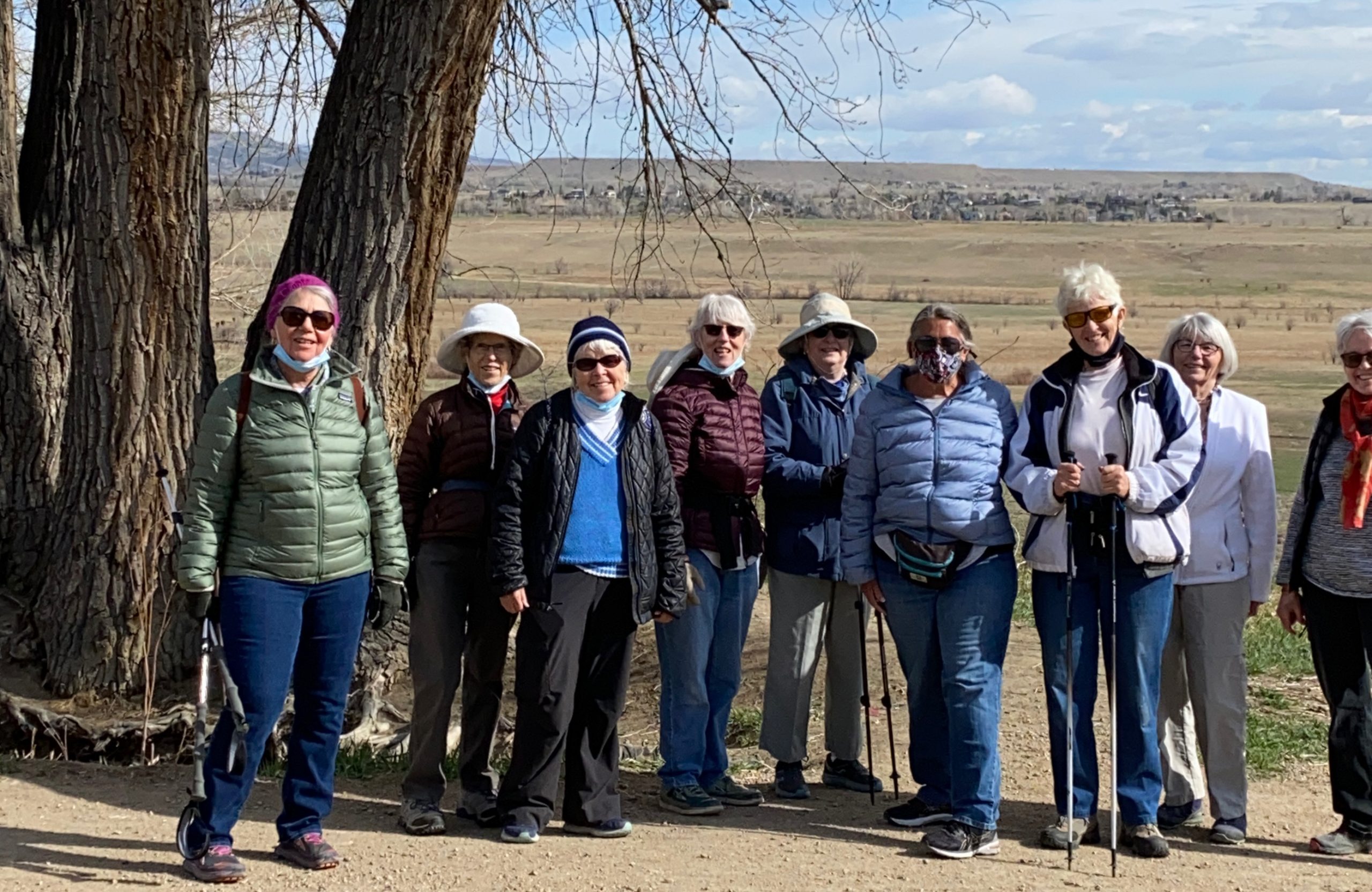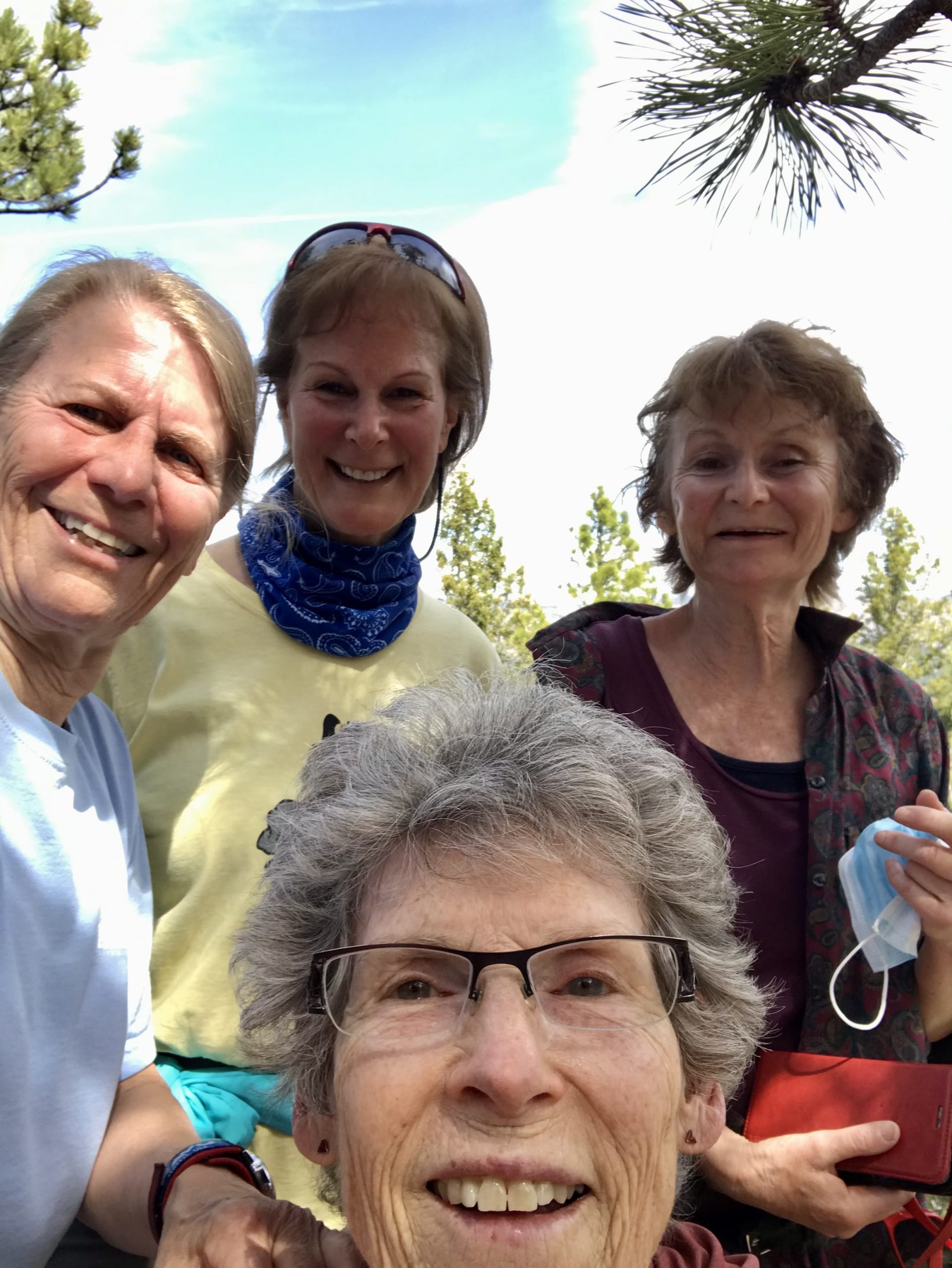 Look at this!




You can raise funds for UWC at NO COST TO YOU!
King Soopers and Amazon both have programs that will donate a percentage of your qualifying purchases to UWC at no cost to you whatsoever!  Even better, once you're set up, everything happens automatically.  It's "easy peasy!"  University Women's Club hopes that as many members as possible will enroll in these programs and designate UWC as the recipient of these donations.  And to make it happen, we're here to help you get enrolled.
King Soopers shoppers can join their Community Awards Program and Amazon customers can join the Amazon Smile Program.  The vast majority of our members frequent both companies on a regular basis and should join both programs.  For that matter, let's also get our spouses, children, and adult grandchildren to join these programs to help us raise funds.
The decision to participate is truly a no-brainer!
Support UWC When Shopping at King Soopers
With the King Soopers Community Rewards program, you can support UWC with every purchase.  You'll simply need to create an online account and then register your Loyalty ("Shoppers") Card to link it to UWC.  Purchases at King Soopers would generate an annual gift of approximately $115 for a single-occupant household and $230 for a two-person household.
Please click here for instructions on how to do this.
Designate UWC in the Amazon Smile Program
With AmazonSmile, you'll automatically help UWC every time you shop, with no cost to you of either time or money.  You can link your Amazon account to the University Women's Club through the AmazonSmile Program.  Then just shop using the AmazonSmile website (smile.amazon.com) and UWC will earn a percentage of your qualifying purchases.  Tens of millions of products on AmazonSmile are eligible for donations.
Please click here for instructions on how to do this.
Do You Have Questions or Need Assistance?
If you have questions or need assistance setting up your accounts, please contact UWC Board Member, Norma Portnoy at normaportnoy1112@gmail.com.  She will be glad to walk you through the enrollment processes, step by step, on the phone, while you are on your computer submitting the necessary information.
Thank you!
THANK YOU FOR PARTICIPATING in this program to help UWC raise needed funds.
Interest groups are continuing during the summer and some are looking for new members!
It's finally summer in Colorado. If you're looking for a new activity, try out one of these interest groups:
Bicycling
Garden Group
Golfing
Hiking
Out Lunch Bunch
Spanish Conversation – Advanced
These groups are all meeting this summer and are looking for additional people to join them.  All are meeting outside in person.
If you belong to one of the above groups, perhaps you could invite a friend who isn't yet a UWC member to try out your group with you. During the summer, people can participate in UWC activities as provisional members without paying dues.  If they enjoy it, they can join the organization in September.
As you read this article, you may notice a new name and phone contact. Please welcome Linda Nordberg. She is the new Interest Groups Coordinator for 2021-2022.  She has filled this position before and will provide excellent leadership.
Interest Groups into the Future
There are four groups in need of new group leaders: Easy Riders Bicycle Group, the Music Group, the Theater Group, and the Snowshoeing Group.  If you are interested in leading any of these groups, please contact Linda Nordberg (303) 284-6270.
Groups that are taking new members are listed below. The only groups meeting during the summer and accepting new members right now are detailed above.  The rest of the groups open to new members will be accepting them in September. To join, you can contact the Group Chairs listed for each group. You can find email addresses by consulting the downloadable document (Link below) with Interest Group information.
New groups are welcome. If you have an idea for a new group, please contact Interest Groups coordinator Linda Nordberg (303) 284-6270. To form a new group, you will need five members including a group chairperson.  To start a new book group, please contact Kathy Randall (303-530-1095).
Helen Hooper
Outgoing Interest Groups Coordinator
Interest Groups Information
Link here to printed version that includes chair email addresses
Bicycling – Every Thursday in person from May through October
Chairs: Betsy Barrett (602-677-4627), Gail Smith (303-960-5004).
Book Group – Biographies – Third Friday 3:00 pm on ZOOM
Chair: Gina Cook (630-862-5707).
Book Group – Evening – Second Thursday 3:00 pm on ZOOM
Chairs: Judy Reid, (303-440-6040 ), Linda Toomre (303-818-5550).
Garden Group – Third Wednesdays meeting in person from April through October
Chairs: Jyotsna Raj (303-447-8831), Jean Rohrschneider (720-542-9788).
Golfing — New Members Welcome, meeting in person 1:00 pm every Thursday at various golf courses
Chair: Susan Planck (303-499-3916).
Hiking —  Every Friday, 9:00 am September-May; 8:30 am June-August in person at Macy's lower level parking garage
Chairs: Heidi Lynch (303-494-2879), Frieda Holley (303-499-3733).
Italian Conversation  – Wednesday 1:30-2:30 pm on ZOOM
Maxene Wilson (303-530-4619).
On the Road Again  – taking virtual road trips until in-person meetings can be resumed
Kathy Randall (303-746-4528).
Out to Lunch – 4th Wednesday at noon on ZOOM
Chairs: Jyotsna Raj (303-447-8831) and Jean Rohrschneider (720-542-9788).
Reader's Theater 2 – 3rd Monday at 4:00 pm on ZOOM
Chairs: Patty Ludke (303-817-1020); Kathy Randall (303-746-4528).
Spanish Conversation Advanced –  Meeting monthly for the summer, late Wednesday afternoons. Contact chair for details
Chair: Diana King (303-530-1860).
Spanish Learners Beginners and Intermediates – Contact chair for details
Chair: Carol Cech (303-499-4843).
Sunday Afternoon at the Movies – Second Sunday meeting on ZOOM.
Chairs: Diane Thoms, Kathleen Peterson (303-579-8652).
Groups that are on hiatus until in-person meetings can be resumed:
Bicycling – Easy Riders – New chairperson needed
Bridge on Wednesday – Ginnie Ross
French Conversation – All Speaking Levels – Beth Karpf
Music – New chairperson needed
Needlecraft – Ginnie Ross
Snowshoeing – New chairperson needed
Theater Goers – New chairperson needed
Groups that are full:
Book Group — Afternoon – Carol Saunders and Pat Phillipson
Book Group – The Bookies – Kathy Randall
Book Group Small – Fiction and Non-Fiction  – Joyce Bograd
Book Group – Second Monday – Janet Evans
French Conversation  – Dot Thompson
Membership Courtesy
If you know of a member who would appreciate a card, note, or any personal contact due to illness, death, or other reasons for support, please inform Betty Huff, 303-919-8712.
Members in Memoriam
As information to members, and to remember those who have passed away, the UWC Board is beginning an "in Memoriam" section on the website. This section will honor those UWC members who have passed away in the current year. If you are aware of UWC members who have left us, please let Joyce Spencer, webmaster, know the member's name.
Officers
President – Tamera VanSpriell
President Elect – Norma Portnoy
Past President – Janet Brewer
Secretary & Secy Elect – Karen Bell
Treasurer  – Kathy Herder
Treasurer-Elect – Frieda Holley
Board Members
Communications – Betty Huff
Directory – Diana King
Email / Email Monitoring – Berry Todd
Historian/Yearbook – Vacant
Honors Reception – Vacant
Interest Groups – Linda Norberg
Lecture Registration – Lynne Barnett
Margaret Willard Award – Patty Ludke
Membership – Arlene Gerwin
MESSAGES – Merry Bullock
New Members – Janet Brewer
Nominating Committee – Kathy Randall
Opera Brunch – Sandy Johnson
Parliamentarian – Frieda Holley
Program Chair – Norma Portnoy
Program Co-Chair – Sharon Nehls
Repository – Diana King
Scholarship Committee – Marge Riddle
Scholarship Luncheon – Jonette Lucia
Telephone Tree – Open
Website – Joyce Spencer
UWC Calendar 2021-2022 
August 2021
03 Tuesday, Board Meeting, 10:30 a.m.
10 Tuesday, MESSAGES Deadline
07  Tuesday, Board Meeting, 10:30 a.m.
10  Friday, MESSAGES Deadline
14  Tuesday, Membership Coffee, 11:00 a.m. on ZOOM
October
05  Tuesday, Board Meeting, 10:30 a.m.
10  Sunday, MESSAGES Deadline
12  Tuesday, Lecture Webinar, 11:00 a.m. on ZOOM
November
02  Tuesday, Board Meeting, 10:30 a.m.
09  Tuesday, Lecture Webinar, 11:00 a.m. on ZOOM
10  Wednesday, MESSAGES Deadline
December
10  Friday, MESSAGES Deadline (Dec/Jan Issue)
TBD New Member Wine & Cheese – time to be determined depending on whether meeting virtually (December) or in person (January)
January 2022
04  Tuesday, Board Meeting, 10:30 a.m.
10  Monday, MESSAGES Deadline
11   Tuesday, Lecture Webinar, 11:00 a.m.
February
01  Tuesday, Board Meeting, 10:30 a.m.
08  Tuesday, Lecture Webinar, 11:00  a.m.
10  Thursday, MESSAGES Deadline
March
01  Tuesday, Board Meeting, 10:30 a.m.
08 Tuesday, Lecture Webinar, 11:00 a.m.
10  Thursday, MESSAGES Deadline
13  Sunday, Opera Brunch, Opera Macky Auditorium
April
05  Tuesday, Board Meeting, 10:30 a.m.
10   Sunday, MESSAGES Deadline
19   Tuesday , Scholarship Luncheon
May
03  Tuesday, Tri-board Meeting, 10:30 a.m.
10  Tuesday, Honor's Reception