MESSAGES May- Issue 9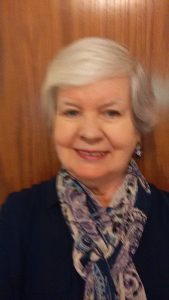 "Hope Smiles from the threshold of the year to come, Whispering 'it will be happier'…"
Alfred Lord Tennyson
Looking back at this year, our Lecture Webinars were well-received, and we have been informed and enlightened on a variety of subjects: documentary films, the importance of leadership and community investment in Colorado, Brett Mitchell's "Lessons from the Podium," Bill Stoehr's "Your Brain on Art," and fraud awareness and prevention. I wish to recognize and thank Norma Portnoy and Sharon Nehls for arranging these programs.
This year's non-brunch opera event featured Maestro Nicholas Carthy's engaging observations on Engelbert Humperdinck's Hansel and Gretel, combined with the opportunity to view the production online. Ironically, the fact that we held this event virtually was the only thing that made the experience possible.  It would surely have had to have been cancelled due to the major snow storm that occurred on the date of the event. Thanks to Sandy Johnson for coordinating with CU's Eklund Opera.
As I write this, we look forward to two additional events to complete our program year—our Scholarship Celebration in April and our Honors Reception in May. Like everything else this year, these will be presented in Zoom/Webinar formats.  We are delighted to be able to award $30,000 in scholarships to this year's recipients, and I especially want to thank Marge Riddle, Scholarship Chair, and the members of her committee: Lauren Charbonneau, Jeanne Fetterman, Sydney Hoerler, and Boyce Sher.
Our 2021 Margaret Willard award recipient, Merry Bullock, will be recognized at our Honors Reception May 11. The Honors Reception also marks the official "passing of the gavel" from me to my successor, Tamera Van Spriell. We will have jointly presided over the annual Tri-Board meeting on May 4, at which time the out-going and incoming Boards will meet to plan for the year ahead. I wish to thank everyone who has contributed to keeping our club viable in this most difficult of years, especially the Board members, Kathy Randall (our "Zoom Czar") and those who have led the interest groups continuing to meet. It has been an honor and a pleasure to serve as your President.
Janet Brewer
President 2020 – 2021
Merry Bullock Ph.D Margaret Willard Award Recipient for 2021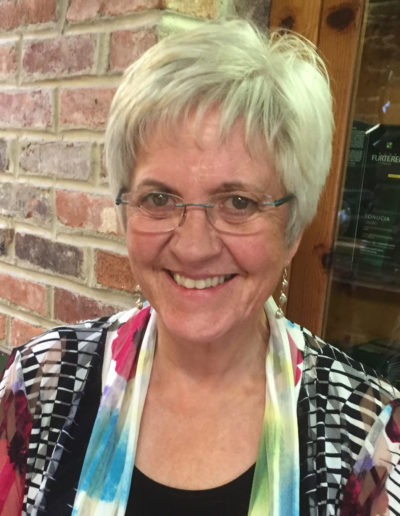 Every year The University Women's Club recognizes someone from the area that we admire for her contributions to her field, and whose contributions ultimately benefit our community. The first Margaret Willard awards went to CU graduate students, faculty, and those working for the University, who were rising in their field of endeavor and deserved recognition. Since then, UWC now includes members from the wider community who have contributed to CU and local communities, and are leading the way in their field.
Merry Bullock is the recipient of the 2021 Margret Willard Award.  Merry earned her Ph.D in psychology and has contributed to international knowledge and learning for 45 years as a leader in the field in the USA and around the world. In addition to participating in research and scientific studies, she held various positions at the American Psychological Association (APA) including Senior Director of the Office of International Affairs. She served as Deputy Secretary-General for the International Union of Psychological Science for 12 years (the equivalent of the "UN" for world-wide psychology organizations) and since her retirement in 2016 has been President of the International Division of the APA, and Secretary-General of the International Council of Psychologists. She also co-founded the Global Network of Psychologists for Human Rights.
Merry's employment meant she spent a lot of time traveling  to Washington D.C. and internationally, but even then she found time to participate in UWC activities and to contribute to the organization in the important positions of Scholarship Chair and Webmaster.
After her retirement she was ready to take on the role of UWC President. She was instrumental in organizing our Centennial Celebration and then the pandemic struck. Unfortunately our in-person events had to be cancelled, but Merry stepped in so that before the end of her tenure she had set us up with a UWC Zoom Account which was essential for webinars and meetings. She continues her contributions to UWC this year serving as MESSAGES editor and handling the webinars.
Merry has demonstrated her outstanding professional work in the field of Psychology and is an exceptional role model for women students of today. She has enhanced the quality of life for the women in the UWC and has brought honor to all women through her accomplishments.
We are happy to recognize this outstanding leader in our community.
Kathleen Peterson
MWA Chair
Happy Hour / Tea Time Conversations on ZOOM!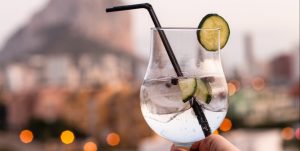 We'd love to have you join one of our end-of-the-UWC-year Happy Hour/Tea Time conversations. We meet twice a month, the first and third Tuesday at 4:00. Contact Kathy Randall (katherineran@gmail.com) to reserve a spot for one or more conversations.
May 4: What was one of your first jobs and what is something you learned from it?
May 18: What is one of the best or worst pieces of advice you have ever been given? Did you follow that advice?
June 1: What is your favorite children's or young adult book and why?
June 15: Tell us about an adventure you had while traveling – it can be an adventurous journey or a personal adventure while doing more conventional travel.
After a July and August break from Conversations, we'll figure out what format our activity will take in the fall, depending on the Covid situation. Send any suggestions for format or topics to Kathy.
Honors Reception – May 11, 11:00 a.m.
Webinar Gathering at 11:00 a.m.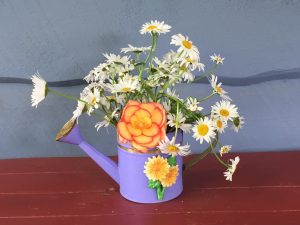 Traditionally the Honors Reception is an opportunity to gather in person at the end of the academic year to enjoy sweets, libation and conversation with our friends and to recognize past and present members of the UWC who have demonstrated outstanding service to our organization.
This year, since we are still not able to gather in person due to the COVID-19 pandemic, we have the opportunity to step outside of the traditional lines and be creative in our programing. Of course we will continue with our time-honored tradition of recognizing members in attendance who have provided leadership and inspiration in our recent past. We will also honor the recipients of the President's Award and the coveted Margaret Willard Award.
Stepping away from tradition, we have added a musical program for your enjoyment. We are delighted to present Claire Gunsbury, who is graduating this spring from the University of Colorado Boulder with a Bachelors of Music in Flute Performance, and in Musicology, and a Certificate in Music Entrepreneurship. She was the 2017-2021 recipient of the Sher Distinguished Musician Scholarship and is an avid chamber musician. Claire will be performing with harpist Shelby Roberts, who is also earning her degrees at the University of Colorado in performance and music education.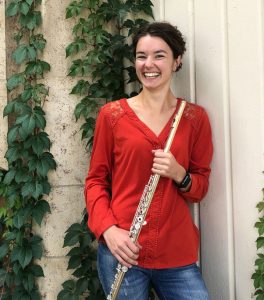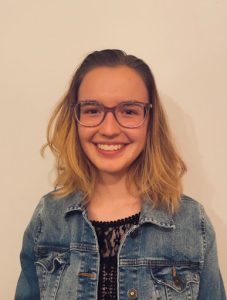 Program:
Musical Program
Astor Piazzolla, Tango Etude for solo flute – Claire Gunsbury, flute
Jazz Standards for flute and harp – Claire Gunsbury, flute and Shelby Roberts, harp
Theatrical Performance
We will be treated to a premier performance of Kathy Randall's original production of Remarkable Women: A History of UWC Through Portrayals. Kathy created this production for the 100th Anniversary Celebration that had to be cancelled last year. Remarkable Women highlights women who have contributed to the evolution of the club over a period from 1919 to present day.
I think we're all in for a treat. I hope to see you – virtually, of course.
Looking for an opportunity to serve on the UWC Executive Board?
Historian/Yearbook
The Board of the University Women's Club has an opening for the position of Historian effective May 4, 2021 – May 2022. The ideal candidate should be someone who enjoys photography, has her own equipment and is familiar with digital platforms. The Historian photographically documents all UWC events, requests photographs from events she is unable to attend, submits pictures for MESSAGES and compiles a book of the year's activities. 
Honors Reception 
If you enjoy planning a party, you might be the perfect candidate for this position. When we are able to meet in person, the Honors Reception is an opportunity to gather at the end of the academic year to enjoy finger foods, conversation with your friends and to recognize past and present members of the UWC who have demonstrated outstanding service to our organization.  Any candidate for this position should have good people and project management skills and enjoy planning a large event. 
Contact incoming president Tam Van Spriell (303-543-7424) if you are interested in serving in these Board Positions.
You can watch UWC events online?
The UWC web home page (www.boulderuwc.org)  has a section WATCH UWC ONLINE – with links to all the online events from 2020 and 2021 – including each lecture event, the membership tea, the vintage moves introductory class, and the Opera "non-brunch."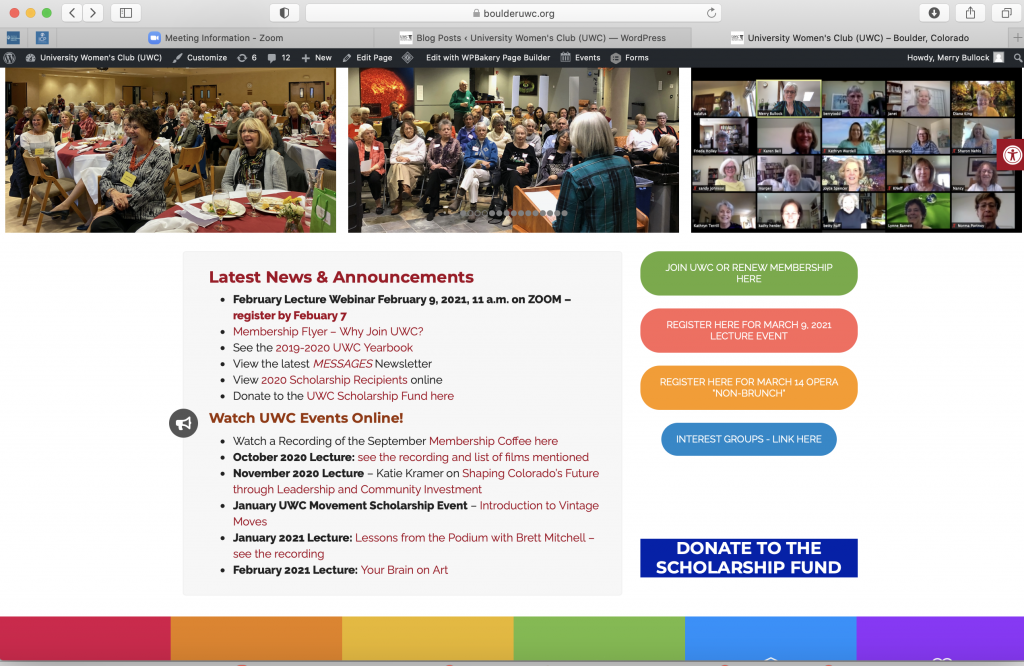 Message from the Scholarship Committee Chair
Again this year, the pandemic required us to hold the annual event honoring our Scholarship recipients virtually.  Our 2021 recipients joined this Zoom event live, but also graciously made themselves available for pre-recorded interviews with Scholarship Committee members, which were played at that event.   In case you missed them, these are highlighted below and on the UWC website. I strongly urge you to take a few minutes to listen — you will be uplifted by hearing what these students have been able to accomplish with their incredible determination, perseverance and initiative as they so often had to balance academic demands with the competing demands of self-support and helping with family support.  Recipients also described their future goals in these interviews.  As one student said, understanding from her childhood what it is to "go without" resulted in her having life goals that include finding ways of  "giving back," something to which so many of our recipients aspire.  Listening to these life stories will give you a sense of how important your donations are in allowing these students to achieve their dreams, making their lives better, but also making the world a better place more generally as our recipients so often use their talents to address broader societal needs.
Congratulations again to our members who stepped up so generously in this pandemic year, allowing one of the most important and long-standing missions of the UWC to carry on in full force.  Let's keep this momentum going!   When you listen to our recipients' stories, take another minute to make a donation on-line.  Also look online for the "Support UWC " section and learn how to sign up for the King Soopers and Amazon Smile charitable rewards programs, which enable automatic donations to UWC, so you have an additional donation at no cost to you!
Marge Riddle
Scholarship Chair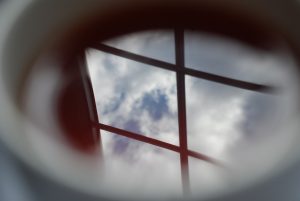 Meet the 2021 Scholarship Recipients!
Matt Davis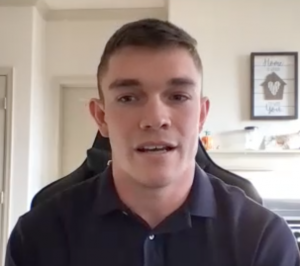 "I will continue to learn from mistakes and  to build the best version of myself". This was what Matthew Davis said in one of his essays. It was at North Carolina State that he learned the importance of failure. "Failure is always an option ", Matthew Davis said as he was drowning in the demands of a 4 year engineering degree.
Matthew lacked discipline. When  Matthew was a young boy his mother couldn't hold a job and was in and out of relationships. Matthew had no family security, let alone a mentor.
Someone suggested community college and he got his associates degree. Then, as a student at North Carolina State he was failing classes, his mother was struggling with cancer and he chose the party lifestyle . Matthew was depressed and left college .
It was soon after his college experience that Matthew joined the military where he realized that his failure had a positive lesson.  The Air Force gave him the discipline he needed to succeed and he learned what it took to stay focused , surround himself with positive people and to seek help when needed. Most importantly, Matthew learned that failure is always an option that  leads to growth.
Matthew is now in the Aerospace Engineering program with a GPA of 3.9.  His goal is to work in the United States Space Force Aerospace Industry. Matthew plans to use his studies and military service experience to position himself in a career that fosters space exploration.
Interview – Matt Davis and Lauren Charbonneau
Shantiel Emory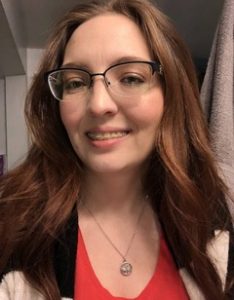 Shantiel Emory, who is majoring in Neuroscience and Psychology at CU,  grew up in a single-parent home and started working part-time to help with bills when she was 14.  Determined to get an education, she has worked full and part-time to support herself and pay her living and college expenses.  Her goal is to earn a Ph.D. In Neuroscience, saying that she wants to study the neurobiological basis of trauma and hopes to use that understanding in conjunction with Clinical Psychology to address social injustice and inequality.  In spite of her very busy schedule, she has still found time to be involved in volunteer work, including helping to build houses with Habitat for Humanity. She explains that she "knows what it is like to have to go without…" and that "the kindness of the community was so important to (her) as a kid, she can't think of a better way to spend some extra time than making others' lives a bit better."
Interview – Shantiel and Marge Riddle
Daniel Fischer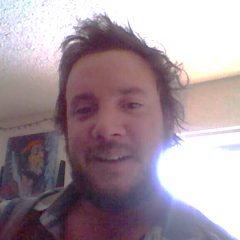 Daniel Fischer was raised in Fresno, California by a single mom.  His mother worked 3 jobs while trying to go to Community college but could not maintain school while raising 3 children and make ends meet.  When Daniel was 15, his brother was diagnosed with bi-polar disorder at age 8, which took all his mother's time and effort.  Daniel became the caregiver for his sister who was 4 at the time.. He took on this responsibility while holding a 4.0 GPA, on varsity football all 4 years and 2 seasons of track & field. At 16, he added a part-time job to help his mother financially.  After high school, he attended San Francisco State University fulfilling his GE requirements while working full time.  But he could not afford to continue and help his family.  He had to drop out of college in 2012 and worked until he decided to finish what he started, and, at the age of 30, has been pursuing a bachelor's degree in Civil Engineering with a focus in construction.
Interview – Daniel Fischer and Jeanne Fetterman
Zoé Kouremenos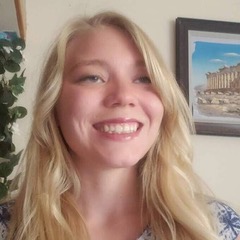 Zoe, a first generation American and first in her family to attend college, has been supporting herself and her education since the age of 17.  When she was younger, her father regularly took her to work with him and she saw his strong work ethic.   Her story exemplifies how she in turn developed an amazingly strong work ethic in her own life.  It took her 6 years to earn her first 2-year degree, working as a nanny during some of this time, getting to work at 4 a.m. and doing assignments during naptime and in the evenings.  But dedicated to her goal of pursuing further education and eventually becoming a medical doctor, with a true entrepreneurial spirit, she founded her own organic cleaning company, and says she has been "cleaning houses while listening to my lectures for many years now," while working on her Bachelor's degree. She says she continues to work toward her career goals daily, which include being a pediatrician as well as volunteering to be of service in underprivileged communities.
Interview – Zoé Kouremenos and Marge Riddle
Melissa Nichols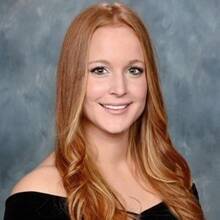 With minimum exposure to Melissa Nichols, one comes away with a maximum impression. She has integrated difficult life lessons, to enhance her natural leadership skills. Her experience serving children from under represented, low-income families in the Jumpstart Americorps Program, coupled with her passionate character, allows her to empathize with all children. Melissa likewise participates in an online counseling service that helps to support individuals in crisis situations.  Proving herself time and again, she has received multiple scholarships in her education field. In her future as an elementary school guidance counselor, she creatively aims to engage students by encouraging their natural curiosity while supporting their individual identities. She eagerly shares her passion for academics while molding opportunities for all to learn, grow and thrive.
Interview – Melissa Nichols and Sydney Hoerler
Look at this!




You can raise funds for UWC at NO COST TO YOU!
King Soopers and Amazon both have programs that will donate a percentage of your qualifying purchases to UWC at no cost to you whatsoever!  Even better, once you're set up, everything happens automatically.  It's "easy peasy!"  University Women's Club hopes that as many members as possible will enroll in these programs and designate UWC as the recipient of these donations.  And to make it happen, we're here to help you get enrolled.
King Soopers shoppers can join their Community Awards Program and Amazon customers can join the Amazon Smile Program.  The vast majority of our members frequent both companies on a regular basis and should join both programs.  For that matter, let's also get our spouses, children, and adult grandchildren to join these programs to help us raise funds.
The decision to participate is truly a no-brainer!
Support UWC When Shopping at King Soopers
With the King Soopers Community Rewards program, you can support UWC with every purchase.  You'll simply need to create an online account and then register your Loyalty ("Shoppers") Card to link it to UWC.  Purchases at King Soopers would generate an annual gift of approximately $115 for a single-occupant household and $230 for a two-person household.
Please click here for instructions on how to do this.
Designate UWC in the Amazon Smile Program
With AmazonSmile, you'll automatically help UWC every time you shop, with no cost to you of either time or money.  You can link your Amazon account to the University Women's Club through the AmazonSmile Program.  Then just shop using the AmazonSmile website (smile.amazon.com) and UWC will earn a percentage of your qualifying purchases.  Tens of millions of products on AmazonSmile are eligible for donations.
Please click here for instructions on how to do this.
Do You Have Questions or Need Assistance?
If you have questions or need assistance setting up your accounts, please contact UWC Board Member, Norma Portnoy at normaportnoy1112@gmail.com.  She will be glad to walk you through the enrollment processes, step by step, on the phone, while you are on your computer submitting the necessary information.
Thank you!
THANK YOU FOR PARTICIPATING in this program to help UWC raise needed funds.
Interest groups are a vital and integral part of the University Women's Club
It is May — the month that ends the academic school year and ends the formal activities of University Women's Club for the membership year, so no more Lecture Luncheons, no more Opera Brunches, and no more Scholarship Luncheons.  However, it also means that several Interest groups are just getting going. Bicycling, Hiking, Golfing, and the Garden Group are all resuming in person meetings and will meet through the summer.  Several other groups also continue through the summer.
There are four groups that are in need of new group leaders. The groups are the Easy Riders Bicycle Group, the Music Group, the Theater Group, and the Snowshoeing Group.  If you are interested in leading any of these groups, please contact Helen Hooper (720) 778-6124.
As vaccines are rolled out some University Women's Club's Interest Groups are starting to meet in person again, especially if the activity is outside.  The UWC requires that all Interest Group members be dues paying members of the UWC, but some Interest Groups have been inactive and still have inactive members on their email lists. According to the Standing Rules of the UWC "Women wishing to join UWC after April 1 are allowed provisional membership until the following September without payment of dues," and so inactive members can be considered provisional members until the fall.  Nevertheless, the UWC Board encourages members who did not join this year but wish to remain in the Interest Group to either pay their dues now, which will be considered dues for next year, or, even better, donate to UWC's Scholarship Fund and then pay their dues in August or September, the normal time for paying dues.  Since that means people will be getting five months of UWC membership free, that donation to the Scholarship Fund would be most appreciated.
Groups that are taking new members are listed below.  To join, you can contact the Group Chairs listed for each group. You can find email addresses by consulting the downloadable document (Link below) with Interest Group information.  Alternatively, you can fill out an interest group form  to indicate the groups that interest you, and the chairs of those groups will contact you.
New groups are welcome. If you have an idea for a new group, please contact Interest Groups coordinator Helen Hooper (720-778-6124). To form a new group, you will need five members including a group chairperson.  To start a new book group, please contact Kathy Randall (303-530-1095).
Helen Hooper, Interest Groups Coordinator
Interest Groups Information
Link here to printed version that includes chair email addresses
Bicycling – Every Thursday in person from May through October
Chairs: Betsy Barrett (602-677-4627), Gail Smith (303-960-5004).
Book Group – Biographies – Third Friday 3:00 pm on ZOOM
Chair: Gina Cook (630-862-5707).
Book Group – Evening – Second Thursday 3:00 pm on ZOOM
Chairs: Judy Reid, (303-440-6040 ), Linda Toomre (303-818-5550).
Garden Group – Third Wednesdays meeting in person from April through October
Chairs: Jyotsna Raj (303-447-8831), Jean Rohrschneider (720-542-9788).
Golfing — New Members Welcome, meeting in person 1:00 pm every Thursday at various golf courses
Chair: Susan Planck (303-499-3916).
Hiking —  Every Friday, 9:00 am September-May; 8:30 am June-August in person at Macy's lower level parking garage
Chairs: Heidi Lynch, Frieda Holley.
Italian Conversation  – Wednesday 1:30-2:30 pm on ZOOM
Maxine Wilson (303-530-4619).
On the Road Again  – taking virtual road trips until in-person meetings can be resumed
Kathy Randall (303-746-4528).
Out to Lunch – 4th Wednesday at noon on ZOOM
Chairs: Jyotsna Raj (303-447-8831) and Jean Rohrschneider (720-542-9788).
Reader's Theater 2 – 3rd Monday at 4:00 pm on ZOOM
Chairs: Patty Ludke (303-817-1020); Kathy Randall (303-746-4528).
Spanish Conversation Advanced –  Meeting weekly, late Wednesday afternoons. Contact chair for details
Chair: Diana King (303-530-1860).
Spanish Learners Beginners and Intermediates – Contact chair for details
Chair: Carol Cech (303-499-4843).
Sunday Afternoon at the Movies – Second Sunday meeting on ZOOM.
Chairs: Diane Thoms, Kathleen Peterson (303-579-8652).
Groups that are on hiatus until in-person meetings can be resumed:
Bicycling – Easy Riders – New chairperson needed
Bridge on Wednesday – Ginnie Ross
French Conversation – All Speaking Levels – Beth Karpf
Music – New chairperson needed
Needlecraft – Ginnie Ross
Snowshoeing – New chairperson needed
Theater Goers – New chairperson needed
Groups that are full:
Book Group — Afternoon – Carol Saunders and Pat Phillipson
Book Group – The Bookies – Kathy Randall
Book Group Small – Fiction and Non-Fiction  – Joyce Bograd
Book Group – Second Monday – Helen Hooper
French Conversation  – Dot Thompson
Membership Courtesy
If you know of a member who would appreciate a card, note, or any personal contact due to illness, death, or other reasons for support, please inform Betty Huff, 303-919-8712.
Members in Memoriam
As information to members, and to remember those who have passed away, the UWC Board is beginning an "in Memoriam" section on the website. This section will honor those UWC members who have passed away in the current year. If you are aware of UWC members who have left us, please let Joyce Spencer, webmaster, know the member's name.
President – Janet Brewer
President Elect -Tamera VanSpriell
Past President – Merry Bullock
Secretary & Secy Elect – Karen Bell
Treasurer & Treas. Elect – Kathy Herder
Communications – Betty Huff
Email/Directory – Berry Todd
Historian/Yearbook – Vacant
Honors Reception – Tamera VanSpriell
Interest Groups – Helen Hooper
Lecture Registration – Lynne Barnett
Margaret Willard Award – Kathleen Peterson
Membership – Karen Neff
MESSAGES – Merry Bullock
New Members – Kathy Terrill
Nominating Committee – Arlene Gerwin
Opera Brunch – Sandy Johnson
Parliamentarian – Frieda Holley
Program Chair – Norma Portnoy
Program Co-Chair – Sharon Nehls
Repository/Email Monitor – Lorna Yoder
Scholarship Committee – Marge Riddle
Scholarship Luncheon – Mary Pierce
Telephone Tree – Helen Hooper
Website – Joyce Spencer
2020-2021
MAY
4 May: Tri-Board Meeting, 10:30 a.m.
10 May: MESSAGES deadline
11 May: 2021 Honors Reception, 11 a.m.
JUNE
1 June: Board Meeting
UWC Calendar 2021-2022 
August 2021
03 Tuesday, Board Meeting, 10:30 a.m.
10 Tuesday, MESSAGES Deadline
07  Tuesday, Board Meeting, 10:30 a.m.
10  Friday, MESSAGES Deadline
14  Tuesday, Membership Coffee
October
05  Tuesday, Board Meeting, 10:30 a.m.
10  Sunday, MESSAGES Deadline
12  Tuesday, Lecture Webinar, 11:00 a.m.
November
02  Tuesday, Board Meeting, 10:30 a.m.
09  Tuesday, Lecture Webinar, 11:00 a.m.
10  Wednesday, MESSAGES Deadline
December
10  Friday, MESSAGES Deadline (Dec/Jan Issue)
TBD New Member Wine & Cheese – time to be determined depending on whether meeting virtually (December) or in person (January)
January 2022
04  Tuesday, Board Meeting, 10:30 a.m.
10  Monday, MESSAGES Deadline
11   Tuesday, Lecture Webinar, 11:00 a.m.
February
01  Tuesday, Board Meeting, 10:30 a.m.
08  Tuesday, Lecture Webinar, 11:00  a.m.
10  Thursday, MESSAGES Deadline
March
01  Tuesday, Board Meeting, 10:30 a.m.
08 Tuesday, Lecture Webinar, 11:00 a.m.
10  Thursday, MESSAGES Deadline
13  Sunday, Opera Brunch, Opera Macky Auditorium
April
05  Tuesday, Board Meeting, 10:30 a.m.
10   Sunday, MESSAGES Deadline
19   Tuesday , Scholarship Luncheon
May
03  Tuesday, Tri-board Meeting, 10:30 a.m.
10  Tuesday, Honor's Reception