MESSAGES November 2022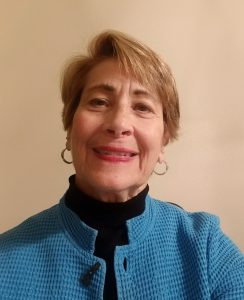 I recently began keeping a gratitude journal, noting the people, places, and things that I am grateful for.  Being thankful can help us feel more positive, improve our health, and contribute to our sense of well-being.  And, of course, it's great preparation for the Thanksgiving holiday.
It's no surprise that I included the University Women's Club, not just once, but numerous times, because there's so much to appreciate.  As the poet Elizabeth Barrett Browning wrote,  "Let me count the ways."
I am grateful for our board of directors and our interest group chairs, who serve as the backbone of the organization.
I am grateful for our members, who joined our organization, became engaged in activities, and provide the financial support that allows UWC to award scholarships to deserving CU undergrads.
I am grateful that UWC helped Debby, a first-generation college student whose world was turned upside down when her 10-year old son died from cancer.  With the help of a UWC Scholarship, Debby's education will enable her to become an art therapist in a children's cancer hospital to assist families navigating the upheaval in their lives when their children face terminal illnesses.
I am grateful that with UWC support, scholarship recipient Khrystyne, who came from a broken home with an abusive and alcoholic mother and attended eight high schools, earned a 3.5 GPA at the Leeds School of Business.
I am grateful that UWC was able to award a scholarship to Sylvia, who grew up in Uganda where she had to walk 10 kilometers to get clean spring water for her family.  When she receives her degree in Environmental Engineering, she plans to invent new ways to provide clean water in developing countries.
And I am grateful that CU student, Alana benefited from UWC assistance.  Alana defined herself as a drug addict, living a life without discipline or hope.  After becoming pregnant, she knew she would be parenting alone so with hard work and determination, she overcame her drug addiction.  She is on a trajectory to become a mechanical engineer with plans to devote her work to preserving the earth.
And I am grateful for the incredible fact that UWC has helped 145 other deserving students over the past 40 years.
I hope you will take the time to ponder what YOU are grateful for, and I hope your list includes UWC!
Norma Portnoy
2022-2023 UWC President

Giving Autumn Its Dues!
As falling leaves drift in the air
That doesn't mean you should despair!
We'll use them just as major clues
That it is time to pay your dues.
The nasty pandemic kept us away,
But UWC is back to stay.
Gathered together, all our dollars
Go to help our needy scholars.
We love our interest groups so much
And once again we are in touch!
Our lecture lunches are face-to-face!
We've traded our slippers for shoes that lace!
But most of all, dear friends, we miss you,
Your stories, your laughs, your points of view.
You can re-up easily right online.
Or send a check.  That's also fine.
As autumn leaves begin to fall
Don't be left out of our good times, ya'll!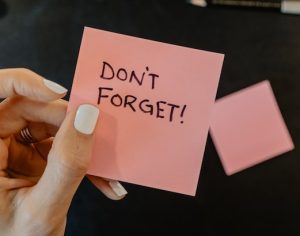 LAST CHANCE TO RENEW YOUR UWC
MEMBERSHIP
to be included in the November UWC Directory and to participate in members only activities. 
If you have not already renewed, just take a few minutes to pay your UWC membership dues/donation. It's so easy to renew. Just click on this link.  Read the instructions, and complete the membership form on the UWC website. You can pay directly online by credit card using the PayPal platform (check out as a guest) or by PayPal. If you prefer paying by check, please also complete the on-line form, then print it out and mail the completed form with your check, made payable to University Women's Club to:
UWC Membership
P.O. Box 18844
Boulder, CO 80308-1844
Membership dues are still $35 and cover the UWC 2022-2023 year. Your $35 dues include a $5 donation to the UWC Scholarship Fund. We always welcome larger donations that can easily be included when you pay membership dues or anytime throughout the year. Through your generous donations to the UWC Scholarship Fund, we can continue to provide scholarships to non-traditional CU students.
University Women's Club offers so many benefits. We have over 25 varied interest groups that participation is limited to only paid UWC members. So don't miss out.  Take a few minutes to renew your UWC membership. We look forward to seeing you at upcoming UWC events. 
If you have any questions regarding UWC Membership, please email Arlene Gerwin, Membership Chair at uwcmembershipchair@gmail.com.
UWC Lecture Luncheons 2022-2023
The UWC programming committee is very excited to announce our 2022-23 lecture series, which will be held in person at the University Memorial Center.
There are a few important changes
Because we are meeting in person, we need to verify attendance numbers with UMC Catering two weeks before the event. This means that there is a registration deadline for all Lecture Luncheons – don't forget this, and be sure to register early!! You can pay by credit card online or via check and the mail. Each Luncheon has a separate sign-up form.
 Be careful to note that not all lectures will be on the second Tuesday, as several of those dates were unavailable at the UMC.  The Lecture Luncheons take place on different days this year – please mark your calendars for all of them now!
Doors will open at 10:30 and the lecture will start at 11:00 followed by a buffet lunch.  We are hoping the earlier start will help with parking and that having lunch following the lecture will spur conversation about the topic.
Although vaccination cards will not be checked at the door, we are hoping attendees will have been vaccinated. Masks are optional.
Lecture-Luncheon Prices
Lecture-Luncheons are $25 per person. Guests are welcome.
We hope to see you there!
Lectures and dates for upcoming meetings:
Thursday November 10, 2022 – UMC Ballroom
Registration deadline October 26, 2022

Barbara Zimmerman, PhD – Famous Women in Science: Navigating a Man's World
Tuesday January 10, 2023 – UMC 235
Registration Deadline December 19, 2022

Kelly Ostoff – Alzheimer's: The Latest Research
Thursday February 9, 2023 – UMC Ballroom
Registration Deadline January 24, 2022

Ann Schmiesing PhD – The Evolution of Grimm's Fairytales
Tuesday March 14, 2023 – UMC Middle Ballroom
Registration Deadline February 24, 2022

Amy Javernick-Will PhD – Pathways to Livable Relocation Following Disaster
How to Attend to UWC Events at University Memorial Center (UMC) 
Drive and Park in Euclid Parking (Parking Garage Next to the UMC)
Options for Payment
Pay at the Pay-station (Enter your license plate number and pay by cash or credit card.) The price is $2.00/hour for up to 3 hours. You do not need to place the receipt on the car dashboard.
Download the ParkMobile app on your mobile phone. Enter the Zone Number found on the Pay-station, and select the desired number of hours to park. The duration can be adjusted as needed on your phone. (Link to ParkMobile – App for your phone)
Great news!  The lower levels in the garage are no longer reserved for permit holders. The whole garage is available for visitor parking.  
Consider Taking the Bus
RTD Trip Planner http://www.rtd-denver.com/GoogleTripPlanner.shtml. Enter the address from which you are starting, then enter the address at which you want to end (Broadway and Euclid Ave, Boulder) and the time at which you want to arrive. Click "Plan Your Trip" and RTD will figure out your choice of routes including any transfers you have to make.

Consider using the following bus routes in Boulder: the SKIP, the 204, and the DASH, all stop on Broadway very close to the UMC. Other buses, including the STAMPEDE and the HOP, stop on 18th Street just behind the UMC.

Catch the HOP at the 29th Street Mall – The HOP is an easy ride from the mall and runs about every 10 minutes. Catch the clockwise bus on 29th Street just across from the former Macy's entrance. It will take you to 18th Street behind UMC. When you return, take the counter-clockwise bus from the east side of 18thStreet. The HOP goes in a loop, so either direction will get you there, but it is a shorter route on the south side of the loop.

Park at the Table Mesa Park-N- Ride – 5170 Table Mesa Drive, Boulder. Board the DASH toward downtown Boulder. The bus stops on Broadway at Euclid Ave. There is no cost to park at the Table Mesa Park-N-Ride for the first 24 hours. The cost of the bus ride for seniors is only $1.50 round trip for the first 3 hours. If you have a EcoPass, you ride for free.

Park at the Table Mesa parking lot near Chase Bank and get on the SKIP, which stops on the north side of the Bank and takes you to the UMC.  The cost is the same as the DASH.
Note: All of the RTD busses require exact change.
Information based on Kathy Randall's research and updated by Tam Van Spriell
---
Happy Hour/Tea Time Conversations via ZOOM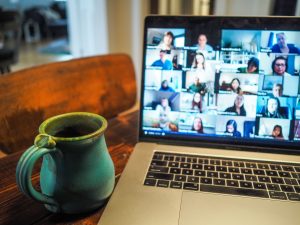 Happy Hour/Tea Time Conversations – a great way to get to know new UWC members, and a great way get to know old friends better. We meet via Zoom for about 50 minutes to an hour on the first and third Tuesdays at 4:00. Contact Kathy Randall (katherineran at gmail dot com) to reserve a spot for any conversation or to sign up for automatic inclusion for the UWC year. With automatic inclusion you will always get the Zoom invitation, but you are not required to come.
Upcoming Topics
November 1: What brought you to Colorado, or if you've always been here, how did that happen? (Thank you, Barbara Huff, for suggesting this topic.)
November 15: Remember Hints from Heloise? Tell us one or two clever or efficient methods you have of doing something. If you don't remember Heloise's column, check it out here: https://heloise.com/.
.
---
Cards to UWC Members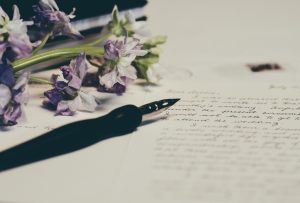 Do you know someone who has suffered a personal loss, or is ill, or having an operation? Receiving a personal note from UWC might bring a little bit of happiness or peace or satisfaction knowing there are others wishing them well. If you do know someone, please contact Kathleen Salzberg, the UWC Card Acknowledgment Chair, with the person's name, email, and (if appropriate) the reason for the card. Please send an email to boulderuwc@gmail.com with the subject "Acknowledgments  Chair"
Save the Date – Opera Brunch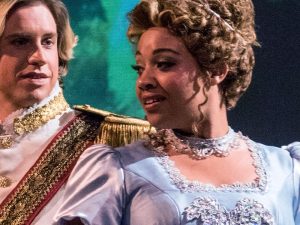 March 19, 2023 – 11:30 am Brunch, 2:00 pm Opera
Cendrillon by Jules Massenet
Please join the University Women's Club to view the opera Cendrillon, preceded by a special luncheon and a lecture on Massenet's Cendrillon, presented by the conductor who will be directing the opera. The luncheon will take place at UMC. Afterwards, we will reconvene at Macky Auditorium to be treated to the opera.
Cendrillon promises to be an opulent interpretation of the favorite fairy tale, Cinderalla. It is romantic, wistful, and full of grace. Believe it or not, the Disney interpretation of Cinderalla is not the only version there is. Massenet's Cendrillon is based on a version of the popular fairy tale written in 1698 by French author Charles Perrault. This version predates the Grimm adaptation by over 100 years. Massenet composed this opera in the last decade of the 19th Century, and the opera saw its premiere performance in 1899.
Sung in French with English subtitles.
For more information, please contact Sandy Johnson, at the UWC email (boulderuwc@gmail.com) or call (732) 322-8695. Sign-up forms for the luncheon and opera will be available online in December.
Sandy Johnson, Opera Brunch Chair
November in the UWC Book Clubs – What are we reading?
Bookies Group is reading The Lincoln Highway by Amor Towles
The Biography Group is reading Tesla: His Tremendous and Troubled Life by Marko Perko and Stephen M. Stahl
Original Book Group is reading Heart of Fire: An Immigrant Daughter's Story by Mazie K Hirono
Afternoon Book Group is reading The Secret Life of Bees by Sue Monk Kidd. They will be reading The Dig by John Preston in January
News
Who wants to chair an Interest Group?? A great deal of interest was generated at the Membership Coffee to re-activate the Theater Goers Group.  Currently, we are soliciting a chair person(s) for this group.  For more information or if you are interested in organizing this group, contact Linda Nordberg, Interest Group Coordinator, at 978-314-9987.
Other Interest Group News
NEW GROUP 

– GAMES –

It's Anyone's Game Group.
Do you love challenging your mind?  Are you good at unraveling mysteries? Wired Magazine says:  "Games are a delicate mix of entertainment and strategy, yet on a much deeper level, playing games may contribute to our overall evolutionary survival.  Playing games could even be enhancing our cognitive, social and physical skills giving us added advantages in life."  And maybe playing games can just be fun.  SEE BELOW for details and contact information.
Bridge Group – seeking beginner players to start a new Beginners' Bridge Group. Please contact Karen Neff (see contact information below).
Movies Group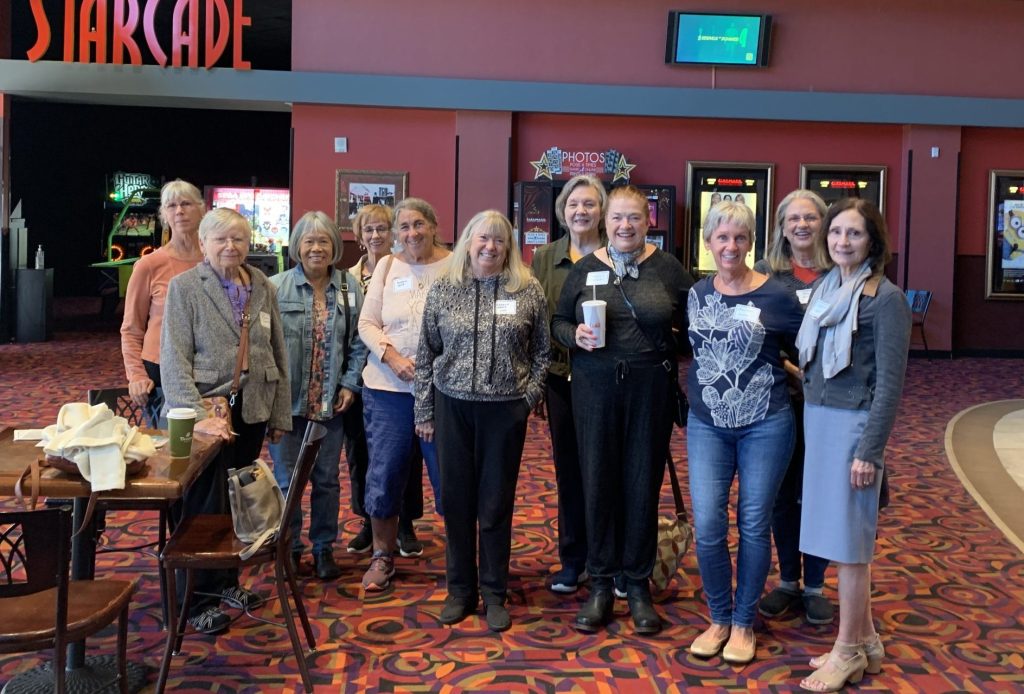 The UWC Sunday Afternoon at the Movies interest group convened October 9th to see A Good House starring Sigourney Weaver and Kevin Kline.  Members Berry, Ruth, Sherry, Mary, Barbara, Sharon, Linda, Margot, Carmen, Deb and Maureen viewed the film and then went to BJs Brewery for a stimulating discussion after this very complex and entertaining movie.
Hiking Group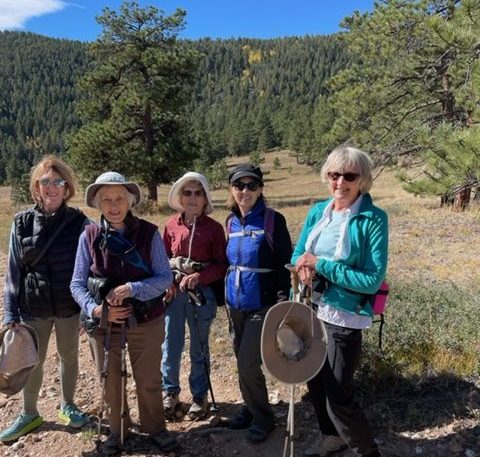 Gardening Group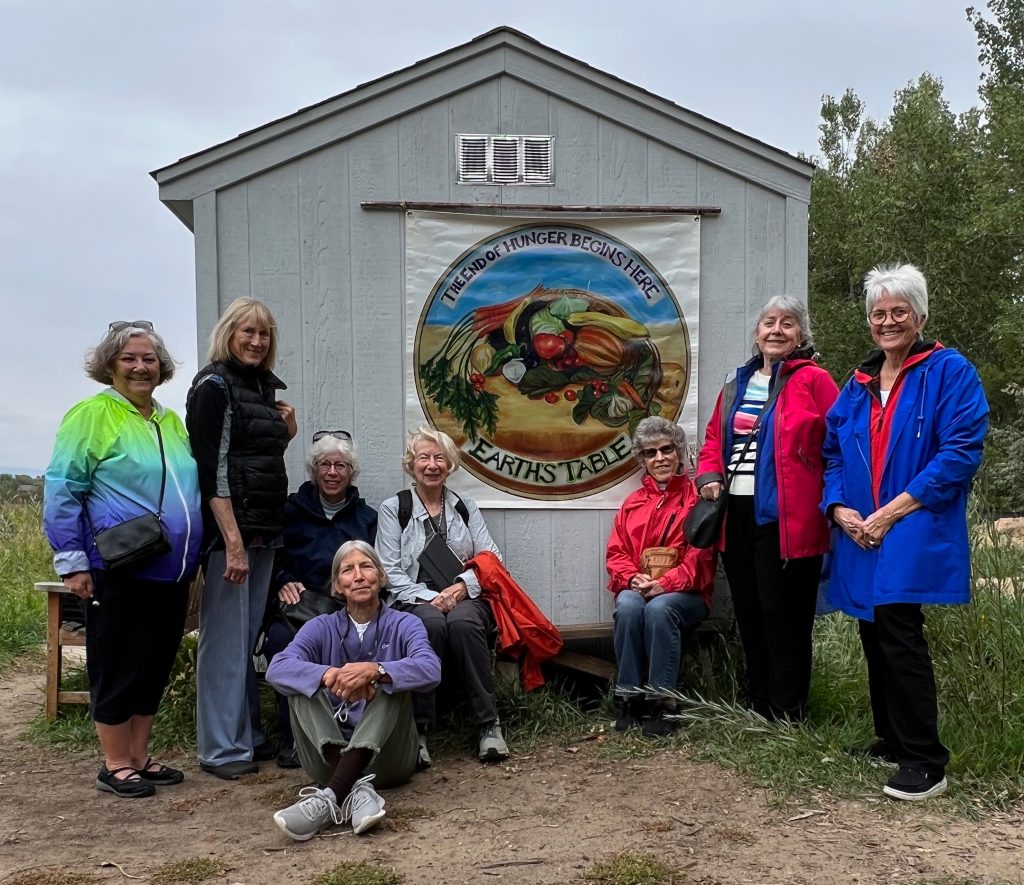 The Gardening Group visited the Earth's Table garden located behind Sacred Heart of Mary's Parish. Garden Manager (and UWC Member) Liz Black showed us the abundant produce growing in the garden.
Earth's Table is an all-volunteer non-profit community of concerned citizens working to eliminate hunger in our community. There are multiple garden sites throughout Boulder County. The gardens donate 100% of fresh produce to local food banks for distribution to people in need.
Bicycling Group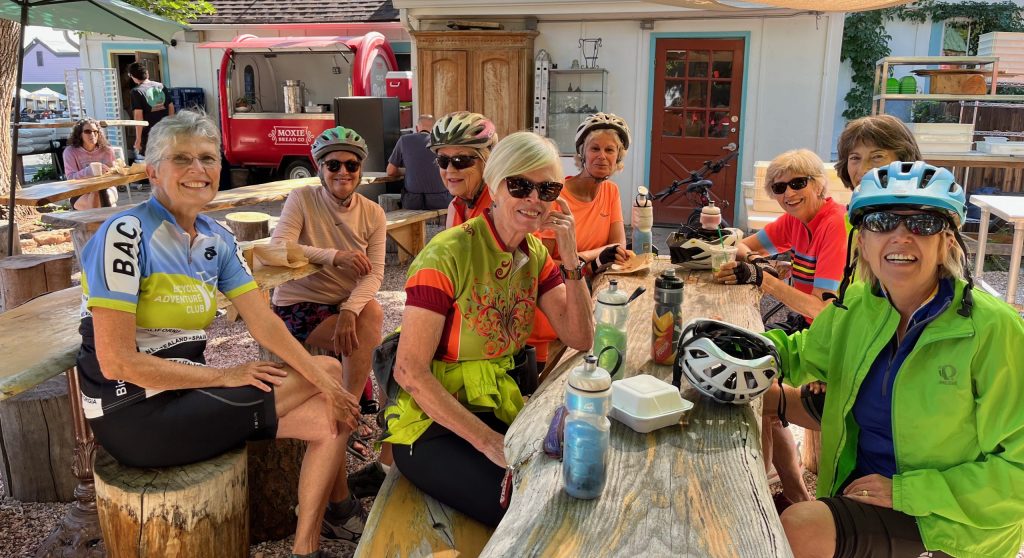 Interest Groups Information
Bicycling – Meets weekly on Thursdays from May through October. Chairs: Gail Smith 303-960-5004; Susan Lee 303-974-8969.
Bicycling – Easy Riders – Meets sporadically on Tuesdays.  Contact chair for details.  Chair: Dorothy Coltrin 720-527-4704
Book Group – Afternoon – Fourth Tuesday at 1:30 pm at members' homes or on ZOOM.  Vaccinations required. Chairs: Mary Clough 303-522-8692; Lois Linsky 303-499-2689
Book Group – Biographies – Third Friday at 3:00 pm, in person. Chair: Beth Rauch, 303-746-9414.
Book Group – The Original Book Group – Formerly Evening – Second Thursday at 2:45 pm. Meetings held outside when weather permits. Vaccinations are required for indoor meetings, masks are optional. Chairs: Kathleen Salzberg 303-499-3128; Ellen Gille 720-836-2365. This group has been meeting continuously since the 1950's.
Bridge Group – First Wednesday at 1:00 pm. Chair:  Karen Neff 303-494-0467; also seeking beginner players to start a new Beginners' Group
French Conversation – All Speaking Levels – Dates and times to be determined. Chair: Zdenka Smith, 303-330-2856
*NEW* Games Group – Its Anyone's Game – A new group formed at the Membership Coffee.  Board and card games. Dates and times to be determined. Chair:  Kathleen Newton, 720-548-8661.
Garden Group –  Third Wednesday at 11:00 am. Chairs: Jyotsna Raj  303-447-8831; Jean Rohrschneider 720-542-9788
Golfing – For the Casual Golfer – 1:00 pm every Thursday at various golf courses, new members welcome. Chair: Susan Planck 303-499-3916
Hiking and Strolling – Every Friday 9:00 am September -May; 8:30 am June-August in person. Meet at covered parking lot opposite the lower-level east entrance to the former Macy's – Chairs: Joan (Joanie) Cardone 303-263-7823; Frieda Holley 303-499-3733
Italian Conversation – Wednesday, 1:30-2:30 pm on Zoom.  Chair: Maxene Wilson, 303-530-4619
Music – Second Monday afternoon of most months in members' homes, providing a venue for musical performers to meet and share their love of music in an intimate setting.  Chairs:  Judy Owens 720-562-8064; Julia Luerman 303-938-8084.
Needlecraft  – contact chair Ginnie Ross via email.
On the Road Again  – Resuming occasional in person road trips. Chair: Kathy Randall 303-746-4528
Out to Lunch – Usually Fourth Wednesday, at noon at various local restaurants. Chairs: Jean Rohrschneider 720-542-9788; Jyotsna Raj 303-447-8831
Readers' Theater 2 – Third Monday 4:00 p.m. at the Boulder Library. Chairs: Patty Ludke  303-817-1020; Kathy Randall 303-746-4528
Snowshoeing – Will resume in the winter. Chairs:  Arlene Gerwin 303-494-1307; Joan (Joanie) Cardone 303-263-7823
Spanish Conversation Advanced – Contact chair for details.  Chair: Diana King  303-530-1860
Sunday Afternoon at the Movies – Second Sunday,  to see movies at a theater in Boulder or nearby theater. Chairs:  Kathleen Newton, 720-548-8661; Sharon Nehls 303-494-5778
Groups that are on hiatus 
Theater Goers, New Chair needed – see above under "News."
Groups that are at capacity
Book Group – The Bookies – Kathy Randall 303-746-4528
Book Group Small – Fiction and Non-Fiction, Joyce Bograd
Book Group – Second Monday, Janet Evans
French Conversation, Dot Thompson
To start a new interest group requires at least five members including a chairperson.
If you are interested in starting a new group, please contact the Interest Group Coordinator for more information: Linda Nordberg, Interest Group Coordinator, 978-314-9987.
To form a new book group, contact Kathy Randall, 303-746-4528.

Celebrating 40 years of Providing Scholarships to CU Students
Since 1982, UWC awarded a total of $393,000 to 149 students.
Message From the Scholarship Chair

As the 2022-23 academic year is now well underway,  I am thinking about one of our current scholarship recipients who told us how grateful she was for our scholarship, because it was so important in relieving her sense of financial strain – a strain great enough that in a previous year she had to drop a class in order to have enough time for the work she needed to do to support herself.
We know there are so many other students feeling a similar level of financial strain. This month they will begin submitting their scholarship applications in the hopes of one day getting the exciting news that they have been granted one, allowing them more time to devote to their studies, which our applicants are typically pursuing with great determination and dedication and often with future goals of addressing some societal concern and making the world a better place for all.
So, this month, as the new scholarship cycle is getting underway and before we all become wrapped up in the "busyness" of our own holiday celebrations, I want to encourage our members- old and new- to make an extra donation!
We have made donating so easy to do!  Just go to our website donation page and you will immediately see the link to quickly make an online scholarship donation.  And, of course, donations can always be mailed in, if preferred.
You will also see how to add to that donation, without ANY additional cost to you!  Just go to the "Support UWC" section, where you can learn how to enroll in the King Soopers,  Safeway, and Amazon Smile charitable rewards programs.  Once you have followed the steps clearly outlined there, whenever you spend money at any of these organizations, they will automatically donate a certain percentage of that to the UWC.  Nothing else for you to do!
Marge Riddle
Scholarship Chair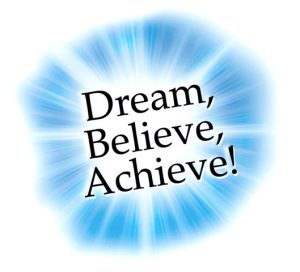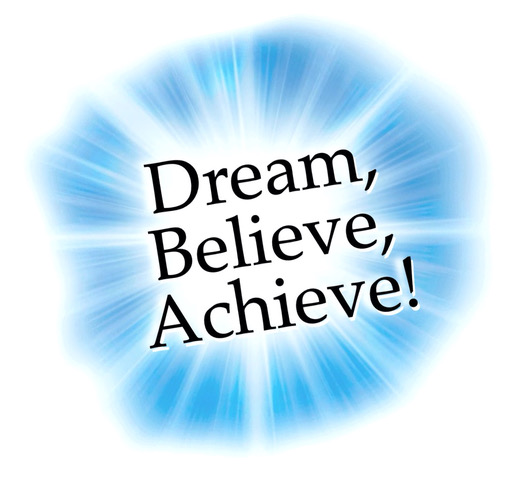 Save The Date!
The 2023 University Women's Club Scholarship Luncheon will take place on TUESDAY, APRIL 18. Mark your calendar so you do not miss celebrating the Scholarship Recipients with the theme: Dream, Believe, Achieve!
Scholarship Donations (through September, 2022)
Heather Beadle
Karen Bell
Merry Bullock
Julianne Cassady
Mary Clough
Marsha Coons
Margot Crowe
Marge DeFries
Karen Diamond
Judy Duffield
Toni Erickson
Tina Facteau
Jeanne Fetterman
Anitta Frant
Helen Goldman
Carol Green
Mary  Greenwald
Linda Groth
Ruth Harvey
Sydney Hoerler
Frieda Holley
Anne  Hudson
Barbara Huff
Louise Hutchings
Pat Irwin
Marilyn Jerde
Sandra Johnson
Susannah Jordan
Karen Kairys
Rory Laiho
Elaine Leass
Lois  Linsky
Jonette Lucia
Heidi Lynch
Jane Massie
Barbara R. Miller
Judith  Minger
Mollie Sue Morton
Marcy Munson
Karen Neff
Semay D. Nelson
Mary Pierce
Carol Ponton
Norma Portnoy
Charlene Rasmussen
Judy Reid
Judy Richtel
Marge Riddle
Virginia Ross
Carol Saunders
Donna J. Seaman
Boyce Sher
Joyce Spencer
Cynthia Stephens
Patricia Thompson
Kathryn Wardell
Linda Warfield
Marilyn Whittaker
Eunice Wilkinson
Helen Williams
Judy Winkel
Nurit Wolf
Barbara Zable
In Memory of Nancy Liggett
Judith and Richard Shaw,
Bellevue Washington
November has always been a transitional month for Colorado. It's a time to enjoy the last remnants of the brilliant palette of golds and bursts of red in our foliage leading into the expectation of a first snowfall. Anticipation of the holiday season fills the air.
CU Presents
Pathway to a Post-Global Warming Future
Live Talk: Pathway to a Post-Global Warming Future — A Brief Overview of Climate Science, Consequences, and Solutions – Thursday, November 3 to Friday, November 4, 2022 from 7:00 pm – 8:00 pm @ Fiske Planetarium Theater.
Dr. Jeffrey Bennet, astrophysicist and educator, will give a live talk at the Fiske Planetarium titled Pathway to a Post-Global Warming Future – A Brief Overview of Climate Science, Consequences, and Solutions.  According to Dr. Bennet, the science behind global warming is surprisingly simple. He will go on to explain that if we are willing to take the necessary steps, we could one day envision a 'post-global warming future.'  November 3 and 4 at 7:00 p.m. Click on the link above for ticket information.
Thanksgiving
On September 28, 1789, just before leaving for recess, the first Federal Congress passed a resolution asking that the President of the United States recommend to the nation a day of thanksgiving. A few days later, President George Washington issued a proclamation naming Thursday, November 26, 1789, as a "Day of Publick Thanksgivin." This was the first time Thanksgiving was celebrated under the new Constitution. Subsequent presidents issued Thanksgiving Proclamations, but the dates and even months of the celebrations varied. It wasn't until President Abraham Lincoln's 1863 Proclamation that Thanksgiving was regularly commemorated each year on the last Thursday of November.
President Lincoln, however, did not have the last word. Such issues as the proximity to the Christmas holiday shopping season and the possibility of a fifth Sunday in November influenced the final resolution to establish the fourth Thursday in November as the Federal Thanksgiving Day holiday. This was signed by President Roosevelt on December 26, 1941. (Excerpted from the National Archives.)
A Moment in CU History
In the second year of the Spanish flu epidemic (1918-1919), the Faculty Women's Club (FWC) consisting primarily of faculty wives, informally organized. It was not until 1924 that the FWC formally organized with a constitution and president, Margaret Willard. According to the constitution, the purpose of the Club was to promote friendship among members and to foster community spirit. During the Great Depression (1929-1939), the FWC created the Student Loan Fund. In February 1931, the height of the Depression, the FWC started donating one dollar a month to aid others. Over the next four years, money was raised from plays or musical events, with most of the money going to children in Boulder, but some going to the students. (Excerpted from Celebrating 100 Years 1919-2019 compiled and published by the University Women's Club Centennial History Committee.)
Compiled by Tamera Van Spriell
Officers
President – Norma Portnoy
President Elect – Andie Kutinsky
Past President – Tamera Van Spriell
Secretary – Karen Bell
Secretary Elect – Kathleen Salzberg
Treasurer & Treasurer Elect- Frieda Holley
Board Members
Acknowledgements/Donations – Merry Bullock/Karen Neff
Acknowledgements/Cards – Kathleen Salzberg
Advisory/Parliamentarian – Frieda Holley
Archives – Karen Neff
Email/Communications – Berry Todd
Honors Reception – Karen Haimes
Interest Groups  – Linda Nordberg
Margaret Willard Award – Andie Kutinsky
Membership – Arlene Gerwin
Membership Coffee – Lynne Barnett and Andie Kutinsky
MESSAGES – Merry Bullock
New Members – Becky Palmer
Nominating Committee – Norma Portnoy and Tam Van Spriell
Opera Brunch – Sandy Johnson
Photography – Anne Hudson
Program – Sharon Nehls
Program-UMC Liaison – Tam Van Spriell
Programs – Registration – Lynne Barnett
Scholarship Committee – Marge Riddle
Scholarship Luncheon – Jonette Lucia
Website – Joyce Spencer
Zoom Master – Merry Bullock, Lynne Barnett
Non-Board Positions
Directory – Diana King
Document Repository – Frieda Holley
HHTT Conversations – Kathy Randall
Interest Group Zoom Coordination – Kathy Randall
MESSAGES proofing – Kathleen Salzberg
UWC Calendar 2022-2023 
November
SUNDAY 06 November 2022 – New Member Wine and Cheese
THURSDAY 10 November, 2022 – Lecture Luncheon #2: Barbara Zimmerman – Women in Science – University Memorial Center (UMC)
January, 2023
TUESDAY 10 January, 2023 – Lecture Luncheon #3: Kelly Ostoff – Alzheimer's: The Latest Research – University Memorial Center (UMC)
February
THURSDAY 09 February, 2023 – Lecture Luncheon #4: Ann Schmiesing – The Evolution of Grimm's Fairytales – University Memorial Center (UMC)
March
TUESDAY 14 March, 2023 – Lecture Luncheon $5: Amy Javernick-Will – Pathways to Livable Relocation Following Disaster – University Memorial Center (UMC)
SUNDAY 19 March, 2023 – Opera Brunch – location TBD
April
TUESDAY 18 April, 2023  – Scholarship Luncheon – location TBD
May
WEDNESDAY 17 May – Honors Reception – location TBD