MESSAGES September 2022

---
PRESIDENT'S MESSAGE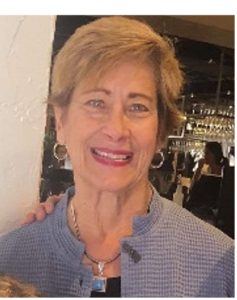 Hello UWC Members!
As the 2022-2023 UWC President, I'm thrilled to announce that UWC lectures and special events will be held in person this year.
My focus this year will be to rebuild our membership by engaging current members, bringing back the women whose memberships lapsed during the pandemic, and enrolling new members. September 1 is the start of a new membership year for UWC and I hope you'll pay the modest annual fee to join our group of informed and vibrant women.  I also hope you'll make the most of your membership by attending the five lectures and special events that our wonderful board has planned.  Did you know that there are more than twenty UWC interest groups? What a great opportunity for you to share your interest, hobby, or passion with like-minded women!
Go to our website, www.boulderuwc.org, for info on all activities and groups. Be sure to check out the inspiring life stories of remarkable CU students who have benefited from UWC scholarships.  You will be amazed by the challenges they have faced and the achievements they have accomplished.
I encourage you to spread the word about UWC as we work to bring back members who haven't been with us since pre-pandemic times.  Increasing our membership helps UWC fulfill our mission of providing scholarships for deserving students and creating a community of friendships.  With much of the pandemic seemingly behind us, people are eager to become re-engaged in the world, to make new friends, to experience new things, and to help others.  It's  the perfect time for people to try out UWC.  Please refer friends to our website – and talk us up!
I hope you'll attend our complimentary September 20th Membership Picnic where you can learn about 2022-2023 UWC events and connect with the chairs of our interest groups to learn how you can  participate.  Prospective members are also free to attend the picnic.
Norma Portnoy
2022-2023 UWC President
UWC Lecture Luncheons 2022-2023
The UWC programming committee is very excited to announce our 2022-23 lecture series, which will be held in person at the University Memorial Center.
There will be a few changes. 
Doors will open at 10:30 and the lecture will start at 11:00 followed by a buffet lunch.  We are hoping the earlier start will help with parking and that having lunch following the lecture will spur conversation about the topic.
Lectures and dates for the 2022-23 series:
Monday October 3, 2022 – UMC 235

Callie Rennison PhD – Victimization Against Women
Lecture-Luncheons are $25 per person. Guests are welcome.
We hope to see you there!
Thursday November 10, 2022 – UMC Ballroom

Barbara Zimmerman, PhD – Famous Women in Science: Navigating a Man's World
Tuesday January 10, 2023 – UMC 235

Kelly Ostoff – Alzheimer's: The Latest Research
Thursday February 9, 2023 – UMC Ballroom

Ann Schmiesing PhD – The Evolution of Grimm's Fairytales
Tuesday March 14, 2023 – UMC Middle Ballroom

Amy Javernick-Will PhD – Pathways to Livable Relocation Following Disaster
It's Time to Renew Your UWC Membership!!
It's a new year for University Women's Club. While you are reading this, why not take this opportunity to pay 2022-23 UWC membership dues, Membership dues are still $35 and cover the UWC year from August through July. Your $35 dues include a $5 donation to the scholarship fund. (If you paid dues or joined UWC after April 1, 2022, we count your membership paid for the year. Thank you!)
And of course, we always welcome larger scholarship donations. Through your generous donations, UWC can continue to provide scholarships to non-traditional CU students. Last year, UWC awarded $30,000 in scholarships. It would be wonderful if we could match or exceed the scholarship awards this year.
It's so easy to renew your UWC membership. Just click on this link. Read the instructions, and complete the membership form on the UWC website.You can pay directly online by PayPal or credit card using the PayPal platform or, if you prefer paying by check, submit the on-line membership form, print out your acknowledgement, and mail your check to:
UWC Membership
P.O. Box 18844
Boulder, CO 80308-1844
UWC Membership brings you so many benefits. We are so excited that many UWC events will be held in person again!
September Membership Coffee/Tea
Monthly lecture events beginning in October
Happy Hour/Tea Time Conversations via Zoom
Opera Event
Scholarship Luncheon
UWC Membership Directory
MESSAGES newsletter to keep you informed of all the UWC activities.
Thank you for taking the time to renew your UWC membership and for your donation to the scholarship fund. We look forward to seeing you at upcoming UWC events. 
If you have any questions regarding UWC Membership, please email Arlene Gerwin, Membership Chair at [email protected].
---
Happy Hour/Tea Time Conversations via ZOOM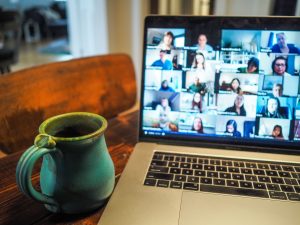 After our summer hiatus, we're ready to resume our Happy Hour/Tea Time Conversations. It is a great way to get to know new UWC members, and a great way get to know old friends better. We will continue to meet via Zoom. We converse for 50 minutes to an hour. Our first meeting will be September 20th at 4:00. After that we will meet every first and third Tuesday at 4:00. Contact Kathy Randall (katherineran at gmail dot com) to reserve a spot for the first conversation or to sign up for automatic inclusion for the UWC year.
Topics Coming Up (sometimes we're serious, sometimes silly, sometimes informative; always interesting!)
September 20, 2022: Tell us something fun or interesting or important or [you choose] that you did this summer.
October 4, 2022: Tell us 3 or 4 attributes you apply to yourself (and examples thereof) – choose 2 or 3 positive traits,1 not so much.
October 18, 2022: What are 2 or 3 products for which you have brand loyalty, and why.
Did You Know – You can find UWC Lectures and other productions online!
Here are the UWC Lectures for the 2021-22 year. Just click on the video to watch (and while watching click on the "full screen" icon to see in larger format)
Classy Ladies: Women Composers of Great Music
Betsy Schwarm, Classical Music Historian
Explore women composers from the Italian Renaissance to American composers today, with abundant musical examples and suggestions for future listening.
Stories of Colorado Women: The Famous, the Infamous, and the Ones You Have Never Heard Of
Rae Wiseman, History Colorado
Throughout Colorado's history, there have been women with a lasting impact on our lives and the rights we enjoy today.  From Native Americans and pioneer settlers to health providers, educators, and writers, women have risen to tremendous heights in their fields, despite adversity and social barriers.
Why Watching Modern Dance is So Hard: 10 Hot Tips to Make It Easier
Erika Randall, CU Department of Theatre & Dance Chair
In this pithy, physical, and playful talk, Randall unpacks dance moves like "the hinge," the confounding history of running in concert dance, and how to notice and negotiate our biases when watching bodies in motion.
Shifting Narratives: How Journalism's Coverage of Mass Shootings Has Evolved
Elizabeth A. Skewes, CU Journalism Department Chair
Historical and current description of media coverage of mass shootings and school shootings from 1966 to the present. Skewes discusses how coverage has changed and how journalists try to balance the duty to inform the public with the need to treat victims and survivors with an ethic of care.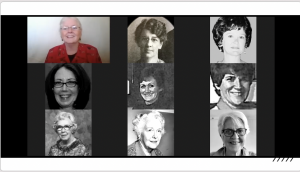 ---
SCHOLARSHIPS
---
Message from the Scholarship Chair
Marge Riddle,
Scholarship Chair
Summer Scholarship Donations
Merry Bullock
Arlene Gerwin
Karen Haimes
Isabelle Henderson
Jacquie Kilburn
Judith  Minger
Jean Nelson
Linda Nordberg
Carol Saunders
Yael Sears
Kathy Terill
Berry Todd
Sherry Woodruff
Highlights
Now that spring is finally here, we would like to highlight two Interest Groups that will be meeting outside: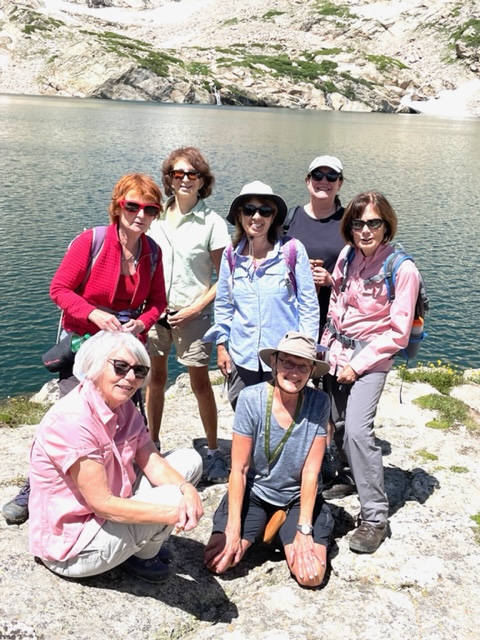 Blue Lake in Brainard Lake Recreation Area.  Standing from left to right: Isabelle, Ruth, Joanie, Pam, Nancy; Seated – Kathy and Char.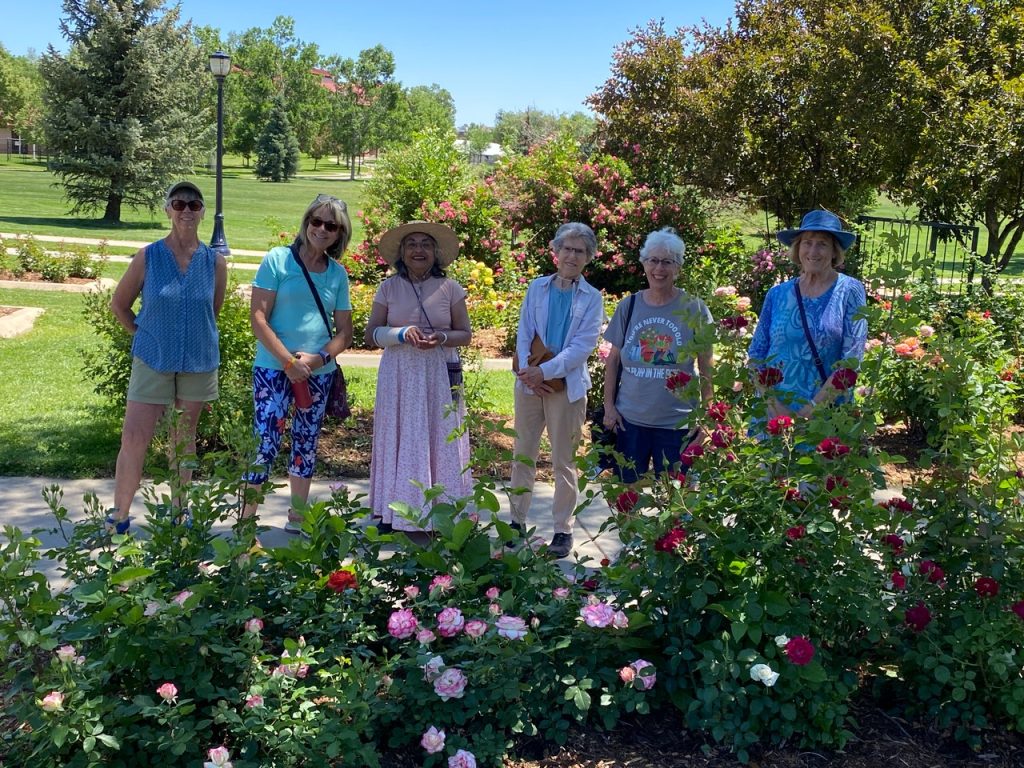 Visit to the Longmont Memorial Rose Garden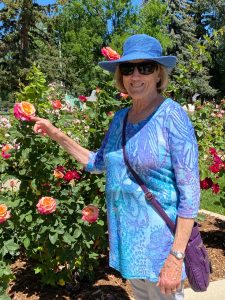 Sunday Afternoon at the Movies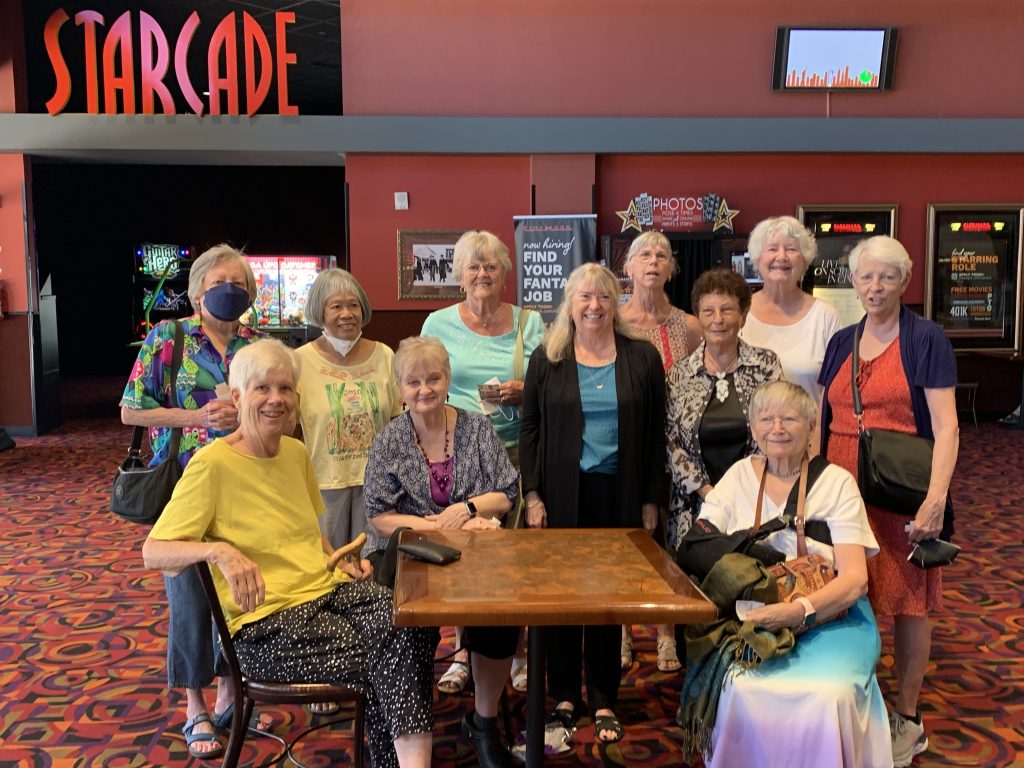 The UWC Sunday at the Movies group met July 17th to see Where the Crawdads Sing. Joyce, Sherry,  Joan, Berry, Sherron, Phyllis, Judy, Sharon, Kathleen, Rachel, and Ruth enjoyed the film and then went to the Shake Shack for a midafternoon milkshake and discussion.  Most of us had read the book and enjoyed talking about the film, which was very faithful to the text.  A good time was had by all!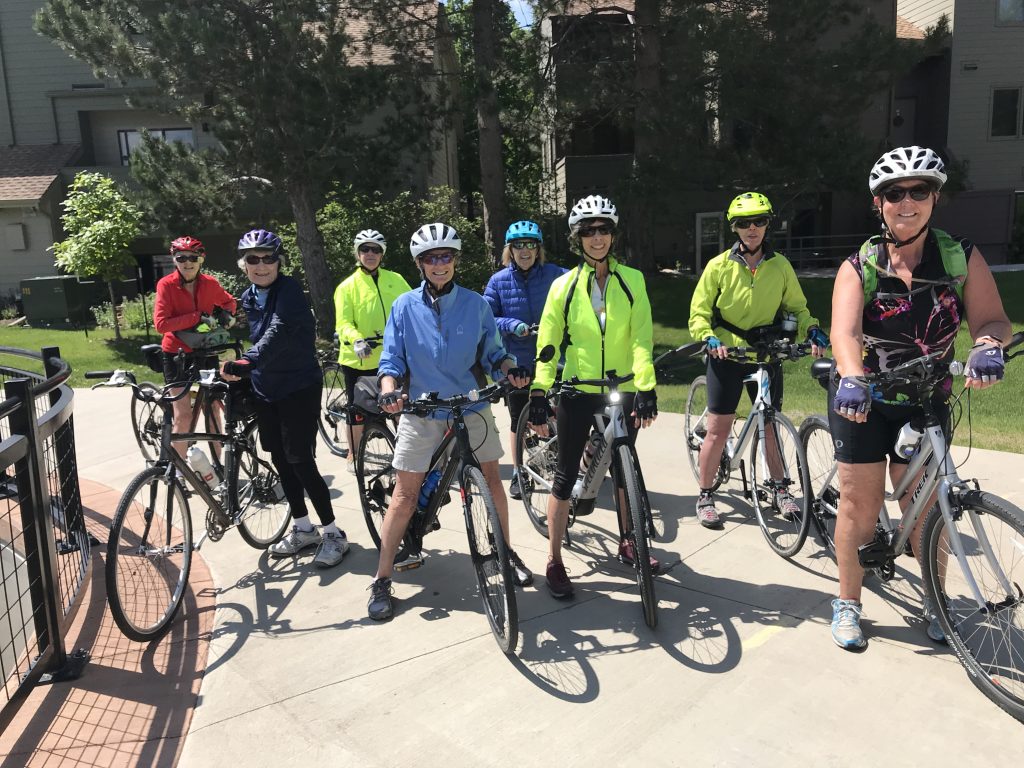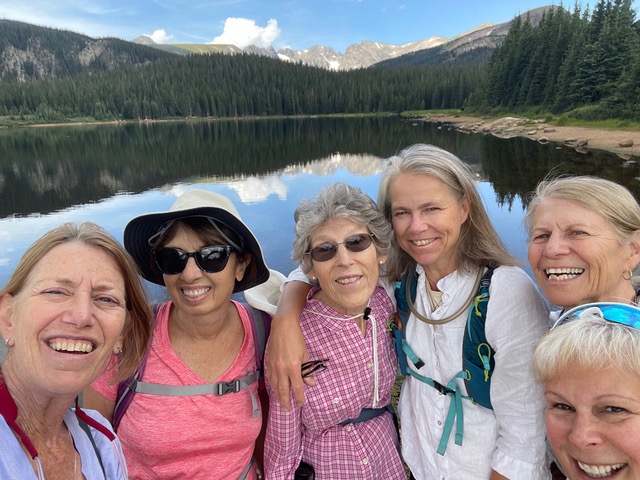 From L to R: Sue, Joanie, Frieda, Andrea, Arlene, Kathy (in front)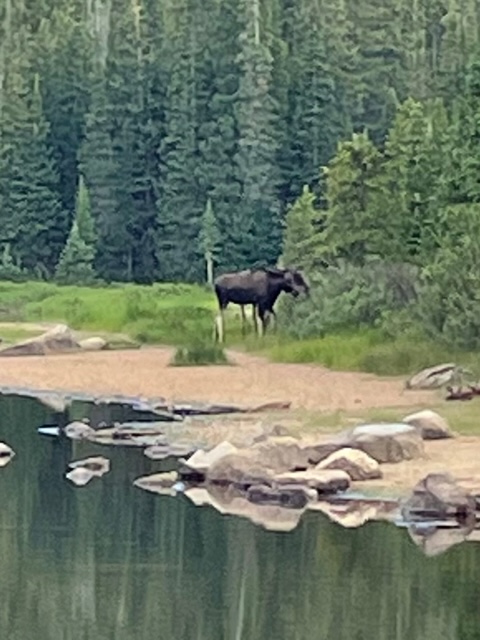 A rare sight – a mamma moose (visible) and a baby behind her.
Interest Groups Information
Bicycling – Meets weekly on Thursdays from May through October. Gail Smith 303-960-5004; Susan Lee 303-974-8969.
Bicycling – Easy Riders – Meets sporadically on Tuesdays.  Contact chair for details.  Chair: Dorothy Coltrin 720-527-4704, Becky Palmer 720-938-5305
Book Group – Afternoon – Fourth Tuesday at 1:30 pm at members' homes or on ZOOM.  Vaccinations required. Chair:  Carol Saunders 303-499-3731, Lois Linsky 303-499-2689
Book Group – Biographies – Third Friday at 3:00 pm, in person. Chair: Beth Rauch, 303-746-9414.
Book Group – The Bookies – second Wednesday at 10:00 am. Chair: Kathy Randall 303-746-4528
Book Group – The Original Book Group – Formerly Evening – Second Thursday 3:15 pm. Chairs: Kathleen Salzberg 303-499-3128; Ellen Gille 720-836-2365. This group has been meeting continuously since the 1950's.
Bridge Group – First Wednesday at 1:00 pm. Chair:  Karen Neff 303-494-0467.
French Conversation – All Speaking Levels – 2nd and 4th Tuesday 9:00 – 10:30 am on ZOOM. Chair: Beth Karpf 303- 862-7335
Garden Group –  Third Wednesday at 11. Chairs: Jyotsna Raj  303-447-8831; Jean Rohrschneider 720-542-9788
Golfing – For the casual golfer – 1:00 pm every Thursday at various golf courses, new members welcome. Chair: Susan Planck 303-499-3916
Hiking – Every Friday 9:00 am September -May; 8:30 am June-August in person. Meet at covered parking lot opposite the lower-level east entrance to the former Macy's – Chairs:  Joan (Joanie) Cardone, 303-263-7823; Frieda Holley 303-499-3733
Italian Conversation – Wednesday, 1:30-2:30 pm on Zoom.  Chair: Maxene Wilson, 303-530-4619
On the Road Again – Taking virtual or actual road trips, depending on the COVID situation. Chair: Kathy Randall 303-746-4528
Out to Lunch – Usually Fourth Wednesday, at noon at various local restaurants. Chairs: Jean Rohrschneider 720-542-9788; Jyotsna Raj 303-447-8831
Reader's Theater 2 – Third Monday 4:00 p.m. on Zoom. Patty Ludke  303-817-1020; Kathy Randall 303-746-4528
Snowshoeing – Will resume in the winter. Chairs:  Arlene Gerwin 303-494-1307; Joan (Joanie) Cardone 303-263-7823
Spanish Conversation Advanced – Contact chair for details.  Chair: Diana King  303-530-1860
Sunday Afternoon at the Movies – Second Sunday,  movies at a theater in Boulder. Chairs:  Kathleen Newton, 720-548-8661; Sharon Nehls 303-494-5778
Groups that are on hiatus 
Music – Unable to organize due to COVID
Needlecraft
Theater Goers, New chair needed
Groups that are at capacity
Book Group Small – Fiction and Non-Fiction, Joyce Bograd
Book Group – Second Monday, Janet Evans
French Conversation, Dot Thompson
To start a new interest group requires at least five members including a chairperson.
If you are interested in starting a new group, please contact the Interest Group Coordinator for more information: Linda Nordberg, Interest Group Coordinator, 978-314-9987.
To form a new book group, contact Kathy Randall, 303-746-4528.
Officers
President – Tamera VanSpriell
President Elect – Norma Portnoy
Past President – Janet Brewer
Secretary & Secy Elect – Karen Bell
Treasurer  – Kathy Herder
Treasurer-Elect – Frieda Holley
Board Members
Communications – Berry Todd
Directory – Diana King
Email / Email Monitoring – Berry Todd
Historian/Yearbook – Vacant
Honors Reception – Karen Johnson
Interest Groups – Linda Nordberg
Lecture Registration – Lynne Barnett
Margaret Willard Award – Patty Ludke
Membership – Arlene Gerwin
MESSAGES – Merry Bullock
New Members – Janet Brewer
Nominating Committee – Kathy Randall
Opera Brunch – Sandy Johnson
Parliamentarian – Frieda Holley
Program Chair – Norma Portnoy
Program Co-Chair – Sharon Nehls
Repository – Diana King
Scholarship Committee – Marge Riddle
Scholarship Luncheon – Jonette Lucia
Telephone Tree – Open
Website – Joyce Spencer
UWC Calendar 2021-2022 
May
03  Tuesday, Tri-board Meeting, 11:00 a.m.
17  Tuesday, Honors Reception, 1:00-3:00 pm
Mark Your Calendars for 2022-23!!
September
20  Membership Coffee – 10:00 am
Lectures – all lectures will take place in the University Memorial Center (UMC)
03 October, 2022 – Callie Rennison – Victimization Against Women
10 November, 2022 – Barbara Zimmerman – Women in Science
10 January 10, 2023 – Kelly Ostoff – Alzheimers: The Latest Research
09 February 9, 2023 – Ann Schmiesing – The Evolution of Grimm's Fairytales
14 March, 2023 – Amy Javernick-Will – Pathways to Livable Relocation Following Disaster