MESSAGES March 2022

---
PRESIDENT'S MESSAGE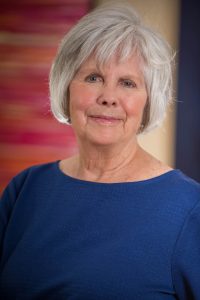 It was one of those March days when the sun shines hot and the wind blows cold: when it is summer in the light, and winter in the shade.
Charles Dickens, Great Expectations
March is full of surprises! One day it's warm enough to sit outside in a sheltered area in the sun. That very afternoon a weather front could move in covering the crocuses and daffodils with six inches of snow. Springtime in the Rockies can be full of wonder and astonishment – all in the same day.
The Shadow Tells All
According to the The Associated Press and an old German legend, if a groundhog sees his shadow on February 2, winter will last another six weeks. On February 2 (Groundhog Day) this year, Punxsutawney Phil saw his shadow predicting six more weeks of winter, at least to the middle of March. The only problem is the famed groundhog conducts his weather predictions in Pennsylvania, not Colorado, where we all know that snow has fallen as late as May.
Virtual Events: The Name of the Game
Fortunately our activities aren't totally dependent on the weather, but they definitely have been influenced by our two-year-old pandemic. Both of our March events will remain virtual.
UWC Lecture – Wednesday March 9, 2022 – Please join us for Shifting Narratives: How Journalism's Coverage of Mass Shootings Has Evolved. Elizabeth Skewes, CU Journalism Department Chair, will share preliminary findings from her new research on media coverage of mass shootings from the mid-1960's up to the shooting at the Table Mesa King Soopers in Boulder on March 22 last year. She will discuss how coverage of these tragic events has evolved through the years and how journalists try to balance informing the public with the need to treat victims and survivors with care. You can register here March 2022 Lecture Event.

Possible March Musical Event

– Date to be determined
The CU School of Music is producing Guys and Dolls this spring, which will be recorded for public viewing. Sandy Johnson is working diligently to organize a ZOOM talk why Maestro Carthy either before or after our viewing of this popular musical. Additional details about this offering can be found in this newsletter.
Planning Ahead with Attitude
This year's Scholarship Luncheon will be held in person at the Boulder Country Club on April 19!  We will have an opportunity to celebrate our scholarship winners, enjoy Soft Surroundings'  latest fashions and relish a gourmet lunch prepared by the Club's chef. You all have a personal invitation to register and attend. After two years of cancellations and virtual events, we deserve a party! This is not to say that we are throwing caution to the wind. Quite the contrary. Jonette Lucia and her committee have been working closely with the Boulder Country Club (BCC) to be as safe as possible. To this end we are asking that only those who are fully vaccinated plan to attend. In addition, the BCC has promised to provide adequate ventilation and has planned to seat fewer people at each table. Come Celebrate Your Dreams with us on April 19. You can register here.
Tamera Van Spriell
2021-22 UWC President
DID YOU KNOW?
Did You Know?
Records indicate that Punxsutawney Phil has called for an extended winter more than 100 times since 1887 and an early spring just over a dozen times.
The first day of spring this year is Sunday, March 20. The University of Colorado Spring Break is scheduled for March 21-25.
Guys and Dolls, the CU School of Music's spring production will be playing in Macky Auditorium March 11-13.
Postcard from Morocco by Dominick Argento will be performed by the CU School of Music on April 21-24 in the Imig Music Building.
The PAC-12 Women's basketball tournament will be played in Las Vegas, NV, March 2-6. Go Buffs!
Las Vegas will host the PAC-12 Men's basketball tournament on March 9-12. Again, Go Buffs!
---
Happy Hour/Tea Time Conversations via ZOOM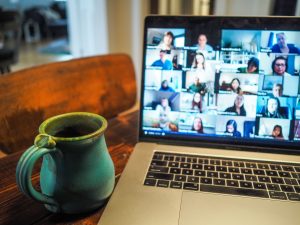 We'd love to have you join one of our Happy Hour/Tea Time conversations. It is a great way to get to know new UWC members, and a great way get to know old friends better. We meet twice a month, usually the first and third Tuesday at 4:00 but in March we will meet the second and fourth Tuesday. Contact Kathy Randall (katherineran at gmail dot com) to reserve a spot for one or both conversations or to sign up for automatic inclusion for the rest of the UWC year.
March 8: Tell us a favorite scene or lines from a book, movie, play, or song, and what you like about it.
March 22: This week we'll get serious. What are 3 adjustments to our government that you think would make it better (change, add, or eliminate a law, rule, or regulation; amend the constitution; change the status quo however you wish).
---
Come to the Last Lecture of the Year!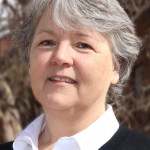 Wednesday March 9, 2022 – Shifting Narratives: How Journalism's Coverage of Mass Shootings Has Evolved – Elizabeth Skewes,  CU, Journalism Department Chair
Please join us as CU's Chair of the Journalism Department shares preliminary findings from her new research on media coverage of mass shootings and school shootings from the 1966 shooting at the University of Texas in Austin to the shooting last year at the Table Mesa King Soopers in our own community. She will discuss how coverage has changed since the mid-1960s and how journalists try to balance the duty to inform the public with the need to treat victims and survivors with an ethic of care.
At the March 9 Lecture, we are going to try something new! After the lecture (which we think will generate a lot of discussion among UWC members) we are going to provide the opportunity to talk further with a small number of other UWC members in ZOOM breakout rooms. You will not need to do anything special to join in – after the lecture, please stay online and you will be invited to join a breakout room. Simply click on "join" and you will be directed to a ZOOM screen with a small number of other UWC members. Try it –it's a new form of engagement with your fellow UWC members. After discussion for about 10 minutes, we will all come back together in the main ZOOM room to say farewell. And we'll ask you how you liked it!
Did You Know – You can find UWC Lectures and other productions online!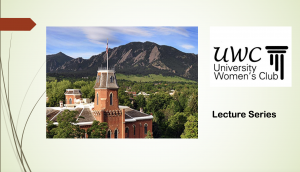 You can also see the play (written by Kathy Randall) of UWC women through the years. Click here for Remarkable Women – stories of UWC women from 1919 to the present.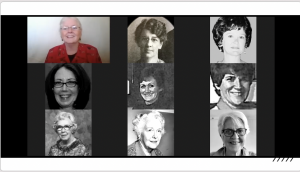 Registration for the Boulder 

University

 Women's Club Annual Scholarship Luncheon is open!
Spring into action – register today!
You can easily register for the Spring Scholarship Luncheon online using the link below. We encourage all UWC members take advantage of the online registration link.
The Annual Spring Scholarship Luncheon will be held on Tuesday, April 19, 2022 at the Boulder Country Club.  Join together as we honor this year's scholarship recipients with the theme, "Celebrate Your Dreams."
We are thrilled that Soft Surroundings will be providing the fashion show this year!  Soft Surroundings has beautiful clothing with a unique style.
Remember to register now, so you don't miss this important event! And please note – UWC will follow best practice COVID protocols including requiring proof of vaccination as a condition for attending. We are working with the BOulder Country Club to ensure adequate ventilation and an uncrowded seating arrangement.
LINK TO REGISTRATION PAGE — instructions for online registration (save a stamp) or mail-in registration.

Possible Guys and Dolls Opera Event!
The CU Eklund Opera program will be presenting Guys and Dolls in March!  We are hopeful that the UWC will be able to participate remotely in this production, so stay tuned as we continue to explore the possibility of an opera event during this 3rd year of Covid!  We are exploring using the same "remote" approach as last year where we view a videotape of the Spring 2022 CU Opera production of Guys and Dolls and hear a Zoom talk by Maestro Carthy about the production.  It would be wonderful to be able to do this face-to-face over a scrumptious brunch, but caution has to prevail!
Just a few words about Guys and Dolls to whet your appetite.  This oddball musical comedy is based on a story and characters by Damon Runyan and music and lyrics by Frank Loesser.  First performed on Broadway in 1950, it features such iconic musical hits as "Luck be a Lady Tonight" and "Sit Down, You're Rockin the Boat."  The story follows a hilarious cast of characters from Times Square to Havana.  There is gambler Nathan Detroit who is trying to evade authorities and his girlfriend, Adelaide, a nightclub performer who laments their 14-year engagement.  There also are the miscast lovebirds, Sky Masterson, a gambler, and his unlikely missionary love, Sara Brown.  With a lot of wit and romance, all finally ends well in this screwball comedy!
We have not finalized a date for the Guys and Dolls Zoom, but I anticipate that it will be in the last week of April or the first two weeks in May.  Once we have finalized details, you will receive an email with all the particulars.  Please look for more information on Guys and Dolls in the next few weeks!
Sandy Johnson
Opera Brunch Chair
---
SCHOLARSHIPS
---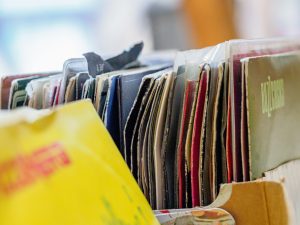 Message from the Scholarship Chair
This is the time of the year when your Scholarship Committee members are engaged in the task of reading through the many applications for our UWC Scholarships, which always make us wish that we had more to give, since so many applicants seem so deserving. At the same time, we are grateful and proud of how many members have stepped up this year with their generous contributions.
As we hopefully leave the pandemic somewhat behind, we are planning an in-person Scholarship Luncheon on April 19, 11-2 at the Boulder Country Club.  At this event, we will introduce our recipients and you will have the chance to meet these wonderful young people and hear something of their amazing stories. So mark your calendars and register now!
Since Lecture "Luncheons" have been virtual and therefore free this year, some members have contributed to the Scholarship Fund at those times. You can still do this and donations are always important!
You will find the Scholarship Luncheon registration at the website (boulderuwc.org), and you will also see how to donate to the Scholarship Fund with just the click of a button.  While at the website, also look for the "Support UWC " section and learn how to sign up for the King Soopers and Amazon Smile charitable rewards programs, which enable automatic donations to UWC, so you have an additional donation at no cost to you!
Marge Riddle
Scholarship Chair
In Memoriam
Robert Goodrich in memory of his wife Doris Goodrich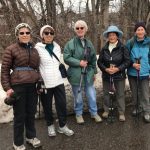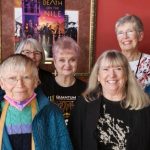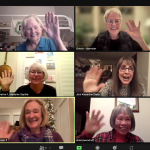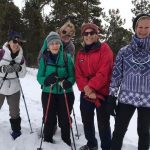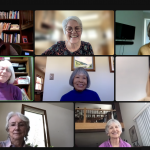 Interest Groups Information
Winter can be a time for both outdoor and indoor activities with UWC Interest Groups.
Sunday Afternoon at the Movies – From left: Linda Nordberg, Berry Todd, Ruth Harvey, Kathy Randall, Kathleen Newton, Sharon Nehls, Carol Smoot, and Rachel Homer

The Hiking group continues every Friday at 9 a.m., choosing hikes that are suitable for the weather and emailing details on Thursday.  The group meets at the Macy's parking lot or at the trailhead.

The Snowshoeing Group recently combined with the hikers and will continue to meet whenever the snow conditions make it possible.

You can join The Sunday Afternoon at the Movies on the second Sunday at the Century Theater in Boulder.   An email is sent the week before with the choice of film.

Perhaps staying inside at home and curling up with a good book is what you enjoy.  There are several UWC Book groups open to members to join:   Book Group Afternoon on the fourth Tuesday at 1:30, the Original Book Group (formerly "Evening") now meets at 3:30 pm on the second Thursday.  The Bookies is a third book group that is welcoming new members and meets on the second Wednesday of the month at 10 am.
Recommendations for good books from two of our Book Groups
The Book Woman of Troublesome Creek by Kim Michele is a historical novel about distributing books among rural people in Appalachia during the '30s. It tells of hardships and lives of the people as well as those delivering books on foot or horseback. The program was better financed under Roosevelt's New Deal, but had been in existence before the 30's and was extended for a while after. Folk remedies and recipes were exchanged as well. I found it full of new information and an enjoyable, quick read. – Carol Saunders
The Bookies is a small book group that concentrates on fiction – some old, some new, some classics.
Following are some of the authors we love and have discussed several of their books.
One is Ann Patchet. We have read her first novel, The Patron Saint of Liars in which pregnant Rose leaves her husband to go to a home for unwed mothers where she finds a safe haven to raise her daughter and start anew.
Others we read include:
Commonwealth: Ann Patchet admits this unusual and dysfunctional family story is somewhat autobiographical. Her mother said about the book, "None of it happened, but all of it is true."
The Dutch House: Set over the course of five decades, The Dutch House is a dark fairy tale about two smart people who cannot overcome their past.
We have read two by Jacqueline Lawson.
Another Brooklyn: August, now an anthropologist, looks back on her adolescence. The center of her story is a friendship with 3 other black girls. "We were four girls together, amazingly beautiful and terrifyingly alone."
Red at the Bone: Two Black families of different socioeconomic backgrounds are brought together when their teenage children conceive a baby.
New authors we have "discovered" include a Canadian woman, Mary Lawson.
The Other Side of the Bridge: A family saga starting on a farm in the mid 1930s. This is the story of the rivalry of brothers of different character and a young woman who comes into their lives.
We very much enjoyed a translation of the oddly titled Drive Your Plow Over the Bones of the Dead by Polish writer and activist Olga Tokarczuk.  In a remote Polish village, Janina inserts herself into investigation into mysterious deaths, certain she knows whodunit.
Occasionally we'll read a 2 book combo. We read Shakespeare's The Taming of the Shrew along with Anne Tyler's Vinegar Girl. As part of the Hogarth Project, Anne Tyler brings us an inspired, witty and irresistible contemporary take on the classic. We love Anne Tyler, and this book is delightful.
News of the World by Paulette Giles, now a wonderful movie starring Tom Hanks.  In 1870 an old man travels across Texas delivering to her relatives an orphan girl released by the Kiowa after 4 years of captivity.
Happy reading, everyone! — Kathy Randall
Interest Groups Information
Bicycling – Meets weekly from May through October. Resuming in the spring; Chairs: Betsy Barrett, 602-677-4627; Gail Smith 303-960-5004
Bicycling – Easy Riders – Will resume riding in the spring.  Contact chair for details.  Chair: Dorothy Coltrin 720-527-4704, Becky Palmer 303-449-0884
Book Group – Afternoon – Fourth Tuesday at 1:30 pm at members' homes or on ZOOM.  No meeting in December. Vaccinations required. Chair:  Carol Saunders 303-499-3731, Lois Linsky 303-499-2689
Book Group – Biographies – Third Friday at 3:00 pm – ZOOM. Chair:  Zdenka Smith 303-444-8547
Book Group – The Bookies – second Wednesday at 10:00 am. Chair: Kathy Randall 303-746-4528
Book Group – The Original Book Group – Formerly Evening – Second Thursday 3:30 pm. Chairs: Judy Thompson 608-469-6883; Marge Riddle 303-378-0605. This group has been meeting continuously since the 1950's.
Bridge Group – First Wednesday at 1:00 pm. Chair:  Martha Jones, 303-499-0788
French Conversation – All Speaking Levels – 2nd and 4th Tuesday 9:00 – 10:30 am on ZOOM. Chair: Beth Karpf 303- 862-7335
Garden Group –  resuming in the spring. Chairs: Jyotsna Raj  303-447-8831; Jean Rohrschneider 720-542-9788
Golfing – For the casual golfer – 1:00 pm every Thursday at various golf courses, new members welcome. Chair: Susan Planck 303-499-3916
Hiking – Every Friday 9:00 am September -May; 8:30 am June-August in person. Meet at east edge of parking lot on north side of  Macy's lot – Chairs:  Joan (Joanie) Cardone, 303-263-7823; Frieda Holley 303-499-3733
Italian Conversation – Wednesday, 1:30-2:30 pm on Zoom.  Chair: Maxene Wilson, 303-530-4619
On the Road Again – Taking virtual or actual road trips, depending on the COVID situation. Chair: Kathy Randall 303-746-4528
Out to Lunch – Usually Fourth Wednesday, at noon at various local restaurants. Chairs: Jean Rohrschneider 720-542-9788; Jyotsna Raj 303-447-8831
Reader's Theater 2 – Third Monday 4:00 p.m. on Zoom. Patty Ludke  303-817-1020; Kathy Randall 303-746-4528
Snowshoeing – Wednesday when snow is good. Chairs:  Arlene Gerwin 303-494-1307; Joan (Joanie) Cardone 303-263-7823
Spanish Conversation Advanced – Contact chair for details.  Chair: Diana King  303-530-1860
Sunday Afternoon at the Movies – 2nd Sunday,  movies at a theater in Boulder. Chairs:  Kathleen Newton, 720-548-8661; Sharon Nehls 303-494-5778
Groups that are on hiatus 
Music – Unable to organize due to COVID
Needlecraft
Theater Goers, New chair needed
Groups that are at capacity
Book Group Small – Fiction and Non-Fiction, Joyce Bograd
Book Group – Second Monday, Janet Evans
French Conversation, Dot Thompson
To start a new interest group requires at least five members including a chairperson.
If you are interested in starting a new group, please contact the Interest Group Coordinator for more information: Linda Nordberg, Interest Group Coordinator, 978-314-9987).
To form a new book group, contact Kathy Randall, 303-746-4528.
Officers
President – Tamera VanSpriell
President Elect – Norma Portnoy
Past President – Janet Brewer
Secretary & Secy Elect – Karen Bell
Treasurer  – Kathy Herder
Treasurer-Elect – Frieda Holley
Board Members
Communications – Berry Todd
Directory – Diana King
Email / Email Monitoring – Berry Todd
Historian/Yearbook – Vacant
Honors Reception – Karen Johnson
Interest Groups – Linda Nordberg
Lecture Registration – Lynne Barnett
Margaret Willard Award – Patty Ludke
Membership – Arlene Gerwin
MESSAGES – Merry Bullock
New Members – Janet Brewer
Nominating Committee – Kathy Randall
Opera Brunch – Sandy Johnson
Parliamentarian – Frieda Holley
Program Chair – Norma Portnoy
Program Co-Chair – Sharon Nehls
Repository – Diana King
Scholarship Committee – Marge Riddle
Scholarship Luncheon – Jonette Lucia
Telephone Tree – Open
Website – Joyce Spencer
UWC Calendar 2021-2022 
March
01  Tuesday, Board Meeting, 10:30 a.m.
09 Wednesday, Lecture  11:00 a.m.  NOTE CHANGE IN DAY OF WEEK – on ZOOM
10  Thursday, MESSAGES Deadline
April
05  Tuesday, Board Meeting, 10:30 a.m.
10   Sunday, MESSAGES Deadline
19   Tuesday , Scholarship Luncheon – Boulder Country Club
24  Sunday – possible opera brunch event
May
03  Tuesday, Tri-board Meeting, 10:30 a.m.
17  Tuesday, Honors Reception