MESSAGES February 2022

---
PRESIDENT'S MESSAGE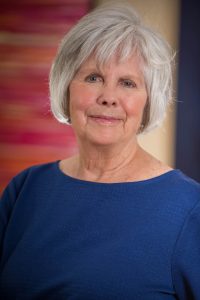 Shared joy is double joy; Shared sorrow is half a sorrow.
(Swedish proverb)
I have heard it said that joy and sorrow go hand in hand. At no time has this been more apparent than when the Marshall Fire destroyed over 1,080 homes in the towns of Superior, Louisville and unincorporated Boulder County on December 30.
Boulder County residents woke up to a sunny, albeit windy day on Thursday eager to complete preparations for anticipated New Year's Eve gatherings. Many were planning to have a quiet evening at home, self-isolating from exposure to the most recent Covid variant. By Noon the wind was gusting up to hurricane force speeds, and unbeknownst to a packed Superior Market Place, a fire had started near the junction of Marshall Road and Highway 93. Fed by high winds and extraordinarily dry conditions, the fire raged across fields, highways, and housing areas for several hours wreaking havoc until the winds dissipated and emergency response teams could begin to contain the fire.
The result was utter devastation for large sections of Superior and Louisville: entire neighborhoods burned to the ground, businesses suffered fire and smoke damage, two human lives were lost and an unknown number of family pets perished in the flames. Under an evacuation order, thousands of people scrambled to find alternative housing. Now, a week later, life is beginning to return to 'a new normal' for many of us. For those less fortunate, a new path is being forged.
How is the UWC responding? Your multi-talented and compassionate Board immediately jumped into action.  Both current and past members living in the burn areas were identified, 14 in all. Comparing these names with a list of destroyed homes provided by Boulder County, we discovered that five (5) of our members lost their homes.
In response, the UWC Board quickly formed the ad hoc Fire Response Team, co-chaired by Andie Kutinsky and Jonette Lucia. The team's goal is to identify and provide support to UWC members whose homes were destroyed or damaged by the Marshall Fire.  Team volunteers intend to provide emotional support and companionship to impacted UWC members as they navigate through the myriad of logistical challenges and begin to put their lives back together. (Please see the article in this edition of MESSAGES describing the vision and plans of the UWC Fire Response Team.)
Let us all take solace in knowing that 'A sorrow shared is half a sorrow.'
Tamera Van Spriell
UWC President 2021-2022
DID YOU KNOW?
Fourteen past/present members of UWC live in the burn area affected by the Marshall Fire. Five of those members had homes that were completely destroyed.
If you or an acquaintance have need of the Disaster Distress Hotline, call 800-985-5990 (https://store.samhsa.gov/sites/default/files/d7/priv/sma13-4776.pdf)  Keep in mind that an emotional reaction to a trauma can be delayed.
The Disaster Assistance Center (DAC) provides assistance in finding financial resources, sources for food and help with filing property loss claims. It is currently located at 1755 South Public Road in Lafayette.
CU Boulder delayed in-person return to campus until January 24 in response to the Marshall Fire and concerns about the COVID-19 omicron variant.
Many CU faculty and students have been impacted in a variety of ways by the Marshall Fire. An extensive resource page has been added to the CU Boulder home page to offer guidance and assistance to the CU community.
UWC Reponse to the Marshall Fire Destruction
UWC created a Fire Response Team, which provides support to UWC members whose homes were destroyed or damaged by the Marshall Fire.   This program, led by Andie Kutinsky and Jonette Lucia, has two main objectives.  The first is to provide emotional support, understanding that each person has experienced severe loss and each person is in varying stages of grieving this loss.   A second is to provide companionship and logistical support to impacted members as they navigate through the myriad of challenges to put their lives back together.
Five UWC members have agreed to volunteer as "companions" for the five UWC members whose homes were destroyed by the fire. These volunteers will check in with members who lost their homes on a regular basis to provide warm, consistent support.  There are many ways in which our volunteers can be of assistance, such as  accompanying the person to appointments, being a "second pair of eyes or ears", or assisting with day-to-day tasks, such as running errands.  Volunteers have been asked to provide support for six months since it takes a long time to work through all the many logistical, emotional, and bureaucratic challenges. The UWC Fire Response Team will be providing special training to these volunteers on strategies and techniques for providing "companion" functions.
It is the hope of the UWC Board that providing this type of help may be of assistance to our members who just experienced a devastating loss.
For questions, feel free to reach out to Andie Kutinsky  719-492-7967 or Jonette Lucia  651-295-2389.
Further Information
UWC members – are you looking for ways to personally respond to the fire? There are a number of organizations asking for immediate and longer term assistance, and there are some valuable training videos for how to respond to those who have experienced severe loss, such as losing one's  home. Here are some links to opportunities and training:
Volunteer opportunities
Go to: Colorado Responds to find ways to donate, volunteer, and more during times of crisis in our community.  You'll find a place to sign up for the Colorado Responds E-newsletter to receive updates as they develop on the best ways to help individuals impacted by Boulder County fires.
Training and Information videos:
Training Video on Steps You Can Take to Prepare for a Wildfire
Watch this hour-long recording of a Rotary Club presentation on Fire Preparedness to learn what you can do to protect yourself and your home.  You'll learn how to get emergency notifications, protect your home from fire, get a free assessment of your home's fire hazards, make sure your insurance is adequate, do an inventory of your home contents, and create an evacuation plan for your family. Link: https://www.youtube.com/watch?v=tiyW3mXlaIg (shared with permission).
Training Video for How to Respond to Those Who Experienced Severe Loss
Many of you are in a position whereby you are providing direct support to "fire refugees" in the role of friend, neighbor, relative, or professional colleague.  Or you may simply be in a position whereby you are directly interacting with those impacted. This hour-long recording explains the principles and techniques of Psychological First Aid as practiced by non-professionals.  It offers valuable information on how to (and not to) talk with "fire refugees" about their experiences.  Link here: https://www.youtube.com/watch?v=7PtJ1SrC3eY  (shared with permission).
UWC Lecture Program – Exciting Presentations in February and March!
Due to the 2022 surge in COVID the UWC Board decided that the UWC lectures for February and March will be online and held via ZOOM webinar. We encourage you to attend! In addition, voting for the UWC officers will take place during the February online meeting. Make your voice heard!!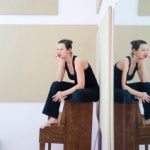 Wednesday, February 9, 2022 – Why Watching Modern Dance is So Hard: 10  Hot Tips to Make It Easier – Erika Randall, Chair of the CU Department of Theatre and Dance
In this pithy, physical, and playful talk, Randall will unpack dance moves like "the hinge," the confounding history of running in concert dance, and how to notice and negotiate our biases when watching bodies in motion.  This historical and "how-to" lecture will prepare you for better dance consumption, particularly of the 2021-2022 CU Theatre & Dance and Artist Series Season.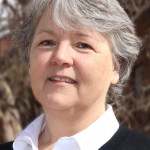 Wednesday March 9, 2022 – Shifting Narratives: How Journalism's Coverage of Mass Shootings Has Evolved – Elizabeth Skewes,  CU, Journalism Department Chair
Please join us as CU's Chair of the Journalism Department shares preliminary findings from her new research on media coverage of mass shootings and school shootings from the 1966 shooting at the University of Texas in Austin to the shooting last year at the Table Mesa King Soopers in our own community. She will discuss how coverage has changed since the mid-1960s and how journalists try to balance the duty to inform the public with the need to treat victims and survivors with an ethic of care.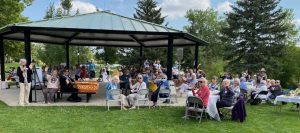 Membership: Invite a Friend to Join the UWC
Introduce your friends to the University Women's Club by referring them to the UWC website http:boulderuwc.org. That's where they will find up-to-date information about our programs and over 25 Interest Groups only open to UWC members. Encourage your friends to join the UWC by completing the on-line membership form. They can pay dues and make donations via PayPal, Credit Card or even mail us a check.
Why not invite your friends to the free UWC Lecture Webinars.  Hopefully, we will have live events again soon. Are you participating in one or more of our many Interest Groups? Your friends are most welcome to participate as a guest for the day. They are sure to enjoy the experience and want to join. And even encourage your friends to generously donate to the UWC Scholarship Fund.
If you or  your friends have any questions regarding UWC Membership, please email Arlene Gerwin, Membership Chair at uwcmembershipchair@gmail.com or call 303-494-1307.
---
UWC Elections for 2022-2023
The UWC Nominating Committee has presented the following slate of officers for 2022-2023. Election will take place via Zoom at the February lecture on Wednesday, February 9.   Candidates are as follows:
President-Elect 2022-2023 (to serve as President 2023-2024)
Andie Kutinsky, PhD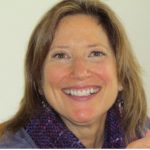 Andie joined the UWC in 2019 on the recommendation of friend and current president-elect, Norma Portnoy.  She participates in the Spanish Conversation group, the Out to Lunch Group and the Happy Hour/Tea Time Conversations.    Andie is a lifelong educator having been a teacher, principal, Assistant Superintendent for Elementary Schools and a Director of Special Education for Boulder Valley Schools.  Following her 'retirement' she co-founded and was Executive Director of Focal Point, an independent educational consulting company doing transformation work in school systems in Colorado, New York, New Jersey and Texas.  In 2016 she went off on her own to form Kutinsky and Associates which worked with evaluation systems for teachers and administrators in New Jersey and Colorado.
---
Secretary-Elect 2022-2023 (to serve as Secretary 2023-24)
Kathleen Salzberg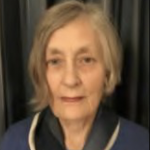 Kathleen has been a member 46 years! She joined in 1975 to participate in the Evening Book Group, of which she is still an active member. Also, an avid hiker in the Hiking Group, she has served UWC as Editor of MESSAGES, Chair of Email Communications, and Secretary. Kathleen worked at the University of Colorado from 1967 to 2002, serving as Managing Editor of the journal Arctic, Antarctic, and Alpine Research.
---
Treasurer-Elect 2022-2023 (to serve as Treasurer 2023-24)
Frieda Holley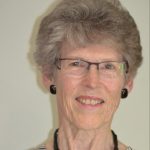 Frieda has been active in the University Women's Club since she retired.  She has been co-chair of the Hiking Group since 2012-13, served as Chair of the Scholarship Committee, was President in 2017-18, and chaired the UWC Centennial History Book Committee, which wrote the book describing the Club's first 100 years, published in late 2019. Prior to her retirement, she worked for over thirty years at Metropolitan State University of Denver both as a Professor of Mathematics and as an administrator in various positions including Associate Vice President of Academic Affairs. Frieda was also active in the League of Women Voters of Boulder County, serving as their treasurer for six years. She is currently Treasurer-Elect and will serve as Treasurer in 2022-23.
---
Happy Hour/Tea Time Conversations via ZOOM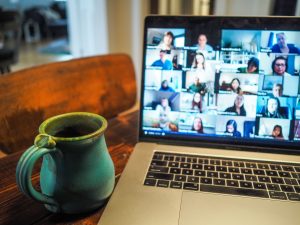 We'd love to have you join one of our Happy Hour/Tea Time conversations. It is a great way to get to know new UWC members, and a great way get to know old friends better. We meet twice a month, the first and third Tuesday at 4:00. Contact Kathy Randall (katherineran at gmail dot com) to reserve a spot for one or both conversations or to sign up for automatic inclusion for the rest of the UWC year.
February 1: What was your "word of the year" for 2021 and looking ahead, what is your "word of the year" for 2022? (Thank you, Barbara Huff, for this suggestion.)
February 15: What is one of your fondest clear childhood memories? (Thank you, Norma Portnoy, for this suggestion.)
Celebrate your dreams at the Scholarship Luncheon -April 19!
THE SPRING SCHOLARSHIP LUNCHEON REGISTRATION IS OPEN !  Be the first to register for the Spring Luncheon!  We are encouraging all University Women's Club members to register on line for the Spring Luncheon.
The Boulder University Women's Club Scholarship Luncheon will be held on Tuesday, April 19, 2022 at the Boulder Country Club.  Join together as we honor this year's scholarship recipients with the theme, "Celebrate Your Dreams."
We are thrilled that Soft Surroundings will be providing the fashion show this year!  Soft Surroundings has beautiful clothing with a unique style.
Remember to register now, so you don't miss this important event! And please note – UWC will follow best practice COVID protocols including requiring proof of vaccination as a condition for attending.
LINK TO REGISTRATION PAGE — instructions for online registration (save a stamp) or mail-in registration.
Opera!! 

Update

 on planning for a UWC Opera Event – save April 24
Guys and Dolls Opera Brunch is cancelled!  Stay tuned for a potential substitute event later this Spring!
With sadness, we must let you know that the UWC is cancelling the March 13th Opera Brunch event!  The Covid Omicron variant currently is so pervasive and threatening, even to those of us who have been vaccinated and boosted, that the UWC has moved all of its events through March to a remote format, using Zoom and webinars.
However, we are exploring alternatives!   If at all possible, we will have some kind of opera "event" this spring.  Here are two possibilities that we are exploring.
If the CU School of Music films Guys and Dolls, we might be able to repeat last year's approach where we are treated to a talk by Maestro Carthy about Guys and Dolls which we can watch beforehand online.  Last year, during the height of the initial Corona virus pandemic, Maestro Carthy gave a delightful talk on the CU production of the Opera, Hansel and Gretel, and provided us the videotaped production of the opera to view online.
A second possibility is to postpone the face-to-face opera brunch to the end of April. The CU School of Music is presenting the opera, Postcard from Morocco, in late April.  There is a good chance that the Omicron variant will have exhausted itself by that time.  We might be able to return to a face-to-face event.  For those of you not familiar with this opera, I should mention thar Postcard from Morocco is a jewel of an opera that would be a worthy substitute to Guys and Dolls.  With this as a possibility, please reserve Sunday April 24th on your calendar.
If any of you have other suggestions for a substitute event, please let me know!  You can email me at sandyj dot sandra dot johnson at gmail dot com.
---
SCHOLARSHIPS
---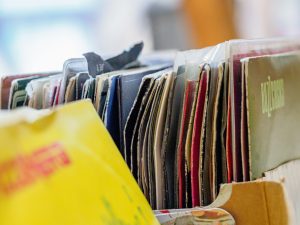 Message from the Scholarship Chair
This month your Scholarship Committee members will be reading through the stories of so many hopeful UWC scholarship applicants.  Their stories are always full of determination and courage in the face of great challenges, and we find ourselves wishing we had more to give. At the same time, we feel pride in our organization's long history of supporting the UWC Scholarship program for these non-traditional students and in the generosity of current members in continuing that mission.
Especially with all the pandemic-related stresses of the last two years, we feel good that our membership has continued to step up and loyally support this important mission, even while in-person UWC events have had to be extremely curtailed!  As we head into this decision-making month, we want members to know that donations at this time are still critical in determining how many students we can support this year and with how much.
So while you are at home, waiting for Omicron to subside, fill in some time by going to our website (boulderuwc.org) and review the inspiring stories of our 2021 recipients, which we hope will motivate you to make an extra donation. Any amount helps and it is so easy to do!  Just click on Scholarships and you can see how to donate directly to the Scholarship Fund.
And, if you haven't yet signed up for the King Soopers and Amazon Smile charitable rewards programs, fill in some more Omicron down time by checking out the "Support UWC " section, to learn how to sign up for these great programs,  which enable automatic donations to UWC at no cost to you!
Marge Riddle
Scholarship Chair
November/December Donations
Elizabeth Black
JoAnne W. Foster
Anitta Frant
Ellen Holland
Anne  Hudson
Kathleen Johnson
Martha Jones
Susannah Jordan
Karen Kairys
Diana King
June Krantz
Marilyn Moses
Judy Owens
Rebecca Roser
Nancy Rueckert
June Saunders
Marion Selbin
Carolyn Spicer
Cynthia Stephens
Pamela Swenerton
Helen Williams
In Memoriam
Karen Neff in memory of Carrol Kalafus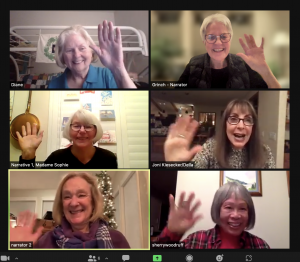 Readers Theater 2 performed Christmas and Hanukkah plays in December (The Gift, How the Grinch Stole Christmas, The Truce, ) and a Star Wars episode "The Trouble with Tribbles" in January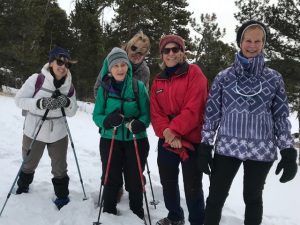 The UWC Snowshoeing Group ventured to Caribou Ranch for the first outing of the season. The snow was hard packed so we wore spikes instead of snowshoes. The temp was in the 30's with some wind but it was exhilarating to be outside and share good times with UWC friends. If you are interested in joining the UWC Snowshoeing Group please contact the co-chairs- Arlene Gerwin or Joanie Cardone (see the UWC Directory for their contact information)
Book Group – The Bookies read Jacqueline Woodson's Red at the Bone for January. As reviews said, "Red at the Bone is pure poetry, filled with incantatory repetitions, soaring cadences, burnished images. There is laughter and spirit, "fire and ash and loss", blocks of gold hidden beneath squeaky stairs. "
Bridge Group: The UWC bridge group is happy to welcome new members – please contact Martha Jones  720-836-2337 if you would like to be on the mailing list of players. We meet 1:15 on the first Wednesday of the month.
---
Send updates on what your interest group is doing! We can share adventures, good book recommendations and other activities!
Interest Groups Information
Bicycling – Meets weekly from May through October. Resuming in the spring; Chairs: Betsy Barrett, 602-677-4627; Gail Smith 303-960-5004
Bicycling – Easy Riders – Will resume riding in the spring.  Contact chair for details.  Chair: Dorothy Coltrin 720-527-4704, Becky Palmer 303-449-0884
Book Group – Afternoon – Fourth Tuesday at 1:30 pm at members' homes or on ZOOM.  No meeting in December. Vaccinations required. Chair:  Carol Saunders 303-499-3731, Lois Linsky 303-499-2689
Book Group – Biographies – Third Friday at 3:00 pm – ZOOM. Chair:  Zdenka Smith 303-444-8547
Book Group – The Bookies – second Wednesday at 10:00 am. Chair: Kathy Randall 303-746-4528
Book Group – The Original Book Group – Formerly Evening – Second Thursday 3:30 pm. Chairs: Judy Thompson 608-469-6883; Marge Riddle 303-378-0605. This group has been meeting continuously since the 1950's.
Bridge Group – First Wednesday at 1:00 pm. Chair:  Martha Jones, 303-499-0788
French Conversation – All Speaking Levels – 2nd and 4th Tuesday 9:00 – 10:30 am on ZOOM. Chair: Beth Karpf 303- 862-7335
Garden Group –  resuming in the spring. Chairs: Jyotsna Raj  303-447-8831; Jean Rohrschneider 720-542-9788
Golfing – For the casual golfer – 1:00 pm every Thursday at various golf courses, new members welcome. Chair: Susan Planck 303-499-3916
Hiking – Every Friday 9:00 am September -May; 8:30 am June-August in person. Meet at east edge of parking lot on north side of  Macy's lot – Chairs:  Joan (Joanie) Cardone, 303-263-7823; Frieda Holley 303-499-3733
Italian Conversation – Wednesday, 1:30-2:30 pm on Zoom.  Chair: Maxene Wilson, 303-530-4619
Needlecraft – 2nd Thursday at 1:30 pm. Chair Ginnie Ross, 303-442-6014
On the Road Again – Taking virtual or actual road trips, depending on the COVID situation. Chair: Kathy Randall 303-746-4528
Out to Lunch – Usually Fourth Wednesday, at noon at various local restaurants. Chairs: Jean Rohrschneider 720-542-9788; Jyotsna Raj 303-447-8831
Reader's Theater 2 – Third Monday 4:00 p.m. on Zoom. Patty Ludke  303-817-1020; Kathy Randall 303-746-4528
Snowshoeing – Wednesday when snow is good. Chairs:  Arlene Gerwin 303-494-1307; Joan (Joanie) Cardone 303-263-7823
Spanish Conversation Advanced – Contact chair for details.  Chair: Diana King  303-530-1860
Sunday Afternoon at the Movies – 2nd Sunday,  movies in Boulder. Chairs:  Kathleen Newton, 720-548-8661; Sharon Nehls 303-494-5778
Groups that are on hiatus 
Music – Unable to organize due to COVID
Theater Goers, New chair needed
Groups that are at capacity
Book Group Small – Fiction and Non-Fiction, Joyce Bograd
Book Group – Second Monday, Janet Evans
French Conversation, Dot Thompson
To start a new interest group requires at least five members including a chairperson.
If you are interested in starting a new group, please contact the Interest Group Coordinator for more information: Linda Nordberg, Interest Group Coordinator, 978-314-9987).
To form a new book group, contact Kathy Randall, 303-746-4528.
---
NOMINATIONS SOUGHT
Last Month to Nominate!!!
Do You Know an Outstanding Woman in the Boulder Community? 
The University Women's Club is soliciting nominations for the Margaret Willard award for 2022.  The award, named after the first president of the women's club, is presented annually to a woman who has enhanced the quality of life for women in Boulder and/or on the CU Boulder Campus, is an exceptional role model, and has brought honor to all women through her accomplishments.
Nominees may be connected to CU Boulder in some way, or may be members of the Boulder Community.  There are hundreds of women  who fit these criteria. Look around and find that special woman and then nominate her so we can celebrate her while honoring Margaret Willard.
Please submit a nomination  by March 1, 2022. Nominations consist of the nominee's name, a brief description of why she is deserving of the award, and supporting letters. The form can be accessed here. You can complete it online or print it out and send to the Award Committee Chair Patty Ludke, 2938 Kalmia Ave #21, Boulder CO 80301.
Questions?  Contact Patty Ludke, Chair MWA (303-817-1020).
---
---

Reminder:
Support UWC Through Shopping
Look at this!




You can raise funds for UWC at NO COST TO YOU!
King Soopers and Amazon both have programs that will donate a percentage of your qualifying purchases to UWC at no cost to you whatsoever!  Even better, once you're set up, everything happens automatically.  It's "easy peasy!"  University Women's Club hopes that as many members as possible will enroll in these programs and designate UWC as the recipient of these donations.  And to make it happen, we're here to help you get enrolled.
King Soopers shoppers can join their Community Awards Program and Amazon customers can join the Amazon Smile Program.  The vast majority of our members frequent both companies on a regular basis and should join both programs.  For that matter, let's also get our spouses, children, and adult grandchildren to join these programs to help us raise funds.
The decision to participate is truly a no-brainer!
Support UWC When Shopping at King Soopers
With the King Soopers Community Rewards program, you can support UWC with every purchase.  You'll simply need to create an online account and then register your Loyalty ("Shoppers") Card to link it to UWC.  Purchases at King Soopers would generate an annual gift of approximately $115 for a single-occupant household and $230 for a two-person household.
Please click here for instructions on how to do this.
Designate UWC in the Amazon Smile Program
With AmazonSmile, you'll automatically help UWC every time you shop, with no cost to you of either time or money.  You can link your Amazon account to the University Women's Club through the AmazonSmile Program.  Then just shop using the AmazonSmile website (smile.amazon.com) and UWC will earn a percentage of your qualifying purchases.  Tens of millions of products on AmazonSmile are eligible for donations.
Please click here for instructions on how to do this.
Thank you!
THANK YOU FOR PARTICIPATING in this program to help UWC raise needed funds.
---
Member Acknowledgement
Membership Courtesy
If you know of a member who would appreciate a card, note, or any personal contact due to illness, death, or other reasons for support, please inform UWC at boulderuwc@gmail.com.
Members in Memoriam
As information to members, and to remember those who have passed away, the UWC Board is beginning an "in Memoriam" section on the website. This section will honor those UWC members who have passed away in the current year. If you are aware of UWC members who have left us, please let Joyce Spencer, webmaster, know the member's name.
Officers
President – Tamera VanSpriell
President Elect – Norma Portnoy
Past President – Janet Brewer
Secretary & Secy Elect – Karen Bell
Treasurer  – Kathy Herder
Treasurer-Elect – Frieda Holley
Board Members
Communications – Berry Todd
Directory – Diana King
Email / Email Monitoring – Berry Todd
Historian/Yearbook – Vacant
Honors Reception – Karen Johnson
Interest Groups – Linda Nordberg
Lecture Registration – Lynne Barnett
Margaret Willard Award – Patty Ludke
Membership – Arlene Gerwin
MESSAGES – Merry Bullock
New Members – Janet Brewer
Nominating Committee – Kathy Randall
Opera Brunch – Sandy Johnson
Parliamentarian – Frieda Holley
Program Chair – Norma Portnoy
Program Co-Chair – Sharon Nehls
Repository – Diana King
Scholarship Committee – Marge Riddle
Scholarship Luncheon – Jonette Lucia
Telephone Tree – Open
Website – Joyce Spencer
UWC Calendar 2021-2022 
01  Tuesday, Board Meeting, 10:30 a.m.
09 Wednesday, Lecture  11:00  a.m. NOTE CHANGE IN DAY OF WEEK – on ZOOM
10  Thursday, MESSAGES Deadline
March
01  Tuesday, Board Meeting, 10:30 a.m.
09 Wednesday, Lecture  11:00 a.m.  NOTE CHANGE IN DAY OF WEEK – on ZOOM
10  Thursday, MESSAGES Deadline
April
05  Tuesday, Board Meeting, 10:30 a.m.
10   Sunday, MESSAGES Deadline
19   Tuesday , Scholarship Luncheon – Boulder Country Club
24  Sunday – possible opera brunch event
May
03  Tuesday, Tri-board Meeting, 10:30 a.m.
17  Tuesday, Honors Reception